Greta and Marius have chosen a lovely place to celebrate their wedding, a real pearl of the Amalfi Coast: Furore, "the painted village." "Agriturismo Sant'Alfonso" is the location chosen by our wedding couple.
An enchanting place surrounded by nature, among olive trees and vineyards, straight on the sea with breath-taking views of the coast. The "real wedding" we're about to tell you has all the right ingredients to be a fabulous wedding. Two newlyweds that are loving each other, summer and its colours, untouched nature, the blue sea and the unique beauty of the Amalfi Coast, the warm and lovely people in South Italy, a cuisine known all over the world, the subject of the marriage with a mixed style between "botanic" and "natural".
Greta and Marius got married last June 2016. They dreamed of getting married in Amalfi for about two years, when during their trip to Italy were
struck by the beauty of the place. The Catholic religious ceremony, was held outside the small church which is located inside the property of Sant'Alfonso.
An outdoor ceremony, two rows of benches in bleached wood, adorned with olive branches in bloom. Greta came down a stone steps in front of the church, accompanied by her parents.
The wedding dress of her was, refined with a bit of vintage look, with the bodice entirely handmade and soft silk. Very soft loose hair, adorned with a beautiful tiara. Bouquet composed of chamomile and gypsophila.
To officiate the Mass, the priest of Furore, Don John, of Indian origin, who with his charisma has captured the attention of all the guests, making the
ceremony full of emotion. There have been tears when the best friend of the bride sang "Can not help falling in love with you" of the legendary Elvis
Presley.
To accompany the ceremony and the aperitif, a quartet of exception, all women. Four girls in long and colorful robes, played having behind the sea as a breath-taking panorama, a contemporary repertoire, chosen by the couple.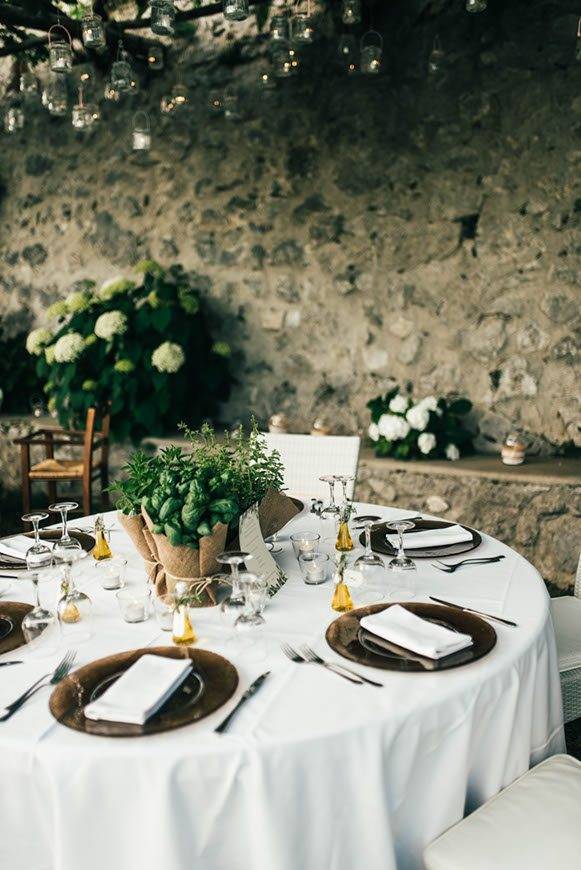 The dinner took place at sunset, in the shade of a roof made with branches of wine plant, from which was descending 500 glass jars with candles inside. The candle lighting made it really charming and full of romance.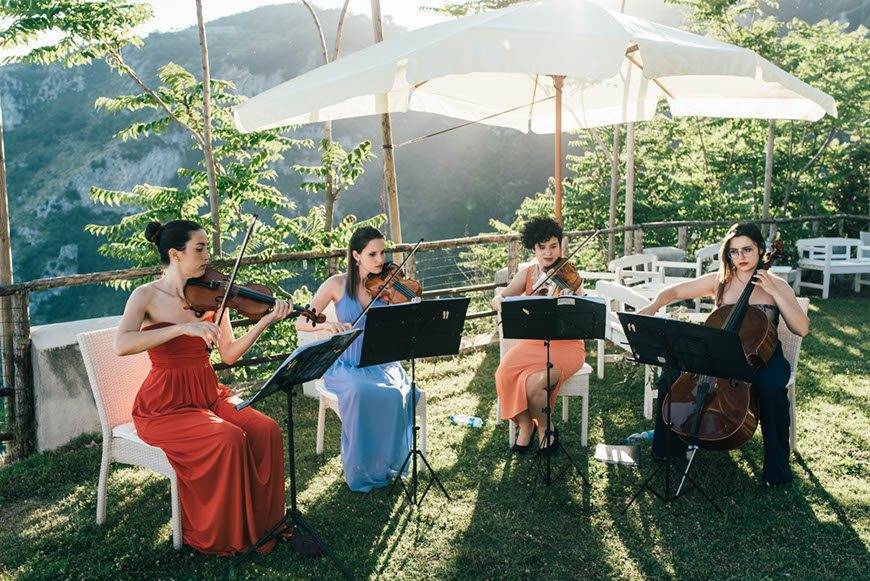 The tables were decorated with aromatic plants, raw materials and many small candles. As a placeholder, small bottles of olive oil have been prepared with a small tag that bore the guest name. Stationery with olive branches to serve as decoration.
Text by More than Weddings – Wedding and Event Creators
Suppliers
Wedding planning and design: More than Weddings
Decorations: More than Weddings
Location: Agriturismo Sant'Alfonso
Photo and Video: Aberrazioni Cromatiche
Rings: Ockenden & Hemming