We all know the importance that the Bride gives to her dress. Every detail is weighed out so that the end result is perfection.
Wearing the most beautiful dress makes sense only if it fits perfectly with the attire of the Groom. Dress and Suit are inseparable; they should complement each other harmoniously.
Taj Phull assistant manager at Scabal London, shares invaluable advice for the groom to be, on everything from trends, top advice and what grooms are really looking for on their wedding day.
5 Star Weddings: Do grooms know what they want when shopping at Scabal?
Scabal: This is something that really varies dependent on the customer, what has happened this year is a massive interest in vibrant mid-tone blues especially with Silk and Mohair woven within the cloth to give it a beautiful luster to the cloth of the suit. With over 4,000 cloths in stock at any one time we can find a cloth to meet the client's needs.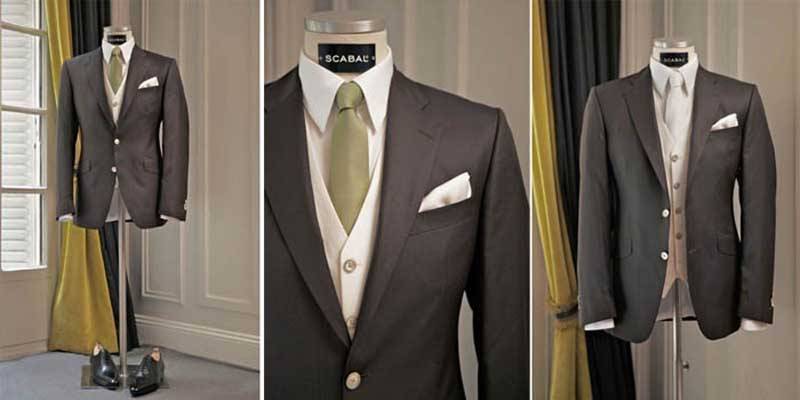 5 Star Weddings:

What services at Scabal do you have available for grooms?
Scabal: We have our Ready to wear collection which tends to be quite popular for traveling customers visiting the UK. We have a Made to Measure service which is available on all our cloths that our in stock with many options available this is a popular option for the groom. We also have our No12 suit option which is handmade in Italy by the finest craftsmen with a wealth of experience.
5 Star Weddings: What makes your Made to Measure option so popular?
Scabal: It is an affordable luxury product and is something that customers love due to the customisation and the superb fit that can be achieved. Embroidery can be done under the collar of a jacket and also on the inside of the jacket which is extremely popular just to add the personal touch. Also what makes it so popular is the time frames that a suit can be made, 3-4 weeks is a standard time frame but we also have an express service of around 2 weeks which is available upon enquiry.
5 Star Weddings: Scabal No12 is handmade, what can grooms expect that from this and what makes it different from Made to Measure?
Scabal: No12 is an amazing premium luxury product and customers tend to use this option with the higher end of our fabric range simply because fabrics so beautiful have to have their suits made by hand, its only right that a cloth with Diamond chips to be made by hand for that perfect finish. And also the hand finishing is another stunning aspect of the suit along with having a baste fitting these are attributes that add to making your special day memorable.
5 Star Weddings: How long does it take for a No12 suit to be produced?
Scabal:  Ideally if the customer's availability is good for fittings a No12 can be made within 6-8 weeks.
5 Star Weddings: How often does what celebrities influence for example the red carpet or films influence a grooms requirements?
Scabal:  Quite often, a lot of clients do a lot of research in to what they want if it is to do with what they have seen in a film or in a magazine and that will reflect especially in how fitted they want the suit of the colour of the fabric more specifically.
5 Star Weddings: Going back to cloth you mentioned colour and also a cloth with Diamond chips what else is unique about your cloth?
Scabal: The variety is what I would say is unique simply on the basis of if you are getting married in an extremely hot country we can accommodate that with a fabric that has a weight of just 160gr or if you are getting married in an extremely cold country why not go for the ultra-luxurious Vicuna cloth. Honestly the options are endless and there is always something to cater to the groom and also the bride as she will play a huge part in cloth selection.
5 Star Weddings: Do you only do make suits or do you also do Formalwear?
Scabal: No we do a good selection of formal wear, personal the options we have are the best available unlike many brands we make Morning Coats to measure. It's something that tends to be either bespoke or ready to wear item.  We also have a great dinner suit which has many options from how you would like the lapel finished along with the braid on the trouser leg.
5 Star Weddings: What else could Scabal do for the groom or bride?
Scabal: We also offer a handmade shirt service which is an additional personalised touch for the groom, once again initialing is available and getting the colour of the shirt right is important. White shirts tend to be the most popular for wedding but more so especially with weddings abroad clients may go for an ivory and finding the right colour of shirt to match a specific colour for the bride, tie or a theme.
5 Star Weddings: What would your advice be to any 

groom's

 visiting your store?
Scabal: The only advice I can give would be to have as much information as possible such as colours of wedding, themes, swatches of stuff they need to match and not clash with etc. and potentially leave at least 8 weeks gap between first measurements and the wedding to enable us to have time for fittings.
SCABAL is a member of 5 Star Wedding Directory's LUXE LIST of Wedding Suppliers