Get married in Bali part 2 | Dramatic jungle wedding at Alila Ubud
In the second of our four-part series on weddings in Bali with Alila Hotels and Resorts, we travel from Alila Manggis on the rugged east coast to the centre of the island – Ubud.
Ubud is the cultural hub of Bali where the tropical jungle is the backdrop to a vibrant town.  It is here where you will find Bali's traditional Kecak dance, some of the island's best Babi Guling (suckling pig), pretty shops and delicious cafes.  Ubud has long been a spiritual home for yogis and hence has a happy living vibe reflected in the many vegan and raw food cafes dotted around the town.  It is, without a doubt, a positive place to start married life.
Image: Bali Bali Beach
Alila Ubud is located just outside of Ubud's main town, amongst the rice paddies and on the edge of the jungle valley.  The winding road that takes you to the hotel is lined with paddy fields and is a beautiful way to arrive.  The serene drive belies the dramatic views that greet guests at the end – a breathtaking emerald green infinity pool perches on a terrace and appears to float above the plunging Ayung River valley below. The pool is surrounded by stone-tiled sun decks that feature luxurious sun-beds and attractive Balinese umbrellas. It is stunning and plays host to many weddings.
Alila Ubud Villas
Our personal hosts at Alila Ubud show us to our Valley Villa.  Let me just say here that this is luxury jungle living at its absolute best.  The indoor/outdoor villa is nestled on the edge of the rainforest with the Ayung River below.  A romantically draped four-poster bed sits in front of glass bi-fold doors which open up onto panoramic jungle views.  In the room, a pair of binoculars beckons to be used on the large wrap around balcony outside.  Walk from the bedroom to an outdoor bathroom and then into an air-conditioned dressing area complete with his and her sinks and Alila toiletries.  The villas are the perfect indulgence for wedding couples or honeymooners.
Getting married at Alila Ubud provides a whole host of options in terms of villas and whilst the Valley Villas were our favourites because of the views, the pool villas would be a great option for those wanting privacy and a pool of their own to hang out in.  Likewise, the Terrace Tree Villas are an incredible space for wedding parties to get ready with interior designed rooms and views of the lush jungle plantations.  The options of rooms and villas combined make Alila Ubud a popular choice for buy-out weddings (hiring the entire venue) with guests being able to choose which level of accommodation they'd like to stay in and families being easily housed together.
The Wedding
One of the nicest things about Alila Ubud is that it feels small but is deceptively large.  Wedding couples are invited to have their ceremony on the property's hillside retreat of Payangan, where the Sculpture Garden lives. This tranquil space which affords exotic jungle views can be decorated to your taste, with anything from traditional Balinese Umbulumbuls (flags) to more contemporary looks.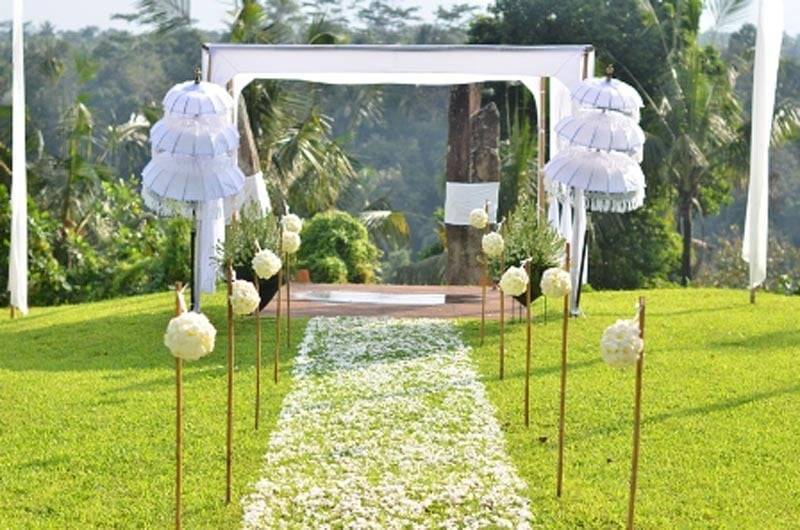 Ceremonies can be as intimate or large as you desire.  A ceremony for two may be followed by a romantic candlelit dinner in the hotel's Bale Bengong located on the pool hillside and overlooking the Ayung River.  Larger parties can enjoy cocktails and canapes in the plantation terrace followed by a feast for the eyes and bellies at the newly designed poolside cabana.  Whilst there are noise restrictions in the cabana after 10.30pm, the hotel's art gallery provides a place for guests to party until late.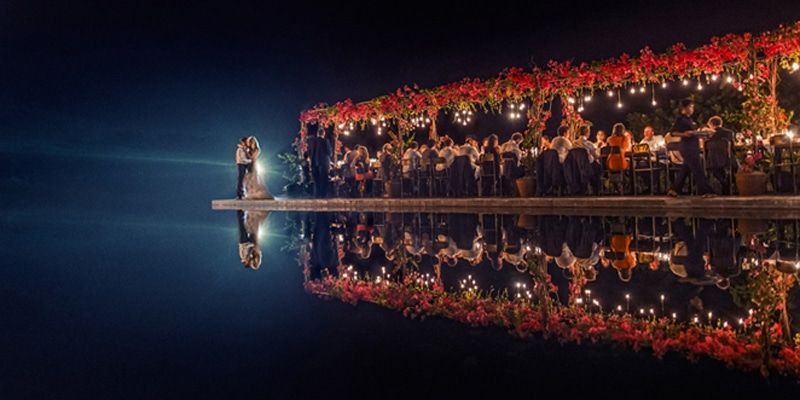 Newlyweds probably won't want to leave the luxury of Alila Ubud too quickly, so if you are planning to wed here then we'd highly recommend staying on for part or all of your honeymoon too.  The hotel's incredible spa would be a good place to start your first day as husband and wife, with a choice of beautifully designed indoor and outdoor rooms to accommodate couples.  If you would rather get out and about then the hotel provides a complimentary shuttle several times a day to Ubud's centre where you can explore the local shops and restaurants.  For those looking at doing something more adventurous, the Ayung River is home to the island's best white water rafting.  Similarly, Alila can organise experiences to immerse you into an authentic Balinese way of life such as market visits followed by cooking, bicycle rides or guided treks around the rice paddies and countryside.
Alila Ubud is for couples who love the great outdoors and dream of a tropical jungle setting with contemporary twists.  As we experienced first-hand, the service you will receive at Alila Ubud is impeccable with premium luxury and care at front of mind.
Five Reasons To Marry at Alila Ubud:
Stunning jungle backdrop creates the ultimate exotic wedding
Striking and award-winning* infinity pool which will wow guests
A range of accommodation to suit guests' varied needs and budgets
Romantically dressed villas create an ideal abode for newlyweds
Location is near to Bali's cultural centre, Ubud, as well as other Balinese ', must visit' spots
*Smith Hotel Awards 2015
For more information on weddings at Alila Ubud visit alilahotels.com/ubud/weddings