It's never too early to start looking after yourself and booking in a few treatments at your favourite spa or beauty salon.
Here is my countdown to your BIG day.
Just Engaged…
Now is the time to get yourself into a proper skincare routine, it's important that you understand your skin type so you can choose your products according to your skin type.
We all want glowing skin on our wedding day so preparation is really important, remember you are investing in your skin so find a skin care routine that works for you. It's no good buying lots of products if you only use 1 or 2 so do be realistic.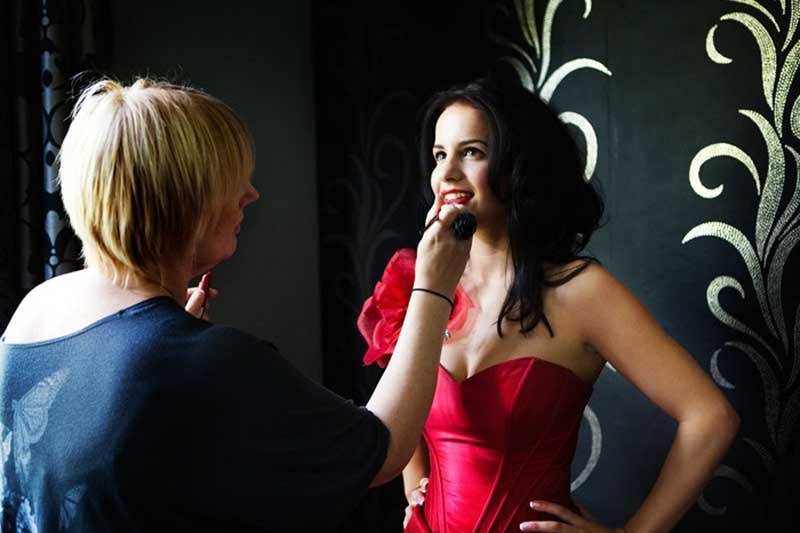 If you need to tone up or lose a few pounds now is the time to get yourself into a healthy eating plan. You don't need to join a gym, (although a personal trainer is great if you need motivating).
The great outdoors is free and walking or cycling works all the vital organs and will tone you up. Little and often is much better than going flat out and then losing interest. But remember, don't feel under any pressure to lose drastic amounts of weight for your wedding day, your fiancé loves you just how you are.
9 Months and counting…
If budget allows book a course of facials. Facial massage can firm and tone the skin but they are also beneficial in addressing any skin concerns that you may have, so always talk to your therapist ahead of starting any course for your own facial prescription.  I am a BIG fan of Crème de la Mer but if you favour a natural brand try Neal's Yard or Liz Earle as both do amazing facials.
Keep your hair in tiptop condition by booking in for a trim, ideally every 6 weeks. If you are growing your hair for your wedding it's still important to look after it.
Are you up to date with your dental check up? If tooth whitening is something that you are considering talk to your dentist as soon as possible. Remember you will be smiling all day so get those pearly whites camera ready.
Book your Hairdresser and Makeup Artist. It's important that you feel comfortable with your team, as they will be spending time with you on what is one of the most important days of your life, so communication is key. Booking a rehearsal is crucial and remember that you get what you pay for. It's not unusual for a top hair and makeup artist to be booked a year or so in advance so book early to avoid disappointment.
6 Months and counting…
Brows frame your face so book in for a treatment now. I am a huge fan of HD Brows and Nilam Patel, the Eyebrow Queen who in my opinion is THE best in the business. Now is the time to get those brows tamed. Remember to re-book every 4/6 weeks depending on your growth and colouring.
Book your make-up rehearsal, look to the magazines for inspiration and talk through your look with your Makeup Artist. I advise all my clients so if you are not sure what suits you do ask as your make-up artist is there to guide you if you need this help.
I can advise my clients on what colours are going to work for their skin tone, colouring and features. This is an ideal time to try out a few different looks but you want to enhance your natural beauty so nothing too creative.
3 Months and counting…
If you are opting for a fake tan now is the time to think about whether you are happy applying it yourself or whether you want to book a tanning therapist, there are a whole host of brands on the market today and it can be daunting but James Harknett, leading tanning expert suggests gradually building up to your desired colour. James recommends having 2 trials to ensure you are happy with the colour. Most brides opt for a natural tan that compliments the dress.
1 Month and counting…
The month before your wedding will be a really busy month for catching up on all your last minute beauty treatments. Enjoy the run up to your big day and let the professionals work their magic.
Now is the time for another visit to your Dentist/Hygienist for any last minute treatments and to get those teeth polished.
Book your last facial, relax and enjoy this time to unwind. Never book a facial in the week of your wedding just in case it prompts an outbreak.
Get your hair trimmed and make sure that your hairdresser knows what is expected of them on your wedding day, confirm their travel arrangements to the location of where you will be having your hair done and make a note of the time your hairdresser will be arriving.
If you colour your hair now is the time to get your colour done. Leave it for 2 days before you wash it to help preserve the colour.
Your final tanning session should be booked this month, but do not book this session the week of your wedding as you want the colour to fade slightly.
Book in for a manicure and pedicure, most brides opt for a soft pink nail polish but if you want to colour match take a sample of fabric with you to your appointment so they can find the perfect match to your dress.
Book your last brow treatment including your brow and lash tint. Opting for a lash tint means you can ditch the mascara on your Honeymoon.
1 week to go…
You can book your last minute waxing treatments in preparation for your Wedding and Honeymoon.
Your Make-up Artist should know what is expected of them on the day so any final travel arrangements should be arranged this week.
I would suggest getting your manicure and pedicure done the day before your wedding, you want to avoid any last minute chipping but any minor repairs can always be done so don't panic. I always carry a nail kit just in case.
Drink plenty of water in the run up to your wedding day and remember to eat a balanced diet, you will be no doubt be enjoying a Hen Party but do make sure you book this well in advance so that you are not suffering from any hen party hangovers.
Try and get an early night, it's not easy when you are so excited but try a relaxing bath before bedtime.
Night night gorgeous, beautiful Bride to be, tomorrow is your magical day.
---
For more information on Jules's bespoke bridal services please check out her website julescardozomarsh.com or email Jules at [email protected] Jules travels throughout the UK and Europe and has a studio in the heart of Mayfair. Private lessons are available by appointment only.