This Valentine's day we are bringing you an extra special honeymoon post on one of the most beautiful and romantic destinations that 5 Star Wedding Directory has visited. The Maldives Hadahaa is the ultimate luxury honeymoon and the perfect escape for modern couples.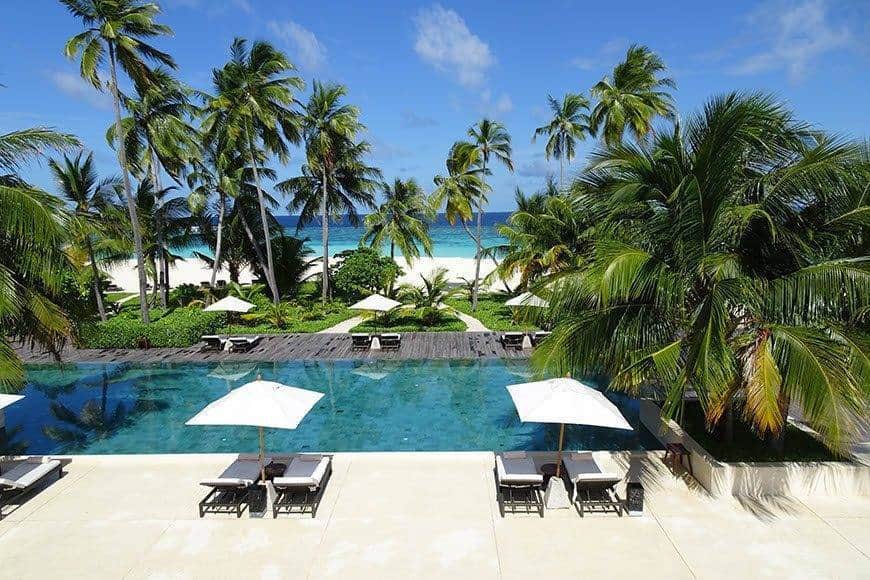 The Park Hyatt, Hadahaa
Escape….
The location of this particular private Maldivian island is unique in itself. Set apart from the more frequented atolls in the North, the island of Hadahaa is in the deepest atoll of the Maldives, North Huvadhoo. It is also probably the closest to the equator you'll ever get, sitting just 55km north.
Our journey to Hadahaa certainly felt like the great escape. A plane to the main island of Malé, followed by another short flight to Kooddoo Domestic Airport, followed by a 45-minute speedboat to the island (paradise is not meant to be within easy reach). The excitement during this journey is incomparable to anything else and as we neared the Hadahaa jetty, the smiling team of staff were like the cherry on top of a beautiful wedding cake. We stepped off the boat, our hearts bursting with gratitude and awe that we were able to experience this stunning little piece of our planet.
Modern Island Living
If you are looking for straw beach huts and tikki style bars then Park Hyatt Hadahaa is not for you. One of the biggest draws to this resort is its striking architecture, in a style which you won't find on any of the other islands. Modernist lovers will be in design heaven with the accommodation – a collection of cubist villas, each of which has been thoughtfully placed to maximise on complete privacy.  This contemporary approach does not in any way compromise the idyllic setting but is instead a stunning work of art set against the blank canvas backdrop of the Indian Ocean.
Hadahaa's unique architectural style is there to impress from the start. Welcome drinks take place at The Dhoni – a calm and cool open air lounge set apart from any other by its striking roof, an upturned traditional Dhoni boat. We later found this space to be the perfect peaceful retreat for reading and enjoying a drink.
Hadahaa is not a big island and so walking from one area to another is common amongst guests. If, however, you're feeling like giving your legs a break, you can call on the island's most popular form of transport – the golf buggy. Within minutes (sometimes seconds) one will be there to collect you and take you to any part of the island. When it comes to accommodation, honeymooners have the choice of staying in either one of the fourteen over ocean villas or like us, you can stay amidst the island's lush greenery on land in a Park Villa. All villas are steps away from the beach and ocean with some also featuring their own private plunge pool. The accommodation is spacious with floor to ceiling windows and large sliding door shades to maximise on keeping cool and quiet.
It's all in the details…
The most comfortable four poster beds and enormous indoor/outdoor bathrooms are just the start of luxurious living at Hadahaa. Personal Ipads to order room service and play music lists, your very own room manager and a sound system that follows you from the bedroom to outdoor bathroom is all very impressive. The whole resort is a haven of tranquillity but coming back to these peaceful rooms was like having a retreat within a retreat and something greatly appreciated by two city living individuals like ourselves.
Honeymoon Pampering
By the time you have got to your honeymoon, you are more than likely exhausted from meticulous wedding planning juggled with work in the run-up to the big day. We believe it is, therefore, an 'obligatory' honeymoon rule to indulge in massages and relaxing body treatments throughout your stay. The Vidhun Spa at Hadahaa is a destination unto itself. 'Vidhun' meaning 'to shine' is the goal for each guest during their visit. The holistic and wellness aspect of this spa means you can experience a range of treatments from unique rituals to simple but deeply relaxing massages. The spa has its own quiet corner in the resort, complete with an adult only swimming pool and beautiful air conditioned treatment villas.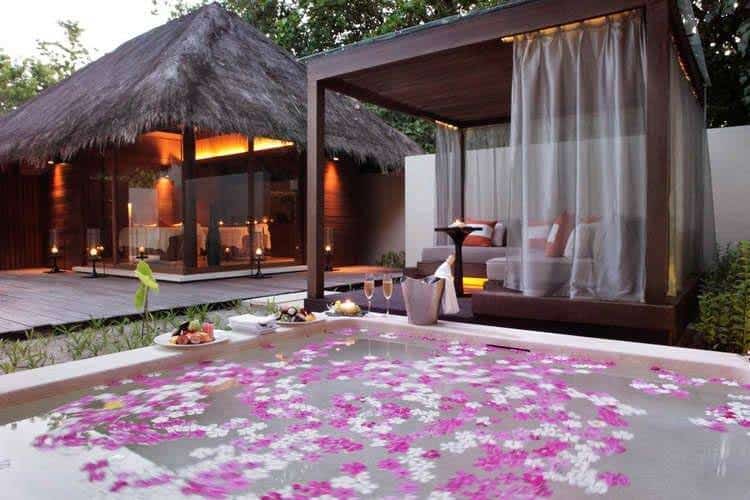 Ayu, was my massage therapist from Bali and I know from experience that the Balinese are excellent at massage. Ayu did not disappoint, her calm aura and perfect massage pressure was the perfect combination. I floated out of Vidhun knot free and as they had intended, beaming.
Eat Me, Drink Me
The other obligatory indulgence at Hadahaa is to eat and be reassured that you will eat a lot (of very good food). There are two main dining options both of which are located in stunning restaurant settings. The Island grill is a barefoot luxury experience where you can kick off your shoes and sit on one of the swing chairs whilst nibbling on Maldivian style grills of mixed meat and seafood. The other is The Dining Room where you can enjoy breakfast lunch and an à la carte dinner whilst overlooking the palm-fringed infinity pool and ocean.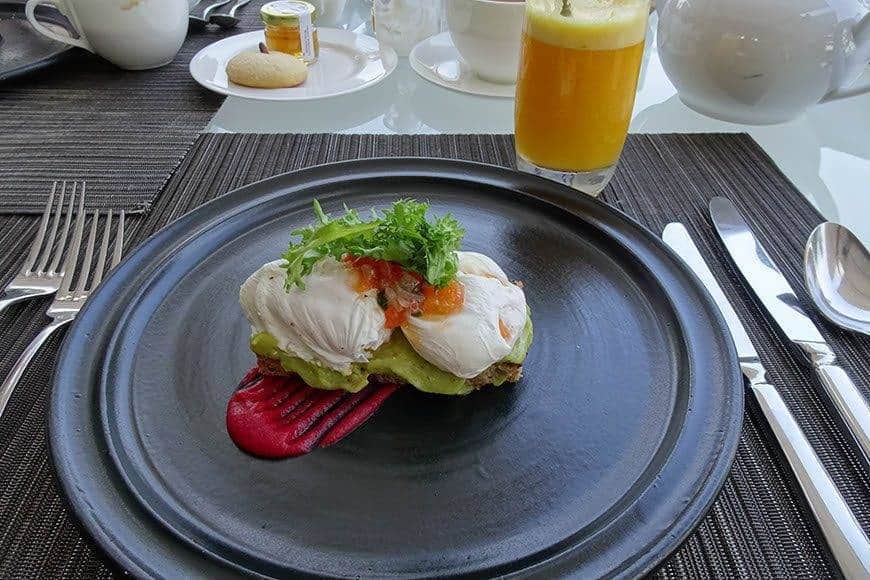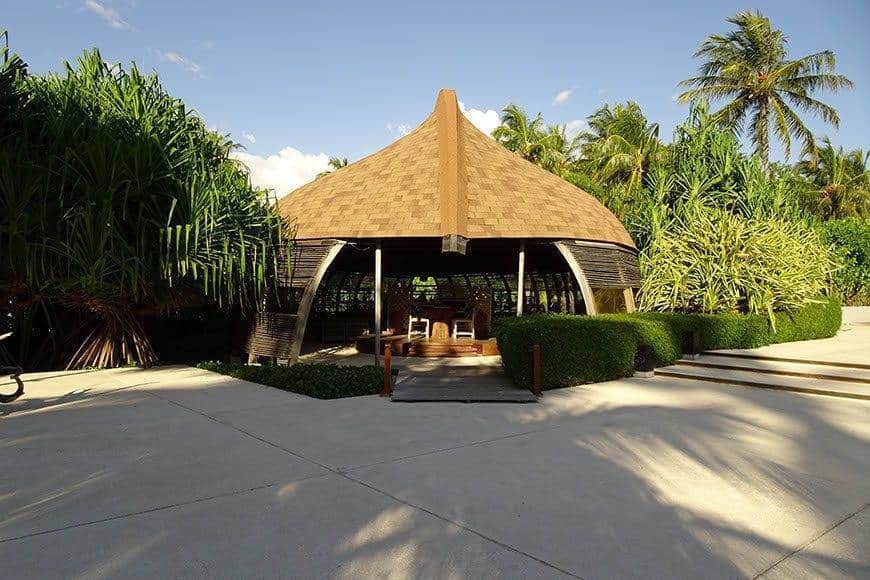 Aside from the two main restaurants, we loved the beautiful modernist style cabana where we drank cocktails such as the Boki-Boky whilst nibbling on Truffle Steak Fries and pizza. Beanbags and mini cabanas on the beach are idyllic spots for quietly sipping sunset drinks while Saturday nights are when the beach is brought to life with a weekly party. The party invites all guests to enjoy complimentary cocktails and canapes, served in front of a traditional Bodhu Beru band …it is a truly memorable and magical setting. If you wish, you can carry on the night with a candlelit beach bbq where lobster tails and delicious desserts are just some of the beach buffet highlights.
To The Prettiest Of Sunsets Accompanied By The Sound Of Traditional Bodhu Beru Beats
The Way Honeymoon Days Are Spent…
It is hard not to feel like you are on a honeymoon at Hadahaa, regardless of whether you are or not. Days are spent enjoying leisurely breakfasts followed by a swim in the pool or lazing on a sunlounger by the beach.
If you are up for some adventure then Hadahaa's location is a mecca for ocean lovers. The house reef is teeming with turtles, tropical fish and black-tip reef sharks, all of which we saw as soon as we entered the water on a morning of guided snorkelling. If you like to dive then take a trip to the outer reef and explore one of the world's deepest natural atolls. Dues to Hadahaa's remote location and only a handful of other nearby resorts dive guests are able to experience this amazing underwater world uninterrupted.  It is one of the best diving experiences in the Maldives.
5 Star Weddings Loved Park Hyatt Hadahaa for…(so many reasons but here are a few highlights)
The warm but discreet staff (nothing was ever any trouble and everything was always catered for – impeccable service)
Early morning outdoor yoga overlooking the ocean and by the beach (something we could never do at home)
Congee breakfasts and other international delights (we love trying new things)
Poolside lunches on our loungers (it's when you really feel like you're on holiday)
The resort's beautiful interior and exterior design (we felt like we had been dropped into a contemporary 1950s LA)
The island – white sands and turquoise waters are the ultimate Maldivian island experience and Hadahaa definitely doesn't disappoint
Park Hyatt Hadahaa would fulfil even the highest expectations of a dream honeymoon. It addresses what we at 5 Star Wedding Directory feel are the four key components: stunning location, romantic setting, once in a lifetime experience and faultless service. It is a place where relaxation and adventure can be enjoyed in equal measures and it is somewhere for newly married couples to begin lifelong memories.