Rachel and Evan live in Chicago but had a destination wedding in Boca Raton, Florida at The Addison.
Venue: The Addison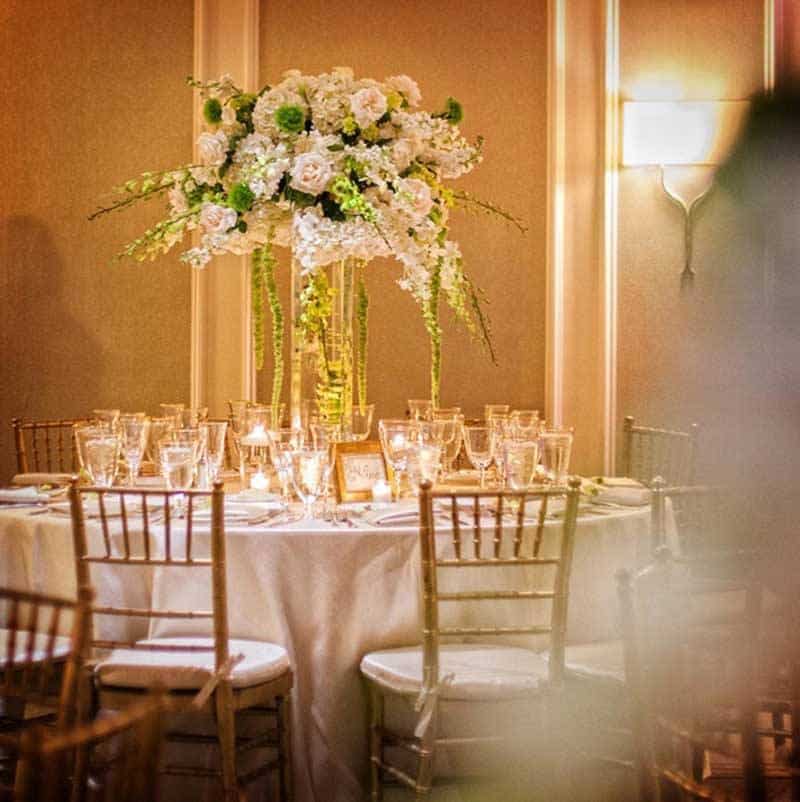 This hidden historical gem just blocks from the ocean in Boca Raton, Florida is known to locals as a Spanish style oasis hidden behind castle walls where people come from all over the world to host their weddings and events.
The only venue in South Florida dedicated exclusively to weddings and events to ever receive the prestigious Five Star Diamond Award for excellence in cuisine, service and atmosphere, the Addison is set amidst a breathtaking 11,000 square foot courtyard featuring a set of 100 year-old Banyan Trees, cascading fountains and historically restored 1920's architecture.
Location: South Florida
Selecting the Addison was not a difficult decision.  As soon as we saw those incredible Banyan trees we were sold.  After meeting with our Addison wedding coordinator, Cindy, we knew we were in good hands.  She was able to guide us through the entire process and was always there to answer a question, remind me when something needed to be done and offer honest advice!
The food and service were also a huge factor in our decision to host our wedding at the Addison.  After looking at other venues, I really appreciated that the Addison did not have a property filled with hotel guests or country club members.  We knew we would have the private use of our space.
The food was absolutely amazing! Everything was farm fresh and cook to order for each guest, rather than prepared and placed in a hotbox.  I had heard how great the food was, but they still blew me away… our guests were raving about the food.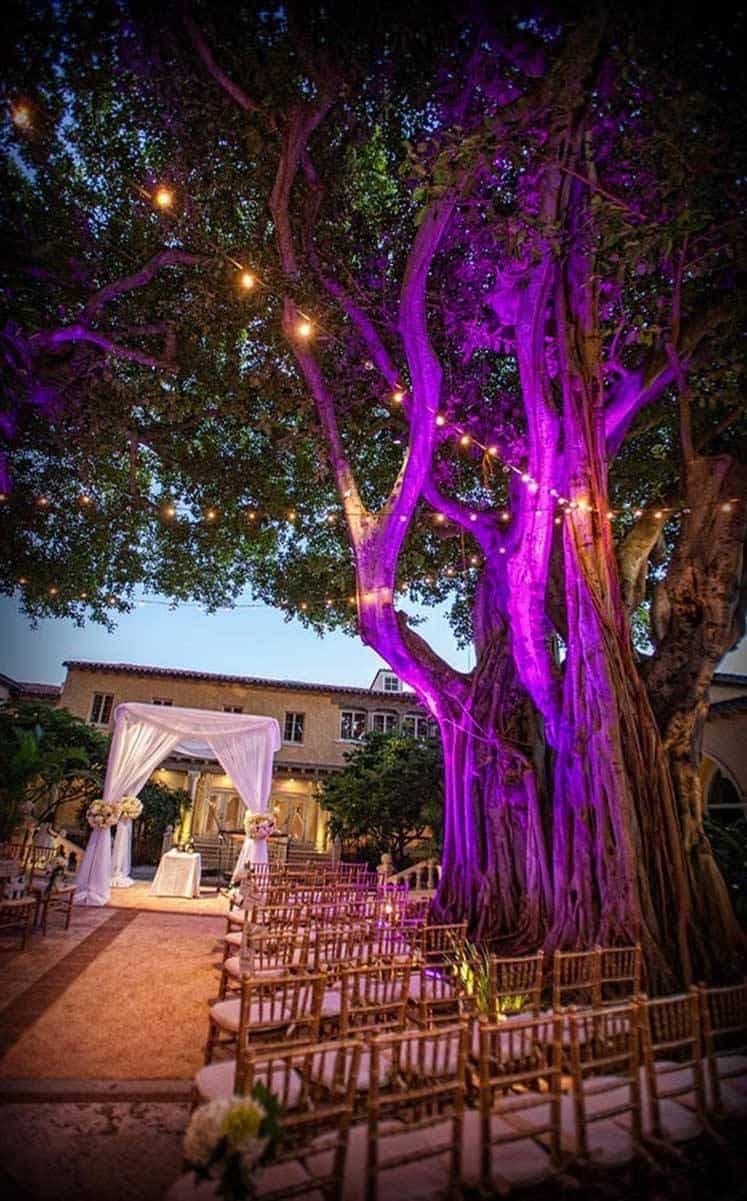 Colour Palate: No real color palate.
We wanted the venue to shine.  I wanted all white flowers and our florist suggested adding some greenery as more of a neutral to highlight the metallics and white flowers.  We added small touches of the gold frames for the table numbers, gold rimmed glassware, and gold chiavari chairs. We wanted everything to feel very fresh, light, calming, let our guests shine.  Our bridal party wore all black for the bridesmaids with the groomsman in classic tuxedos.
Photographer : Jeff Kolodny Photography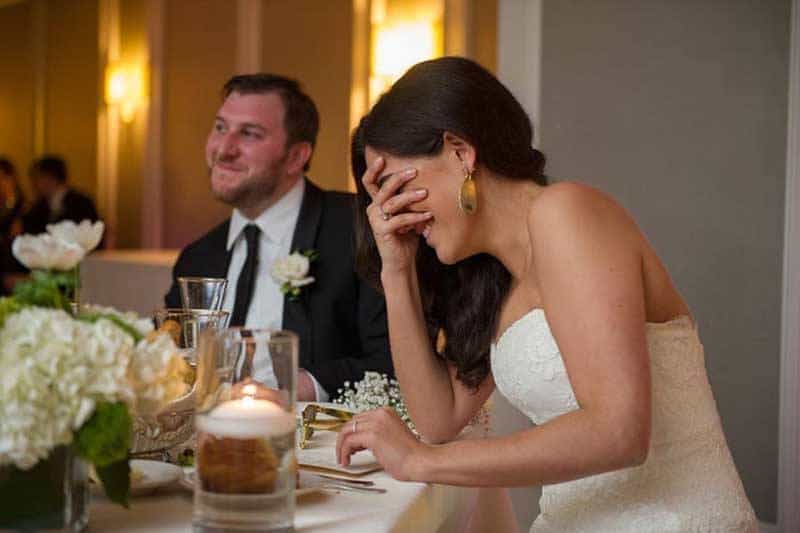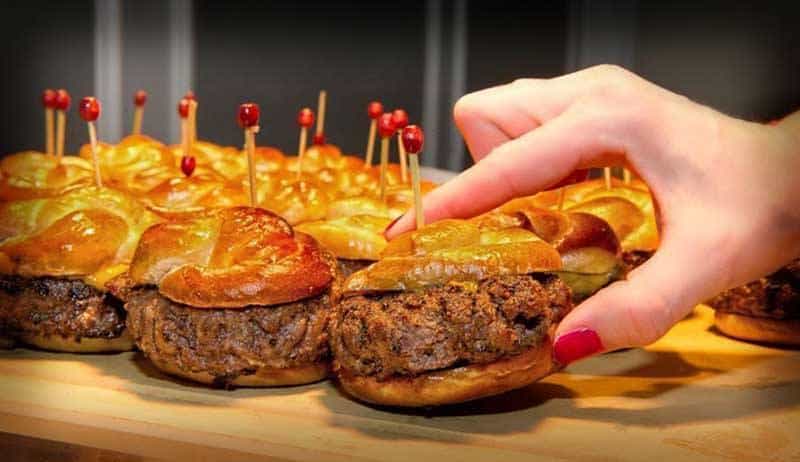 Wedding Gown : Monique Lhuillier Bliss Collection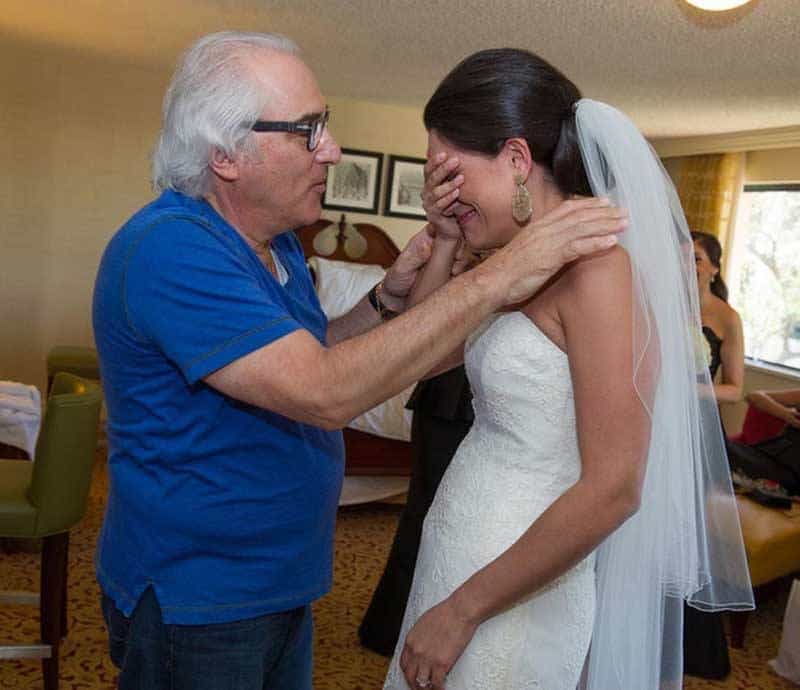 It was all lace with a slight corset look around the waist but just as a detail.  It was a fit and flare and I love how it fit my body and felt very light and comfortable.  I had a custom length veil made to hit at my calves to drape the back of the gown with 2 extra layers that were shorter to add texture.  I wanted to wear the dress, I didn't want it to wear me.  I accented the dress with vintage earrings I found in Chicago and metallic Jimmy Choo heels .
Flowers: Dalsimer
Majority of the flowers were white hydrangeas with accents of green hydrangeas, white roses, green orchids. My bridemaids bouquets were all white hydrangeas with some light green hydrangeas.  My maid of honor also had anemones added to hers.  My bouquet was all peonies since they were scarce at the time, my florist was able to find a few for my special bouquet.
Cake:  No cake needed.
We felt like at so many weddings we have attended the cake cutting went unnoticed and the presentation of the served cake was always nothing to be remembered.  Instead we did a 3 pieced served dessert and for late night snacks had an ice cream sundae bar and root beer float bar to accompany the sliders and truffle fry station.
Favours:
We had a photo booth for our guests to use during the evening.  We also handed out monogrammed champagne splits at the end of the night as our guests left.