Fortnum & Mason, synonymous with classic elegance, style and beautifully created artisanal products range of exquisite bespoke wedding and celebration cakes has proved to be a huge success.
The range of six wedding cakes first launched in February 2012 was inspired by Fortnum & Mason's foundations in the 1700s, each cake uses elements of this era to create an elegant centrepiece for any wedding or celebration.
The wedding cakes:
Georgian Lace Cake – Inspired by Georgian style lace, a structured and sleek design that is deliciously modern. Brides to be can use the lace from their dress as the motif.
Fortnum & Mason Georgian Lace Cake
Blossom Cake – Inspired by delicate wedding blooms with petals falling like confetti.
Fortnum Mason Blossom Cake
Cameo Cake – Inspired by Queen Charlotte's love of cameos and silhouettes. The central motif can feature an image of the bride and groom or be replaced with monograms.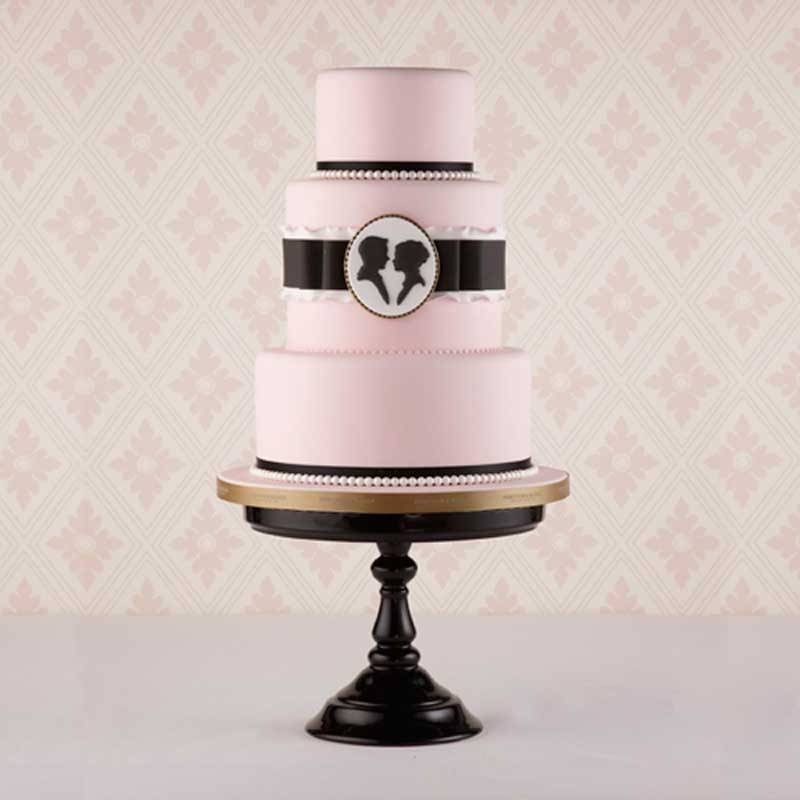 Fortnum & Mason Ruffle Cake
Tea Rose Cake – Inspired by Fortnum's tea range and romantic roses. Flowers are hand painted directly onto the mid-tier of the cake.
Fortnum & Mason Rose Cake
Georgian Porcelain Cake – Inspired by the Wedgwood and Jasperware porcelain and China that was so popular with Queen Charlotte.
The bespoke nature of the cakes, enables customers to not only choose their design and the colours of the cake but also to choose cake flavours – from the traditional fruitcake (preserved for the first anniversary and christenings) to other delicious delights:
Classic Vanilla (vanilla buttercream and Fortnum & Mason strawberry and champagne jam between the tiers)
Classic Tercentenary Chocolate (Fortnum & Mason chocolate ganache using tercentenary chocolate)
Pretty Marble (chocolate and vanilla sponge with chocolate ganache and vanilla buttercream)
Lemon (made using lemon zest, limoncello and Fortnum & Mason lemon curd)
Sandringham Coffee and Walnut (made using Fortnum & Mason Sandringham blend coffee and buttercream)
Carrot and Pecan cake with lemon buttercream
Banana cake with passion fruit buttercream
Orange cake with Fortnum & Mason's Old English Hunt Marmalade and buttercream with orange zest and orange liqueur
Fruitcake – a much lighter style of cake with fruit soaked in Fortnum & Mason cognac and brandy
All classic vanilla or chocolate sponge can include any of Fortnum & Mason jams or marmalades between tiers to match your theme, cocktail or creating a special unique flavour cake for your wedding day.
At Fortnum & Mason, the selection of the wedding cake is a special experience. The tasting and consultation take the form of a 'wedding afternoon tea' including cake samples served with champagne and tea in a private room in the newly refurbished St James's Restaurant. This experience is redeemable on purchase of the cake as well as a beautifully designed sketch of the final design, a perfect memento. Customers who purchase wedding and celebration cakes in the store will also have exclusive access to offers on champagne, cake knives and servers, as well as tips on how to preserve the top tier of the cake and wedding etiquette.
All cakes are made fresh to order, are created using only the finest Fortnum & Mason ingredients and each wedding cake has matching wedding favour cookies for guests to take home. All cakes are exclusive to Fortnum & Mason and are made by hand with meticulous care and attention to detail.
As well as delightful wedding cakes, the new range of celebration cakes, from £95, is perfect for anniversaries, birthdays and other special occasions. Available to order from the bakery counter in the store, these cakes come in three designs: a plain classic cake, an English Rose cake with sugar flowers and a two-tiered cake reminiscent of a ribbon tied present. All the cakes are made using Fortnum & Mason ingredients, flavours are the same as the wedding cakes and all designs can feature a bespoke message.
For more details visit Fortnum & Mason