From Top London FloristBlue Sky Flowers create stunning flower displays to make your wedding day complete. I had the pleasure of meeting Liz Inigo Jones, owner of Blue Sky Flowers to hear all about how she creates such beautiful blooms and where to start when deciding on your wedding flowers.
5 Star Weddings: Being a wedding florist, how do you help brides decide and work out where they should start when trying to sort out their wedding flowers?
Liz Inigo Jones: The most important thing as a florist is to listen to what your client wants – not just what they like but more importantly what they don't like or want on their wedding day. Find out what they have in mind, listen to them talk about their ideal day and then guide them through what is available, what is best seasonally and work to their budget. I encourage brides to come armed to my consultation with mood boards, magazine cuttings, scrapbooks, basically anything where they can visually show me what their floral vision is.
Sometimes, brides have a clear idea of what they think they want from their wedding flowers but when we ask them to start thinking about the time of year they are getting married, or the type of venue they have booked often the bride can change her mind.
5 Star Weddings: What are the most popular, widely requested flowers for weddings?
Liz Inigo Jones: Roses are widely requested, followed by Peonies and then Hydrangea. If a bride requests a particular flower but the flower is out of season I always offer alternative ideas, but if the bride has set her heart on a flower that is out of season I make it happen.
5 Star Weddings: Any unusual flowers or plants that are becoming more and more popular for weddings.
Why do you think this is?
Liz Inigo Jones: The trend for succulents everywhere has taken off thanks in some part to the availability of images and ideas from America. They are great to incorporate into bouquets and table displays and add a different dimension for brides looking for something unusual. You can also have mini succulent, which make for a nice favour for your guests to take home with them.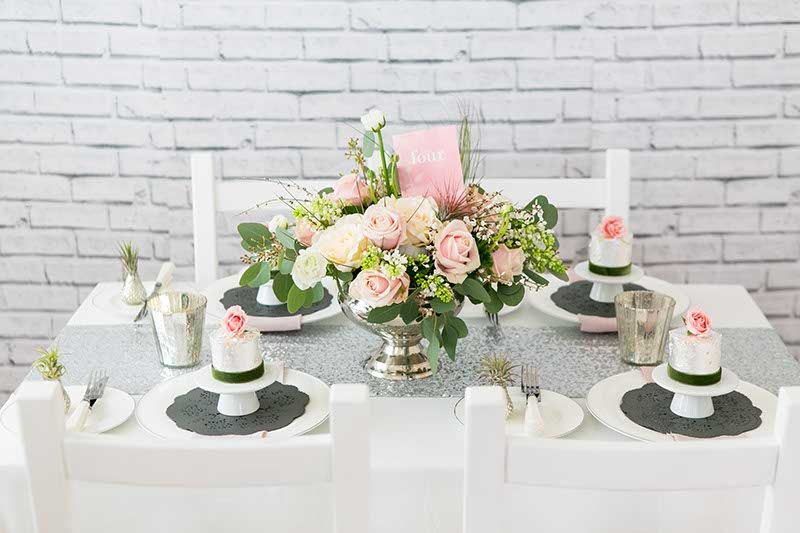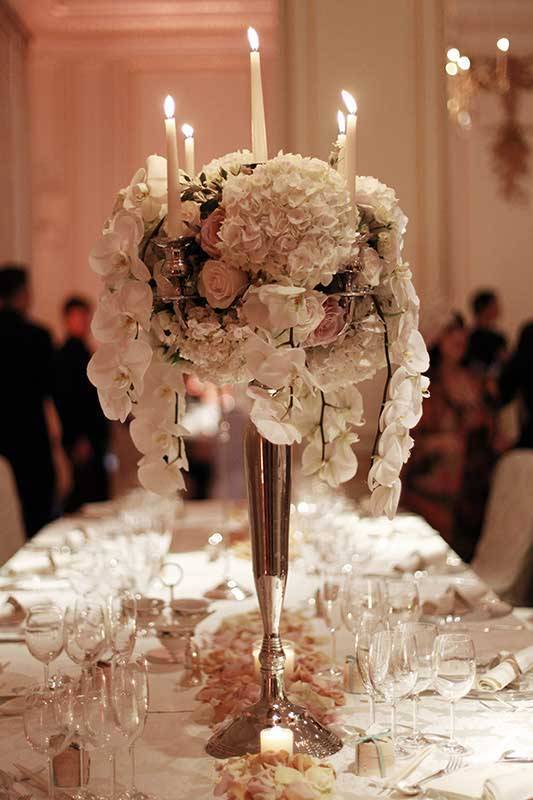 5 Star Weddings: What flower trends are you noticing now for 2015 weddings?
Liz Inigo Jones: There is certainly more demand from brides this year wanting larger, more natural and wild bouquets, with long trailing foliage. I am also seeing wider use of coloured vases/containers such as gold, rose gold, copper and other metallic finishes.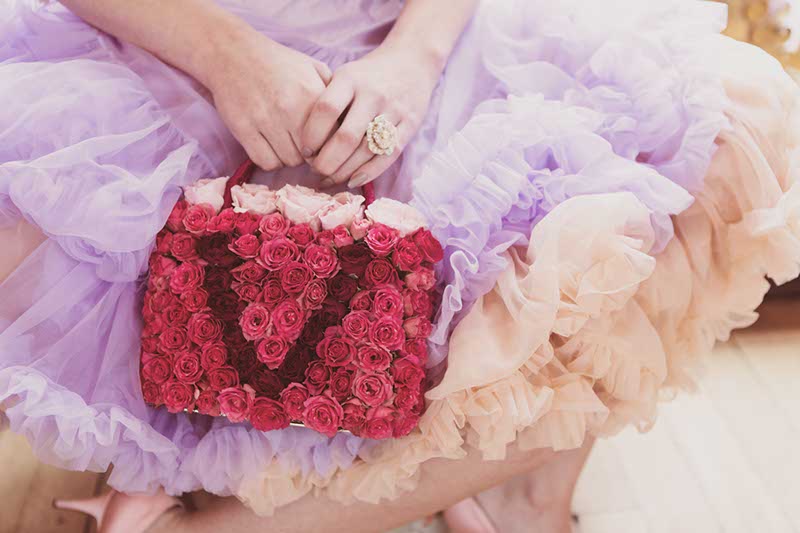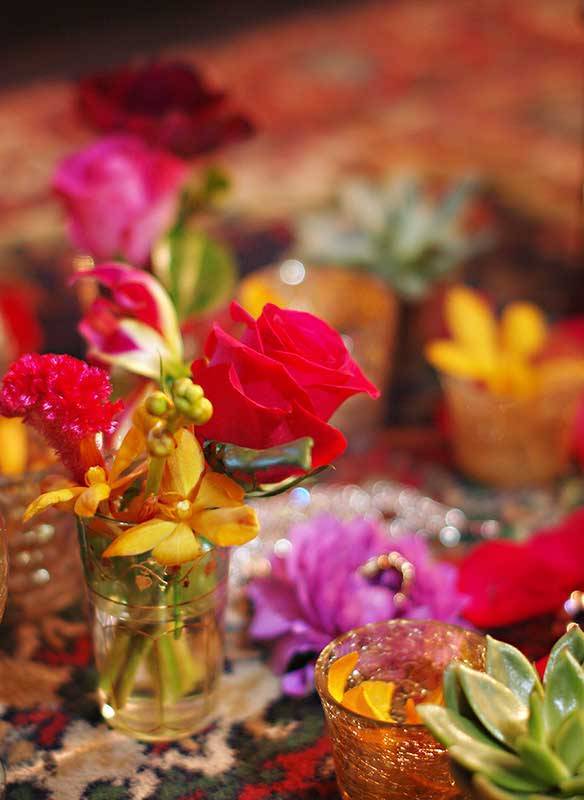 5 Star Weddings: What makes, in your opinion a 5 star wedding florist?
Liz Inigo Jones: In my opinion, a 5 star wedding florist is someone who takes the time, attention and care in being creative with their proposals and suggestions to brides. I also believe great attention to detail, providing a quality service with products that are second to none but above all listening and interpreting their client's wishes to make their day perfect is what makes a 5 star wedding florist.
5 Star Weddings: f you had to recommend a variety of flowers for a classic wedding that didn't fit with an on-trend of theme but was purely classic, what flowers and colours would you recommend and why?
Liz Inigo Jones: Roses without a doubt, as rose displays can be designs to be modern/contemporary or classic/traditional depending on the colour and variety of roses used.
5 Star Weddings: What level of service can your brides expect from Blue Sky Flowers?
Liz Inigo Jones: We will meet with potential brides at their home, our studio that is located within the New Covent Garden Flower Market, a location close to their work or at the wedding venue itself – whatever is easiest for the bride. We are happy to create and offer a sample bouquet or table display (chargeable) so the bride can get an idea of what her overall floral display will look like.
We will deliver and set up the flowers, personal flowers to home or hotel/venue, reception and ceremony flowers to respective sites. We then clear the following day or same evening if required.
Following the initial meeting, we will prepare a proposal including quote and visuals to bring their wedding to life – this may involve a mood board if required.
5 Star Weddings: If a groom wanted to have some flowers for his new bride delivered as a gift the morning of the wedding what would you recommend and why?
Liz Inigo Jones: We have done this in the past and would suggest that the groom briefs us on his bride's favourite flower/colour – which isn't always what is used for the bouquet. We would make this in a vase or suitable container so it can be taken home with them after the wedding.
Blue Sky Flowers at a studio located within the New Covent Garden Flower Market. For further details please visit blueskyflowers.co.uk.
Images Courtesy of Celina Photography, Crissi Rossi Photography, Anneli Marinovich, Fiona Kelly, Kirsten Mavric,Jeanette Lendon,Nikole Ramsay, Xanthe Berkeley
For more interviews with the wedding experts more interviews
Leave this field empty