It was a freezing cold day when we visited The Grand Hotel, Eastbourne, but the skies were clear and the sun was beating down on us as we drew up to the striking white building.
Elegant and grand, living up to its name, we were excited to see what lay behind its façade. The Grand is the only five star hotel by the sea in Sussex, with 152 rooms, and beautiful sea views. Its history is rich and varied – from hosting weekly BBC broadcasts by the Grand Hotel Orchestra, to becoming a military headquarters in the Second World War, if the walls could talk, there would undoubtedly be some fascinating tales told. The hotel also boasts a number of famous visitors; Winston Churchill, Charlie Chaplin, Arthur Conan Doyle and King Constantine of Greece, to name but a few.
The suite
Surrounded by marble columns and wide corridors, we checked in and were escorted to our suite. One of the largest in the hotel, our suite was breathtaking. The sea views were the stuff of dreams, and throwing open the doors, the huge balcony was the perfect place to stand and gaze at the waves awhile. This suite would be the ideal place to get ready for a wedding. There's plenty of space, a gorgeous comfy four poster bed and of course, those views, which you can actually see from the bed!
Having settled in to our room, we just had to get down to the beach, which is so close it would be perfect for wedding photos, or even a pre-wedding wander, on the morning of your big day. Having enjoyed a walk to Eastbourne pier in the fresh air against the sounds of the sea, we headed back for a pre dinner cocktail, before dining in one of the hotel's restaurants, The Garden.
Dinner
Steeped in old style elegance, The Grand Hotel's Garden Restaurant has a seasonal modern British menu, with food sourced locally. We thoroughly enjoyed Sussex smoked salmon, chicken with wild mushrooms and a delightful crème brulee, taking our time and soaking in the relaxing atmosphere.
Turn down and breakfast
A lovely turned down room welcomed us as we tumbled into bed for a wonderful sleep, the sea hiding behind floor to ceiling curtains. Breakfast was a buffet in The Garden Restaurant, and there was a really good selection to choose from.  We enjoyed a leisurely meal before meeting the wedding coordinator for a tour of the hotel's wedding facilities.
Weddings at The Grand Hotel, Eastbourne
This huge, grand hotel has a range of options – and carries that grand feeling throughout even its smaller spaces. They have three licensed spaces, the elegant Princes Room, with crystal chandeliers, which caters for up to 120 guests, the Arundel Room, flooded with natural light, or the Dukes Room – the original hotel library, beautifully wood panelled and suitable for smaller ceremonies. The ballroom, however, is the showstopper. The Compton Room is a Victorian ballroom, with stained glass windows and minstrels gallery above.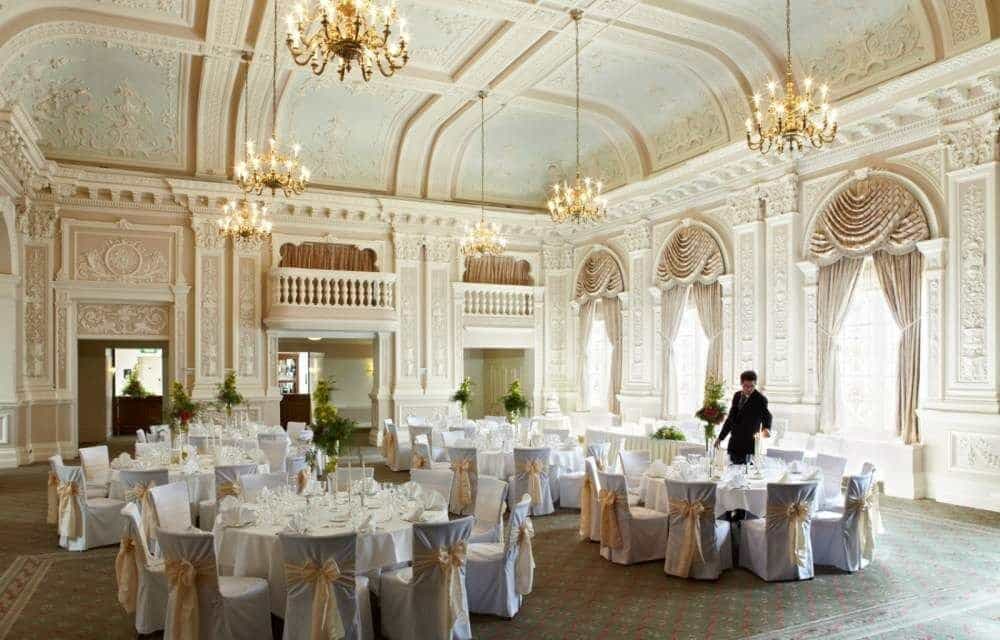 The Grand Hotel Eastbourne understand that every couple, and every wedding is different, so they even do some alternative weddings – an afternoon tea wedding package is available, as well as a wintery Christmas package, and one for exclusive use of their fine dining restaurant, the Mirabelle. Of course, you can also build a bespoke package to suit you. Worth an additional mention is the Gallery, a private room where you can enjoy afternoon tea, or a family dinner. It's so private, I really loved the space.
The Penthouse
Whilst we were having a tour, we thought we'd sneak a peek at the Penthouse suite. For £725 a night, you can enjoy dramatic panoramic views, private lift, enormous bedroom, a regal bathroom with standalone bath and freestanding shower, oh and did we mention the views…?! Just perfect for a bride to stay in and get ready, this is such a lovely suite.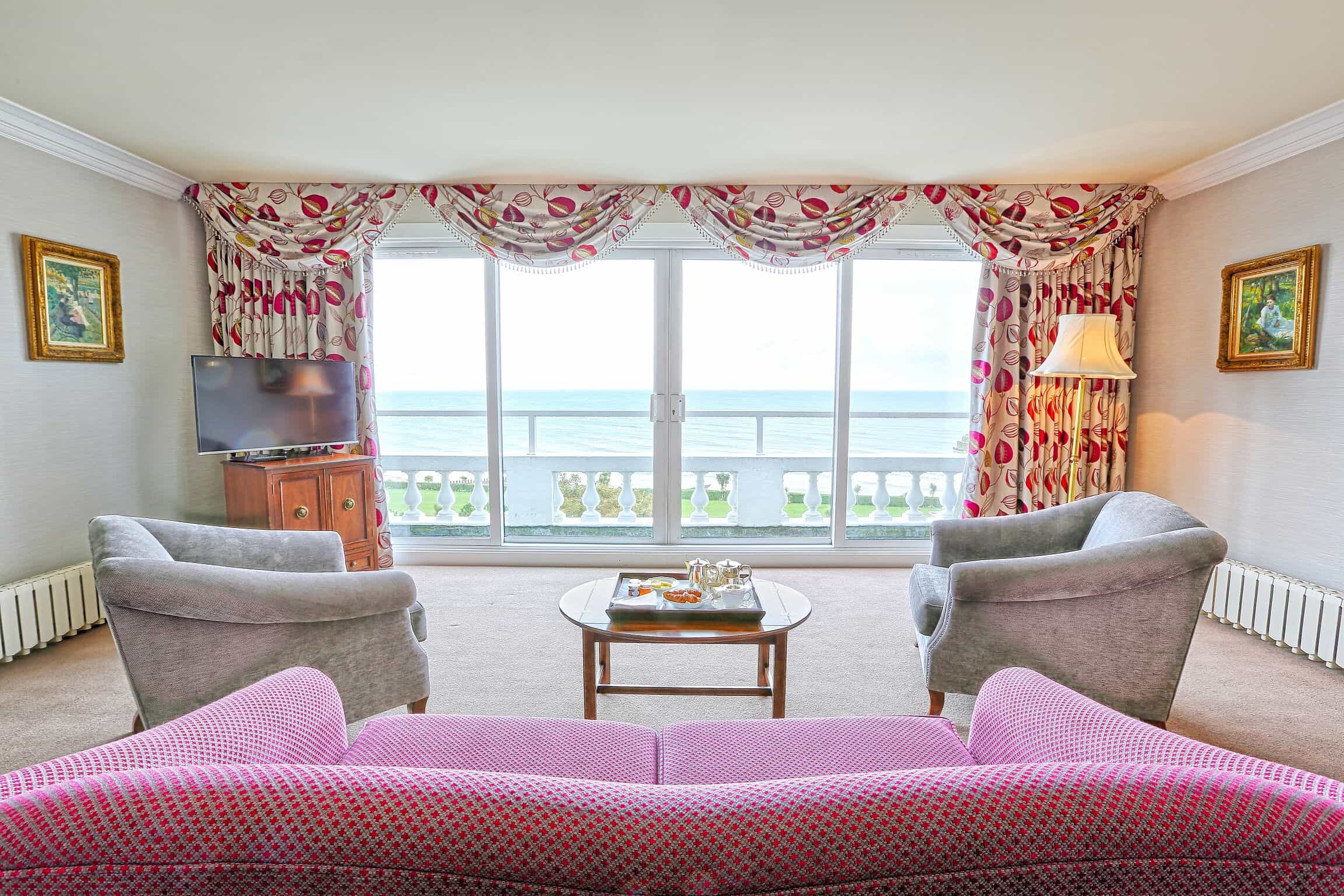 We thoroughly enjoyed our stay at The Grand Hotel Eastbourne. It certainly lived up to its name, and would be perfect for a mini-moon, short getaway or spectacular grand wedding. The service was friendly and welcoming, the food was lovely, and it also has a spa and swimming pool, which would be a lovely addition to a hen party or weekend away. The winner for me, though, is the sea – sparkling away outside every window. This is the hotel for a sea-view wedding day!
We were gifted this stay in return for a review of The Grand Hotel Eastbourne.