A perfect match…
A tale as old as time and three beautiful dresses fit for a Disney princess made Serena Williams' wedding to Reddit founder Alexis Ohanian, a beautiful storybook fairytale. With a star-studded guest list including Beyonce, Anna Wintour, Kim Kardashian and Eva Longoria, this wedding had all the trademarks of a personally organised day. But that wasn't to say the big bucks weren't thrown into the elaborate celebrations. We've got all the details on Serena's big day.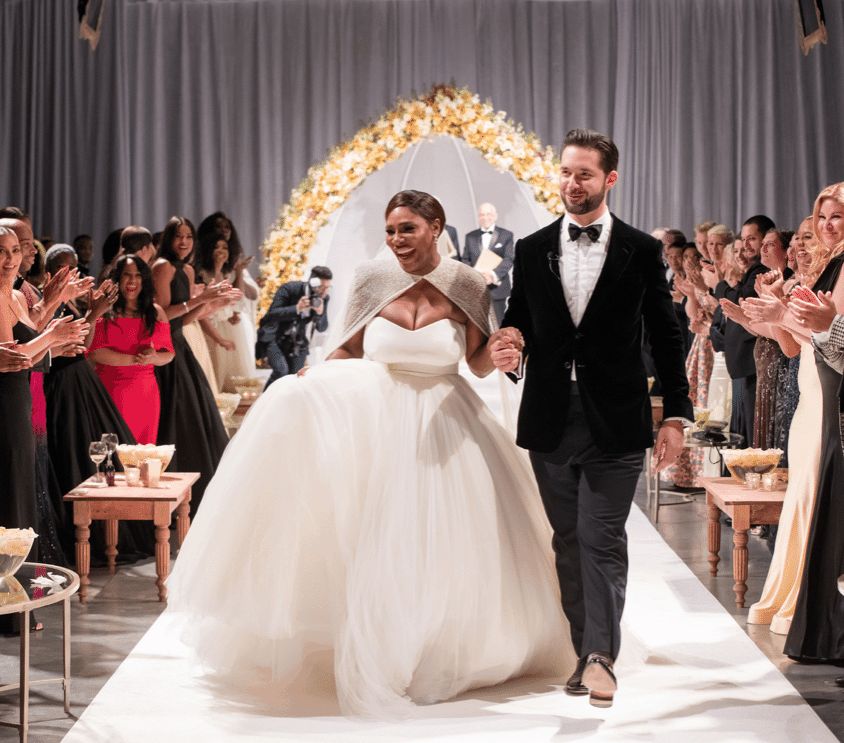 The Bride
'A cape, I just want to wear a cape," was Serena's first request for her wedding dress, but when her wedding day dawned, Serena enjoyed three dresses – an elegant Alexander McQueen ballgown with sheer, crystal embellished cape (of course!) and simple veil for the ceremony, a beaded and feathered Versace for the wedding breakfast and another fitted, short and cute Versace for the dancing!
Serena chose to stroll down the aisle in her famous Nikes, bedazzled of course, with crystals covering every inch of them and making Nike's famous emblem. Her jewellery was from XIV Karats, worth $3.5 million!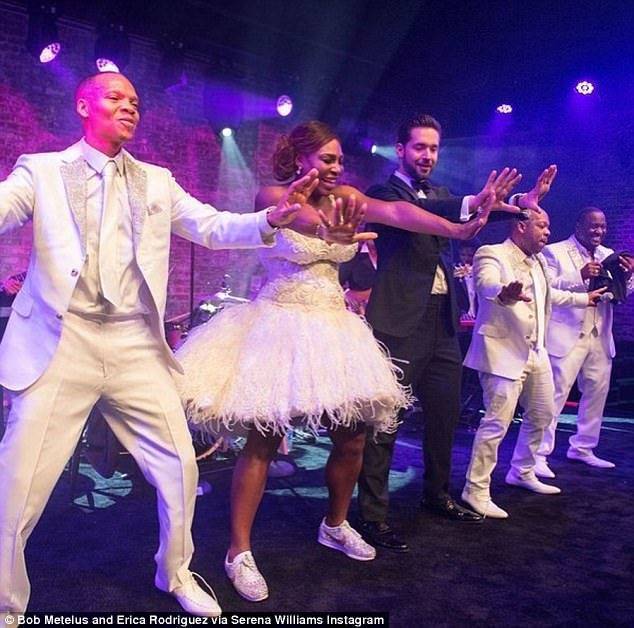 The Groom
Dressed in a fabulous made to measure midnight blue Armani velvet jacket and tuxedo trousers, the groom's individual style matched the style of the wedding. He too had more than one outfit, changing into a more traditional tuxedo for the reception. Everything they had chosen made the day personal, unique and perfect for them. The groom and Serena's little dog even matched, as Chip the Yorkshire Terrier had his own little top hat and tux jacket. SO cute!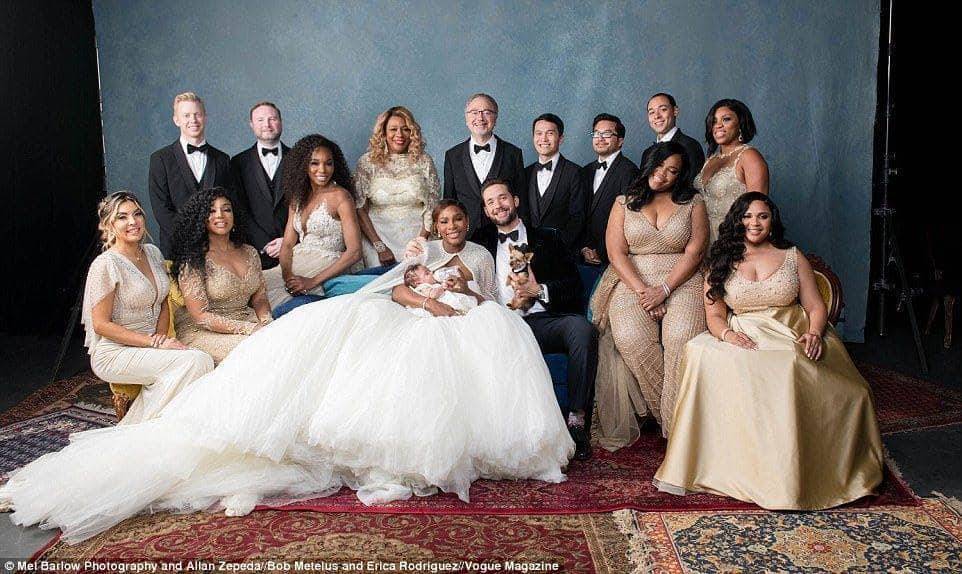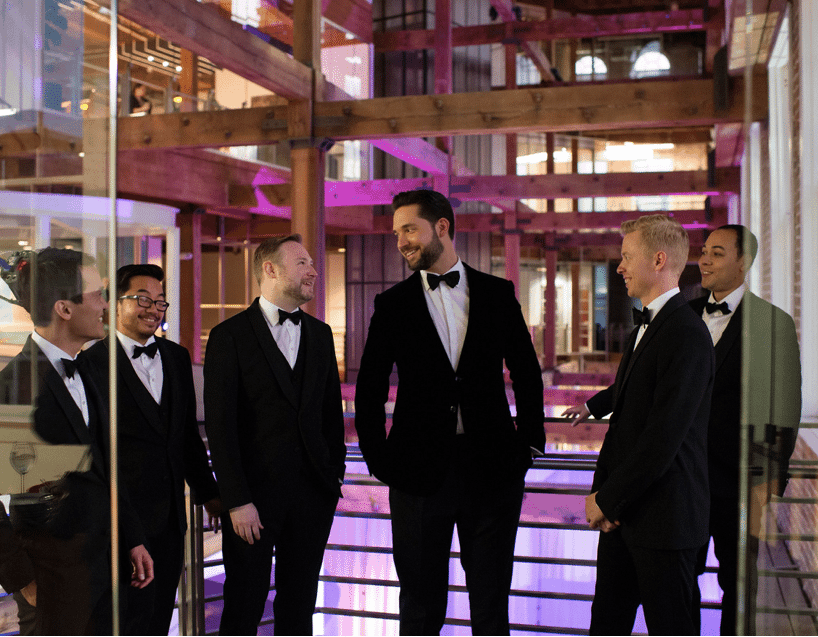 The Girls
Each of the bridesmaids was dressed in a custom Galia Lahav dress in shades of champagne and gold. The dresses fit each girl's personality and style and looked fabulous as they were clearly so comfortable in them.
The Theme
The groom's choice of location was New Orleans as he just loves the vibe there, so the couple wed in the Contemporary Arts Center of New Orleans. Being a huge Disney fan, Serena wanted a grand French ball themed occasion with influences of Beauty and The Beast. Long banquet tables were set out and golden arches of flowers adorned the venue with chandeliers encased in golden birdcages. Guests entered to 'Be Our Guest' whilst the newlyweds danced to 'Tale as Old as Time' for their first dance. It was beautifully romantic and dreamily conveyed.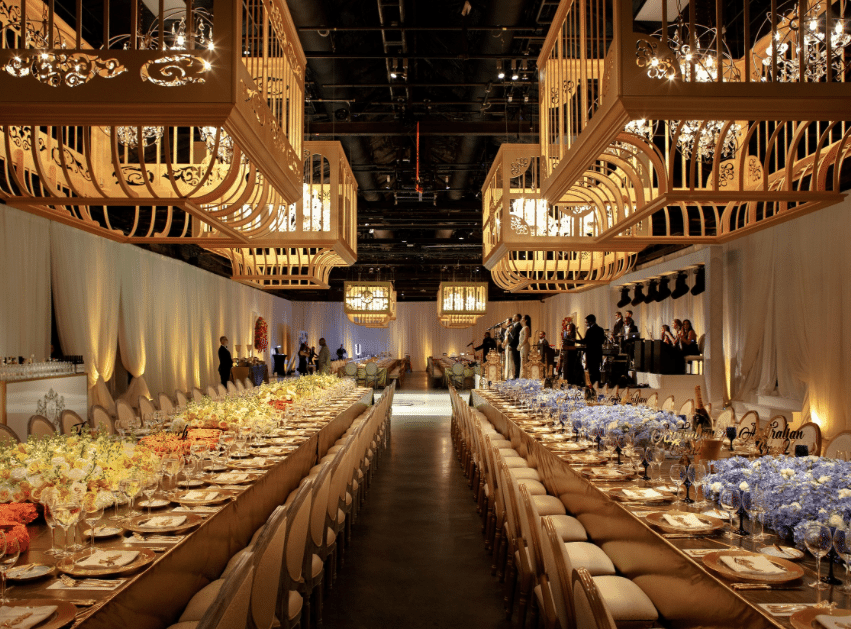 The Ceremony
Serena and Alexis wanted a totally relaxed ceremony and guests reclined on sofas facing the aisle, rather than the altar with a fashion show feel as they watched a film of the couple's history before the grand entrance of the bride. The couple wanted the day to be as non-traditional as possible, with their guests comfortable and enjoying the day as much as Serena and Alexis did.
The Celebration
An around-the-world themed dinner followed, with thrones for the happy couple and each table named after one of Serena's 12 grand slam titles. Guests' places were marked with a recreation of one of the trophies received for each title. A really personal touch celebrating the superstar tennis player.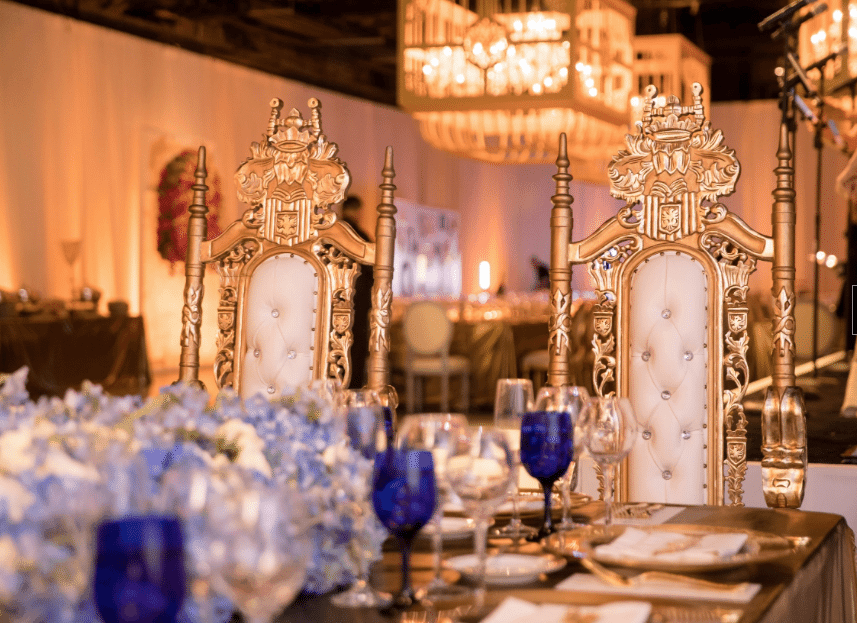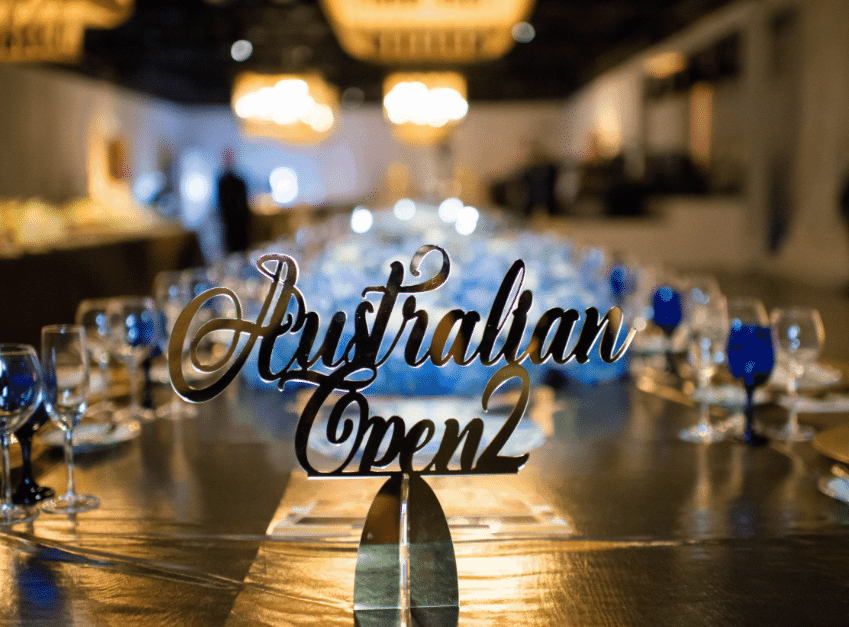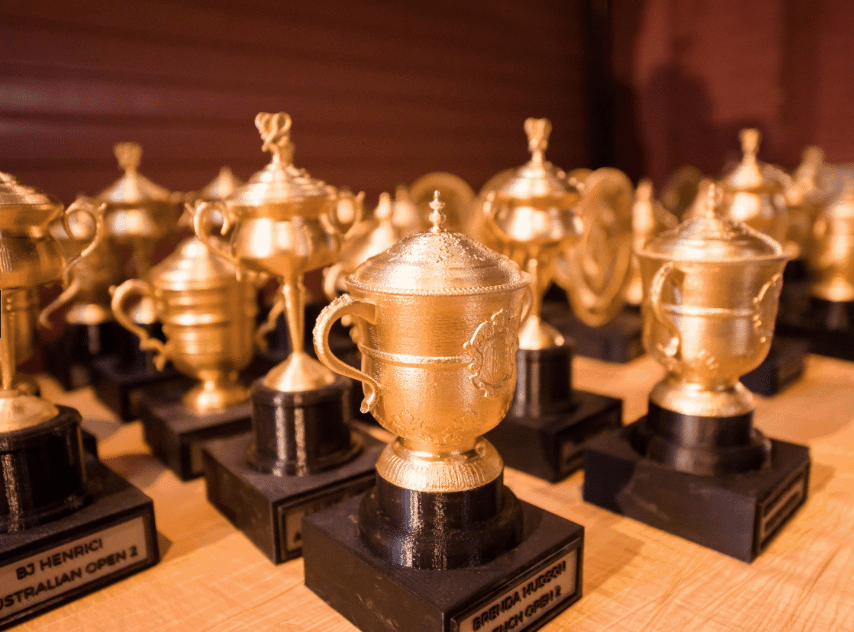 Dancing followed, with live music and Serena's final dress showcased, and guests enjoyed a Gatorade station, vintage video games and a sumptuous buffet. There was even a surprise carousel!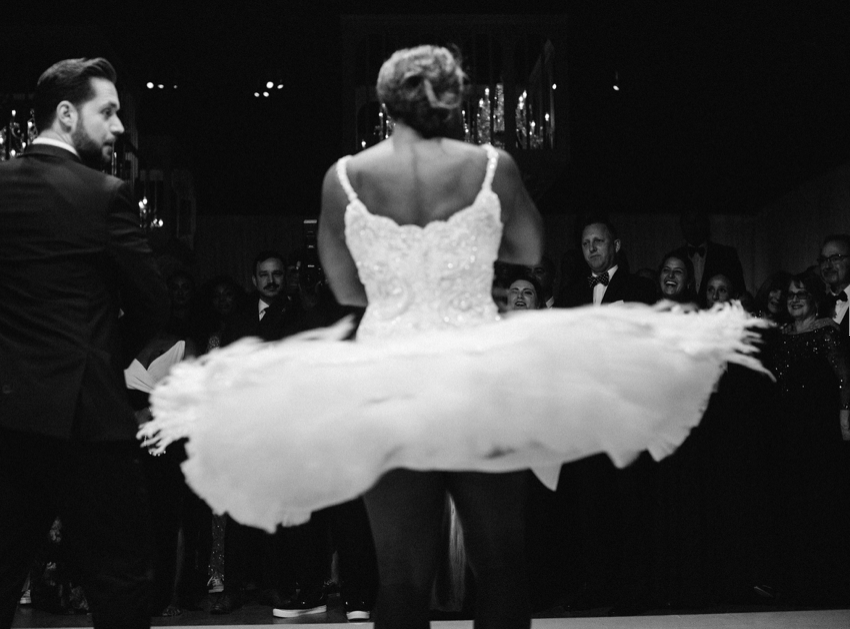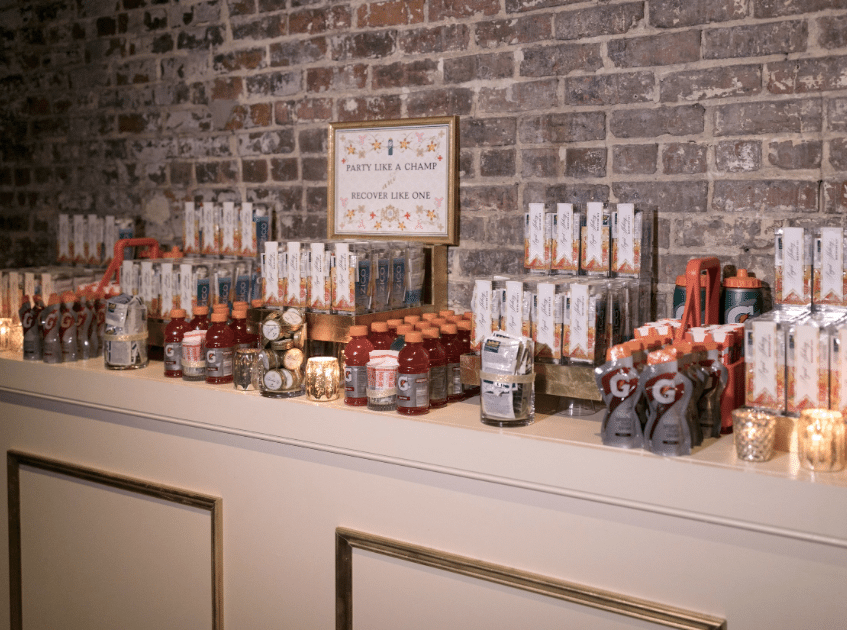 We adore weddings that clearly have the personalities of the couple stamped all over them. It's so lovely to see all the little touches that make this day so unique. So many congratulations to Serena and Alexis!
For more real-life inspiration, see our real weddings page.
See Disneyland® Paris profile:
Images: Bob Metelus and Erica Rodriguez//Vogue Magazine unless stated.