Having just returned from a delightful journey on the Orient Express, and it was a journey like no other. As soon as we stepped on the platform at Victoria Station we could hear the 4 piece jazz band playing, excitedly we headed towards the music.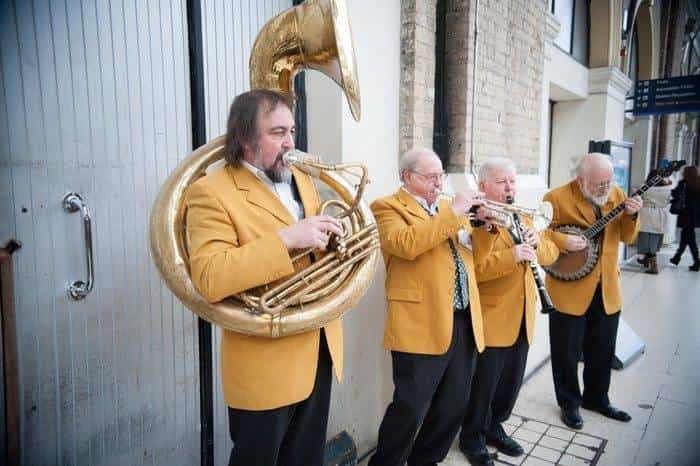 Live Brass Band On The Platform
After a lovely check in with a friendly member of staff, who gave us a travel journal and pointed out we had seat 5 and 6 in the Audrey carriage. We waited with the many other passengers for the British Pullman whilst sipping a cup of tea.
Orient Express British Pullman
The British Pullman In All Its Glory
When the train pulled in you could see the all the passengers faces where so excited to board this beauty. Before stepping on the train, we headed to the steam to take a few photos of British Pullman in all its glory.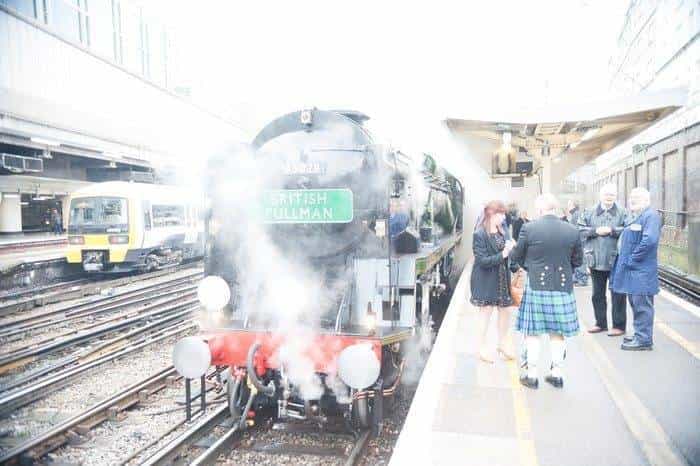 The Orient Express
We were greeted by a Pullman team member who was smartly dressed in a gleaming uniform and white gloves, he helped me climb on board and show us to our seats. I was then introduced to the train manager Jeff, who was the friendliest, charming gentleman who later told me he served members of the Royal Family, Nelson Mandela and many state leaders.
Immaculate Steward Waiting to Assist Us On the Orient Express
The British Pullman train has everything that was fabulous about the 1920's and 1930's. In their heyday, the carriages formed a most famous luxurious service in Britain, and I was so pleased I got to travel one also.
Each of the 11 carriages has its own name and décor; we were in the Audrey carriage with amazing veneered panels decorated with exquisite Art Deco design. I just loved the plush and room armchairs (the only train to have movable chairs), tables with bright white linen, polished silver, crystal engraved glasses, and blush pink lamps, and had gleaming brass luggage racks above.
I sat back admiring the beautiful scenery from the train window, and could not help but to fall asleep. Jeff and the team made our journey so delightful and relaxed.
Table For Two On The British Pullman
Audrey Carriage On The British Pullman
On the menu for the day was prepared by Robbie Gleeson, Executive head Chef, and the food really was exquisite.
Terrine of Langoustine, Scottish Salmon and Marinated Vegetables, with Red Pepper and Basil Essence.

Light Spiced Carrot and Butternut Squash Soup with Coriander Crème Fresh.

Roast Breast of Gressingham duck, Glazed Shallot Confit, Seasonal Root Vegetables,

Galette Potato and Tarragon Café Lait

Selection of Cheeses from the British Isles with Homemade Chutney

Dark Chocolate Mousse with Coconut Cookies

Rainforest Alliance Coffee
After lunch I took a tour of the train, each carriage has its own unique look, feel and all have different stories to tell.
Audrey Carriage On The British Pullman
Whether you are celebrating a honeymoon, anniversary or a luxury day out with your hens the team on the British Pullman I am sure will exceed your expectations and delight your palate with exquisite food and wine.
You really must experience the glamor of vintage travel; I know I would love to explore their collection maybe on the Singapore, Kula Lumpur and Bangkok train. Have you been on the Orient Express? We would love to hear what your experience was like.
Visit Orient Express for other wonderful journeys