If you've had enough of organising guest lists, choosing favours and looking at venues, then why not take some time out with a relaxing country spa break at The Grove in Hertfordshire.
This weekend past, my husband-to-be and I experienced a little corner of spa heaven. Since the proposal last September and now a month to go before the big day, our every spare minute has been consumed with discussions on flowers, transport, food, an ever-increasing guest list and consequently, escalating budget. The soft glow of an excited bride-to-be has sadly turned into a furrowed brow and even the prospect of taking a couple of days out to 'spa' and 'relax' feels like another thing we need to tick off the never-ending to-do list.
Ross and I pack a weekend bag and hop on the train from our London home to Hertfordshire. An hour and a half later and via a surprisingly stress-free journey on the Metropolitan line up to Watford, followed by a 10-minute taxi ride from the station, we find ourselves cruising through the gates of The Grove Hotel and into 300 acres of the rolling countryside…the smile on my face is creeping back already.
I had heard good things about The Grove so my expectations were high. Friends exclamations of "Oh I love The Grove!" and "the spa is amazing!" were just a few comments which I was sure would set me up for a fall but I have to say now, the whole experience was delightful from beginning to end. From the cheerful doorman who welcomed us and took our bags, to the stunning reception adorned with beautiful yet bold flower displays and the helpful check-in staff who advised us on the details of our stay. If you are ever feeling disillusioned by the lack of manners and customer service in everyday life then the staff at The Grove will restore your faith with their Downton Abbey style approach of discreet, yet attentive service.
Our superior room also echoed elegant 20th-century country house interiors with a free standing bath overlooking the golf course and antique furniture placed alongside modern luxuries such as an iPod dock, flat screen television, bathroom products from The White Company and a hotel bed that you'll never want to leave.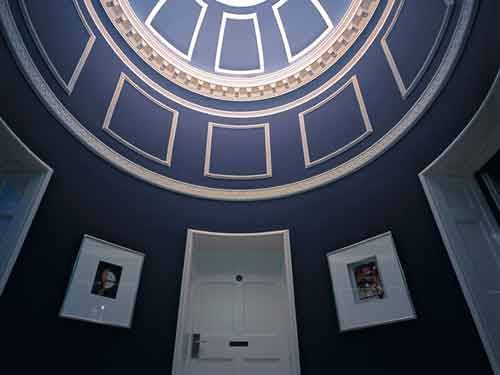 Whilst I would have been quite happy just spending the weekend in this one room…the spa was beckoning. The Sequoia Spa has been frequently listed as one of the UK's best and so as a regular spa-goer, I was intrigued. When you visit a spa, you want seamless, calm transition from one area to another – you want that zen feeling, the moment you walk through the doors. Sequoia delivered. Again, service with a smile from all the staff and facilities that were clean and faultless – fluffy towels in abundance, lockers with robes and slippers ready to be adorned and ESPA products throughout. I kitted myself out and was whisked away by my therapist, Claire, for a one-hour essential body massage.
Now, I have done a beauty therapy and massage course, so I am particularly fussy about how it should feel. There has been many a time when layed on a massage bed, I've thought, 'pleeease massage my glutes!' or 'why aren't you kneading my shoulders?'. Massage is an art and you can tell when your therapist is bored, staring at the ceiling, waiting for the hour to be up. Thankfully, I had no such experience with Claire who has what I call 'massage hands' – long supple fingers to be able to fluidly reach into every knot whilst also having the strength to apply pressure when necessary. My back had been particularly stiff but after an hour of having my chosen essential oil expertly rubbed into every part of my neck, back (including glutes!) and shoulders, I was in a blissful, ache-free, daze. As I was quietly taken to the dark and peaceful relaxation room, I lay on a bed and slept.
Ross had been enjoying himself by the pool and in the 'heat experience' rooms whilst I had gone to heaven and back. He commented that the black pool was like swimming in a calm bottomless lake and even the water felt soft to swim in. Unusual but I saw his point.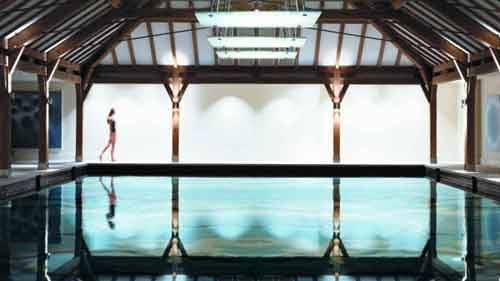 We ended our day in The Glasshouse – one of three restaurants at The Grove. We had been advised, on several occasions by staff, that this buffet offering was big, they weren't wrong. This 'international theatre of cooking' provides guests with freshly prepared food from all corners of the world and whilst everything was delicious, I particularly liked the unusual seafood dishes such the mini crab style Waldorf salad, king prawns and scallop ceviche. A wonderful carvery and dramatically prepared Asian stir fry was also a highlight of the evening.
It is quite amazing how one can so quickly relax when given the right tools and facilities to do so and The Grove certainly allows for this. With a full tummy and a relaxed state of mind, we decided to forego our usual apres dinner option of cocktails at the bar and instead contentedly headed up to our room, excited to be getting into that big fluffy bed.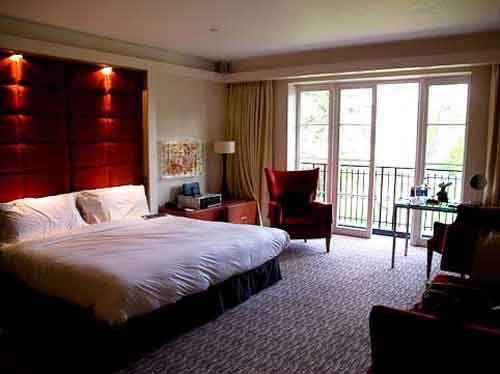 The Grove is a member of Great Hotels of the World's Luxury Collection.