We've all been there. RSVP'ing to the wedding invitation with dreamy smile, wondering what the day will hold… then the panic sets in. What to wear? Your mind races – will HE be there? You'll want to look amazing, but not upstage the bride. And you obviously don't want to wear the same thing as any of the other guests. So the hunt for the perfect outfit begins. But we think we may have the answer to these panic inducing concerns with a selection of outfits from Karen Millen. Have a little browse, and be reassured that the perfect outfit is only a click away!
Uh-oh. He's going too.
Your worst nightmare – running into an ex at a wedding. So it goes without saying that you'll want to look absolutely fabulous. Effortlessly fabulous, of course. We love a bold print – it'll make you stand out – and it doesn't hurt to show some leg – but not too much!! And enhance your curves. Make the most of what you've got and sparkle in a gorgeous body sculpting dress.
Wow the crowd…
Look fabulous and make a statement without upstaging the bride! A sweet pencil dress is the way to go. Effortlessly elegant and pretty, it gives a classic shape whilst giving so much variety of colour and pattern to show your personality. Pencil dresses accent your curves and are super feminine. For a summer wedding, we recommend pastel colours – and accessorize with dainty, feminine jewellery for a truly eye catching outfit.
No duplicates!
If you're worried that the guests have similar taste to you and may have wandered into the same boutique, why not avoid a dress altogether? Jumpsuits are so chic and can be a really elegant choice. They are a true style statement and will show your daring individuality. Pair a jumpsuit with killer heels and a gorgeous chunky clutch.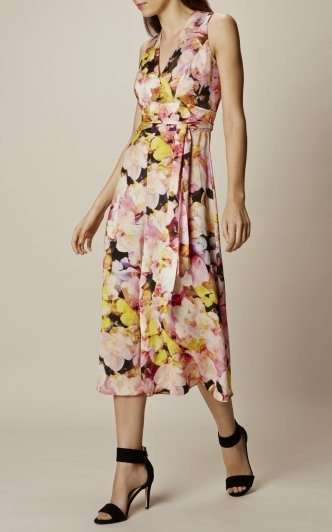 Karen Millen have so many gorgeous choices – take a closer look at their range of gorgeous dresses and jumpsuits.