Here at 5 Star Wedding Directory, we love to get an expert opinion, so we've picked the brains of wedding hairstylist, Katie Hawkins from Pretty Please by Katie. She's shared with us her five top wedding hairstyles.
So, trust me when I say that choosing your wedding hair is no easy feat!  There are so many gorgeous styles out there that before you know it you have a Pinterest board overflowing with amazing hairstyles – and you have no idea how you're ever going to decide on just 'the one'!
So many of my brides take inspiration from several looks and half of the fun is adapting something that they have seen, to something that they can wear that will compliment them personally.
Every hairstyle is bespoke, it depends on your face shape, the neckline of your dress,  it even depends on the things you're telling me you most certainly don't want (like your ears showing!). I've gathered together five of my most requested hairstyles below and I've given you a few points to consider when thinking about exactly what it is that YOU want for your big day.
1. The 'I just threw this up' bride
Lots of brides nowadays are leaning towards a more romantic and relaxed vibe when it comes to their wedding hair.  Gone are the tight polished curls, making way for the loose soft tendrils that frame their faces.  On the whole these styles are seemingly much more effortless, (or at least that's what we like you to think!) when in reality it's the skilled combination of the correct prep and professional products that allow for the perfected 'undone'  look that you can be sure will last you all day.
2. The Classic bride
For the bride who loves timeless elegance a 'half up' hairstyle is often their first choice. Tasteful and simplistic, this hairstyle is designed to simply enhance a bride's natural features. Subtle and chic, often with flowing curls and sometimes even with the addition of a veil, this style can create the most beautiful bridal silhouette.
3. The Boho bride
This year has seen a rise in the trend of woodland, bohemian and outdoor weddings. With a relaxed and fun ethos, these brides want wedding hair to match. Braids, twists and even crimping (yes it's coming back!) allow the brides that want to be a little bit different to really express themselves through their hair. The perfect 'go to' styles for when something traditionally 'conventional' just won't cut it!
4. The 'flowers in her hair' bride
I love it when a bride adds accessories to her hair, whether that be a slide, a comb or even a headband. But what I really love is a bride that wants to add fresh flowers. There's something very natural and delicate about real flowers  and they're often an extension of the bride's bouquet, adding an array of colours and softness to any style.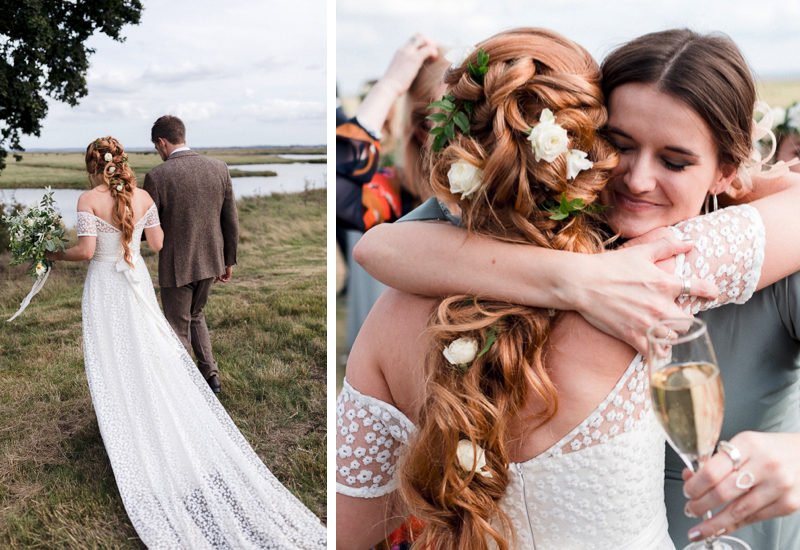 5. The Vintage bride
As much as I love the modern styles, vintage updos will always have a special place when it comes to bridal hair. Elegant and classic, these types of brides opt for deep waves and seductive curls for their wedding day. Often with a nod to the eras gone by, this type of wedding hair will simply never go out of fashion.
Of course there are so many more wonderful variations when it comes to wedding hair, and so many places to find the inspiration for your own bridal style. Take a look at my website or find me on instagram for much much more where this came from!