With a delicate, feminine vibe and a touch of quiet glamour, the 2019 City of Angels collection from MUSE by Berta showcases the intricate details that may get missed on more elaborate gowns. Combining the effortless styling of Hollywood with a touch of hot city life in sleek and chic silhouettes, I love the understated luxury of these dresses. I've chosen my 5 Star favourite five, but you can see the full collection here.
Charlotte
Charlotte's thigh split is covered with a whisper thin tulle skirt, combining a form fitting lace dress with a flowing overskirt. The sweet pearl buttons reach up to a deep V neck, which swoops away to dropped shoulders and thin straps, with a deep scooped back. Such pretty details on an elegant and eye-catching gown.
Carly
Carly's Art Deco neckline steps down to a bejewelled accent at the waist, which sits above sheer layers of tulle. A sparkling layer dazzles underneath, which I think is a fun addition to the look. Another deep scooped out back makes the train an unmistakable showstopper.
Chloe
Chloe's a sweet treat, and with a structured bodice and nipped in waist, has an influence of luxury lingerie, which is really on trend right now. With small velvet details accenting the bold pattern, this one is kept simple with a draping skirt and small train.
Camille
With a silk chiffon layered skirt split up to the waist, it's all about the lace details on this one. A gorgeous high neck and sleeves combine with a sheer bodice with matching detailing stretching down onto the underskirt. All this makes a lovely contrast to the open back.
Carmen
With extravagant layers of tulle billowing out in a beautiful skirt, Carmen is a fabulously glamourous gown. The beading that stretches down the bodice and onto the skirt is the only embellishment, making a real feature of the sparkles that follow the deep V neckline. The thigh split definitely gives it that LA feel!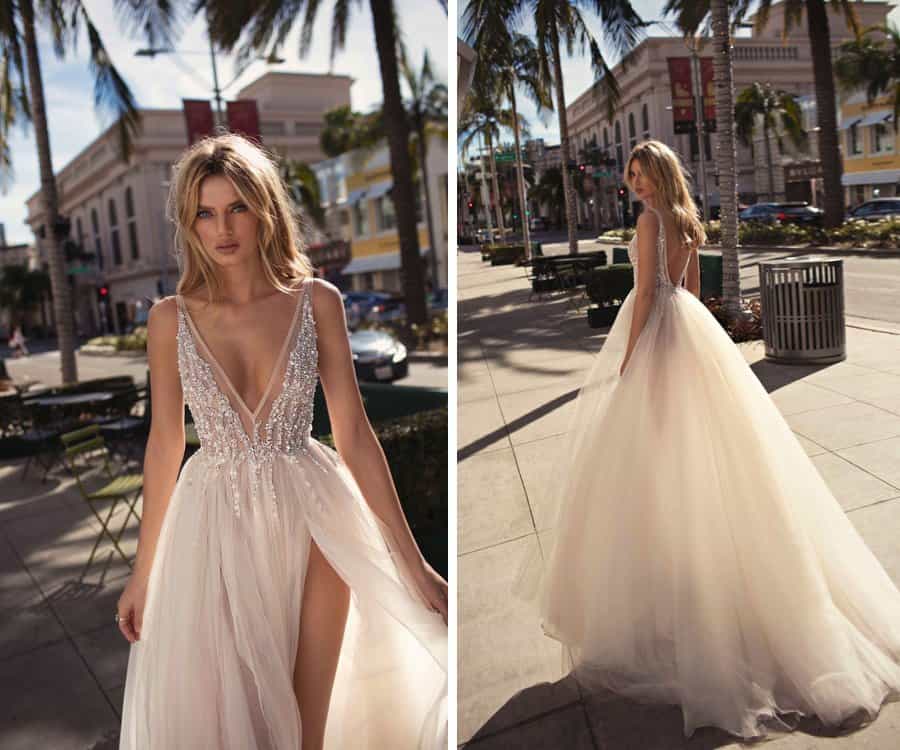 Such an effortlessly breathtaking collection, perfectly shot in LA, the collection's namesake and inspiration – the City of Angels. You can see the full collection on Berta's website, and check out our luxury wedding dresses page for more beautiful gowns to fuel your inspiration.