With a long but wonderfully romantic name, Watters' 'The Sun Was Shining on the Sea' collection had a first outing to match. During their show at bridal fashion week, a real proposal took place on the runway, with a model getting engaged wearing one of these beautiful gowns.
Taking inspiration from the Lewis Carroll poem 'Through the Looking Glass', this collection has as sprinkling of the magic that inspired Carroll's opening line of, 'The sun was shining on the sea…'. With pearls shimmering and delicate lace and tulle floating like sea foam, I love the elegant styling and effortless beauty of these gowns. I've picked my 5 Star favourite five, and you can see the full collection here.
Indra
Indra's simple and sleek front hides a gorgeous back, with laser cut lace panels scooping down to a low back and stretching out to a beautiful cathedral train. Simple and chic, the beauty is hidden in the sweet details for this one.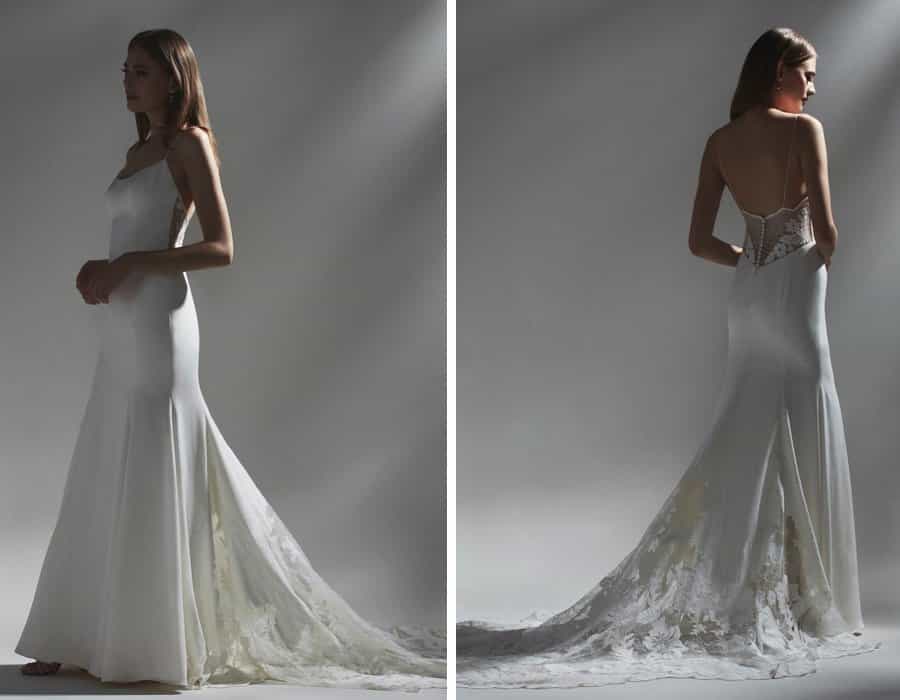 Nephele
The beaded ballerina lace creates such a pretty backdrop for the sweet tulle layers that waterfall down to create a beautifully detailed effect. I love the extra panels that hang from the back, almost like little wings!
Lotus
With hip-grazing cut-outs, Lotus shows off your curves beautifully, but don't worry, they're reinforced with illusion tulle! With a dipped back and kick out train, I love the elegance and simplicity; I think this one's beautifully striking.
Calliope Corset
I adore separates, they give you so much choice and a truly unique and personal outfit. Elegant in lace, this one would look perfect with a ballgown style skirt, sleek figure hugging skirt, or even with an elegant ivory suit.
Kodi
Reminiscent of a sea nymph emerging from the waves, Kodi's covered in shimmering pearls. With a gentle wrap top and layers of ivory over blush tulle, this is such a romantic look.
You can find the full collection here, or if you're looking for more luxury wedding dress inspiration, you'll find more of our favourites over on our luxury wedding dress page.