Having dressed Kim Kardashian's bridesmaids in 2014 as well as providing Beyonce with her outfit at the 2016 VMAs, Yolancris was also the first Spanish designer to take part in the American Bridal Week. With more A-listers including Lady Gaga and Shakira choosing Yolancris designs, the brand is one that definitely needs to be recognised among the top bridal designers. Their No Fear 2020 Ibiza collection is fun, free and fabulous, exploring the concept of freedom. With a mixture of taffeta, tulle and lace, there's also some jacquard thrown in for good measure. I've chosen my 5 Star favourite five, and you can find the full collection here.
Romero
I love the movement in this dress. Simple spaghetti straps and a v neckline lead to layers of lace and tulle with splits and streamers to create a spectacle of simplicity. Perfectly light and elegantly draped, this one would be ideal for a hot wedding or a second dress for the evening.
Nardo
An off-white georgette chiffon, the irregular hemline of this dress adds wonderful texture and offers a layered look that culminates in a hand-sewn neckline with sweet embroidery and draped sleeves. The wrapped feel adds a uniqueness to the traditional bridal fabric and I love the little added details.
Pensamiento
With a beautifully embroidered neckline and simple shape, this gown has a sweeping split for a daring touch. Its over dress is a stunner as well – gorgeously chic with sparkling rhinestone embroideries, long sleeves and a wide belt, it's a gorgeous way to add interest and variety to your look.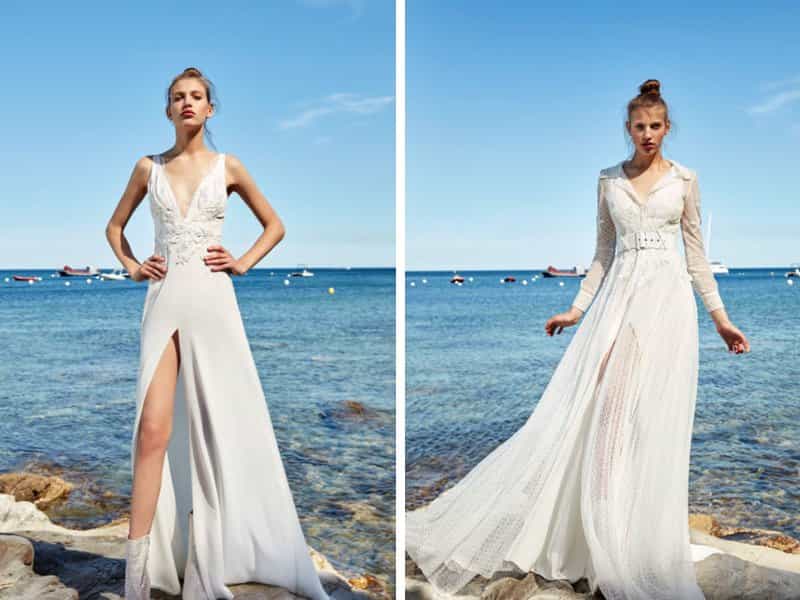 Aster
Another lightweight and delicate gown, Aster has a little more structure with a corseted bodice and long sleeves. Elegant in lace, it combines materials and textures in a long a symmetric skirt, which stretches out to a delicate train.
Melisa
This one is such a gorgeous mixture of textures and materials, with chiffon, lace, embroidery and plumetti coming together in a swirling, draped waterfall of boho asymmetry. With a sheer bodice and layered train, this 60s and 70s inspired piece combines all the features that represent the Yolancris brand.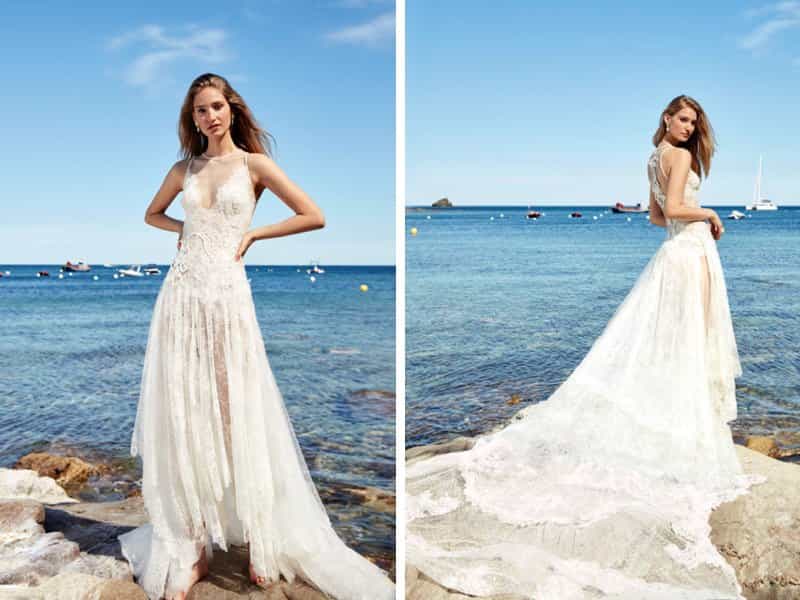 Some gorgeous textures, shapes and embellishments in this light, carefree and beautiful collection. You can see the full collection here, and pop over to our luxury wedding dress collection page for more gorgeous gowns.