Every bride needs the perfect adornment and embellishment to finish off a wedding day look and White Gallery London, taking place at Battersea Evolution from 17 until 19 May 2015, features the very best in jewellery and headwear designers. The premium bridal design event is attended by key influential buyers and press from across the globe and is the place to discover the best in British and international brands – from acclaimed designers to new talent.
To complement its renowned bridalwear ranges, UK-based couture house, Sassi Holford, brings the Couture Veil Collection to White Gallery London. Designed and handmade in Sassi's own workroom, the collection is truly inspirational and offers a choice of four tulles and a wide selection of trims from simple stitched to gorgeous French lace.
White Gallery London will see Polly Edwards introducing 'The Infinite Collection' as part of her expanding brand. This collection showcases the Polly Edwards brand at its best, with a new, achievable price bracket for brides-to-be that doesn't retract from its original form of fabulous and quality designs in any way
From London and Paris Fashion weeks to the White Gallery London, Halo & Co is the must have accessory brand for any fashion led bridal retailer. The 2016 collection sees a change from the traditional to a new relaxed vibe for accessories. Gold is the hue with sleek simple shapes.
The designers at Halo & Co have been on a world mind journey of inspiration and unlocked their creative vision to capture inspiration from Turkish traditional dress and Persian mystery. The influences are however subtle and subdued so that the collection only captures an essence, a flavour yet encapsulates a whole mystery of its own.
Sasso Bride is bringing a gorgeous array of colour to the White Gallery London. The new collection features colour co-ordinating feather shrugs and signature hats in morello,raspberry,blackberry and blueberry alongside classic colours. A new selection of sumptuous silk flowers and hand painted watercolour flower hairvines – the new pieces take Sasso Bride out of the traditional comfort zone, for the bride that wants to be noticed.
Bespoke bridal headwear and accessories brand Heirlooms Ever After will make its debut at White Gallery London 2015. Combining the old with the new, Heirlooms Ever After's exquisite collection incorporates the bride's 'something borrowed' object in to each of their designs to create a truly special accessory and keepsake for the big day.
In preparation for White Gallery London, Heirlooms Ever After have added to the Wax Flower Collection with a new fine range featuring precious and semi-precious stones. In addition Heirlooms Ever After will present The Duet Collection, offering boutiques and customers the opportunity to have the finest antique and vintage precious jewellery incorporated into a unique, one off headdress as well as a restoration service, offering brides the option of having their family heirlooms either restored or altered to wear.
The focus of the Ivory & Co SS16 accessories collection is versatility; items that can be worn in a number of different ways, tailoring themselves to the look the bride is trying to capture. The collection is full of exciting additions; organic and versatile hairvines which can be positioned to complement a hairstyle, featuring delicate flowers and leaves, stunning statement headpieces and clips and hair decorations which can be worn across the forehead, as a tiara or a belt to customise a plainer dress.
Also being previewed at White Gallery London are tiny clips that can be worn together dotted about a hairstyle for the bride looking for ultimate flexibility.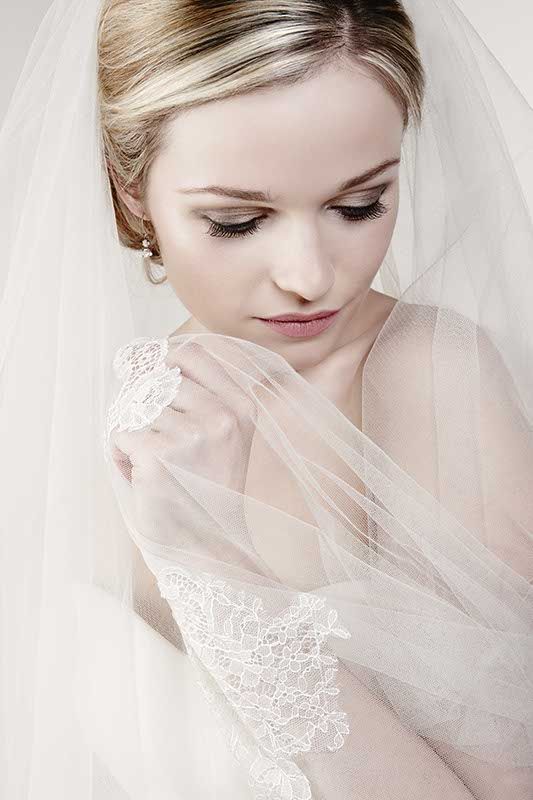 New talent, Camilla Carrington, will be launching the first wholesale range at White Gallery London. The 'Floriana' collection, as the name suggests, embraces the beauty of flowers. A variety of muted tones such as lilac, dusky pink and soft gold feature on bridal headpieces, jewellery and young attendant accessories. Floral crystal and pearl circlets, hair vines and rear hair combs feature strongly, as well as matching bridal jewellery in the form of earrings, necklaces, bracelets and delicately adorned lace cuffs. Softly hues of French hand dyed silk ribbon work flowers adorn ballet slippers and headbands for young attendants and for the bride an array of belts.
Miranda Templeton will unveil 30 designs from the new Ellensia collection at White Gallery London, including encrusted statement bands, versatile vines, pins and combs, dazzling diamante tiaras and several gorgeous new sashes.
This year's main themes include whimsical floral designs featuring a myriad of small pearls and crystals blended with silk petals and lace to create a delicate ethereal look.  These are mixed with clean, contemporary diamante designs with refined filigree detail and amazing sparkle. Encrusted diamante and pearl beadwork also features prominently throughout the collection.
USA-based, Nilah and Co offers custom designed wedding veils, bridal headpieces & fascinators. White Gallery London visitors can expect to see beautiful new Italian laces, gorgeous Drop and Cathedral Veils in metallic and pink shades. The pieces feature only the finest tulles, French, Italian and Spanish laces, as well as, Swarovski crystal elements.
This selection of top quality accessory brands will join the finest UK and international designers at the sixth edition of White Gallery London, which takes place at Battersea Evolution on 17-19 May 2015
Leave this field empty