To mark the anniversary of '20 years of fairytales' world renowned dress designer Alfred Angelo joined forces with Disney to create a stunning Princess tribute collection set for release in over 65 bridal boutiques in the UK.
Special childhood memories most young girls obtain from Disney and it's fairytales often remains with them throughout their lives, dreams of becoming a princess on their wedding day are consistent girls with most and an enormous part of this fantasy is stemming from 'The dress'. This genius collaboration now gives many women the chance of obtaining a stunning hand crafted Disney inspired dress, that encapsulates that childhood dream bringing fantasy to reality for one of the biggest days in a bride's life. 7 iconic Disney princesses have been carefully picked and chosen as inspiration for the collection; each dress has been designed and created taking key elements and infamous characteristics from their enchanting fairytale story and character. Ariel, Sleeping Beauty, Belle, Cinderella, Jasmine, Snow White, Tiana and coming this Autumn/Winter special edition Rapunzel have used as for the exquisite bridal compilation.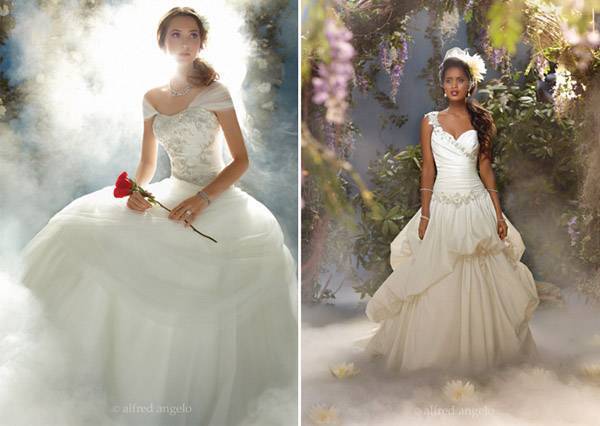 5 Star Weddings had the wonderful opportunity to preview the dresses at the 5 Star boutique Soho Hotel in central London where the dresses debuted to the press prior to its release, we spoke to the very passionate Alfred Angelo representative to learn more about the creations and why they have been so successful. The current high demand for the dresses has been immense since the original announcement of the collection on CNN.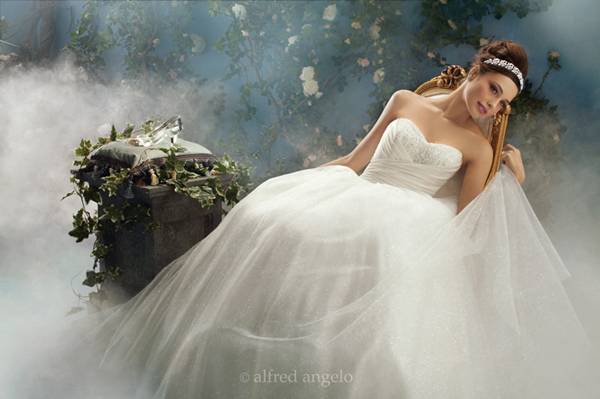 With the most popular dresses being the Cinderella Deluxe edition and the dazzling Bell, both very elegant and dramatically statemented fairytale dresses. Whilst Tiana, the newest princess to Disney and another popular choice, has been carefully designed to portray her strong independent personality incorporating diamanté lily inspired bodice of the dress. Rapunzel is the latest addition to the collection, the dress captures her naturist, confidant, outgoing persona through the use of a lavish skirt adorned with light-catching crystals, twinkling sequins and three-dimensional satin petals. Each dress has its own interpretation of the princess and tries to use the personality of each character rather than the simple obvious features from the story.
Our conversation with the Alfred Angelo rep continued to the future trends of the collection of which he suggested there might be a further evolution/development of some dresses using a different parts of the characters personality, which has been demonstrated in the limited edition Cinderella dress. We also wanted to find out about future princesses that may be added to the series, but with no conclusive answer he suggested the idea of an interesting Pocahontas dress.
The collection is truly breathtaking with a variety of different styles for every possible bride, each dress is beautifully crafted and appeals to the inner princess of every woman and with a RRP from £600-£1300 the collection is stylish, enchanting and affordable. The collection can be viewed at any one of the 65 boutiques across the UK, but for more information about each dress of the collection you can view the official Alfred Angelo website.
About Alfred Angelo
Founded in the 1930s by Alfred Angelo Piccione and his wife, Edythe Piccione, Alfred Angelo is one of the world's leading makers of wedding gowns and bridesmaid dresses and is committed to providing beautiful, high-quality bridal and formal dresses at affordable prices. In addition to manufacturing dresses distributed in over 2000 wholesale stores worldwide, the company operates Alfred Angelo Bridal Stores located in Alabama, Arizona, Arkansas, California, Connecticut, Florida, Georgia, Indianapolis, Louisiana, Maryland, Massachusetts, Michigan, Mississippi, Nevada, New Jersey, Nebraska, New Mexico, New York, Ohio, Oklahoma, Pennsylvania, Tennessee, Texas, Virginia, and Washington.
For more information about Alfred Angelo, please visit www.alfredangelo.com or follow us at www.YouTube.com/AlfredAngeloBridal, www.Facebook.com/AlfredAngeloBridal and www.Twitter.com/AlfredAngelo.
About The Walt Disney Company (TWDC)
The Walt Disney Company (NYSE:DIS), together with its subsidiaries and affiliates, is a leading diversified international family entertainment and media enterprise with five business segments: media networks, parks and resorts, studio entertainment, interactive media and consumer products.
TWDC has had a strong presence in the UK for more than 75 years, currently employing over 2,500 people. TWDC UK is a major film distributor, with most recent successes including 'Alice In Wonderland' and 'Up' – which was the UK's biggest animated film opening in 2009. Disney also works with local partners to bring network series, movies and branded kids and family content to TV viewers, via shows such as 'Desperate Housewives' and 'Flash Forward'. The Disney Channel launched in the UK in 1995 and has since maintained the number one position for children's pay-TV channels, and recently launched Disney XD, its first boy-focused, girl-inclusive channel. TWDC also launched a new pay-TV sports channel, ESPN, in the UK and Ireland in August 2009 offering FA Premier League, Scottish Premier League, Guinness Premiership rugby and other premium local sports.
Copyright: 5starweddings