Luxury Honeymoon Hideaways At Anantara Mai Khao Phuket Villas
As you dust the sand off your wedding feet and bid farewell to the last of your guests, you wonder how you could possibly top the high of finally being a Mr & Mrs. If you had an Anantara Wedding then you'll know that their desire is to make the transition from wedding to honeymoon, not just a process but a beautiful journey.
As we depart the striking modernist beach house of Anantara Layan, a private transfer drives us just 30 minutes north of Phuket, to the elegantly colonial world of Anantara Mai Khao. Our first taste of this decidedly different vibe occurs when a man wearing a pith-style helmet and a traditional uniform, guides us off the main road and into a dramatic Jumanji-style alleyway.
Red bricked fortress walls draped in tropical vines, lead the way to the resort's peaceful entrance.
Welcome to Anantara Mai Khao
We've learnt that the welcome greeting at an Anantara holds as much importance as the stay itself. If you didn't feel like royalty before your stay you certainly will by the time you leave.
We are ushered into the sala reception where decor from an oriental bygone era is offset by the surrounding tropical lagoon. As I sip my iced lemongrass tea and mop my brow (it's thirty-plus degrees) with frangipani scented cold flannel, I notice a water monitor lizard glide sleepily amongst the lily pads. I'm told that he, alongside Palo the duck, is one of the friendly residents here at Anantara Mai Khao.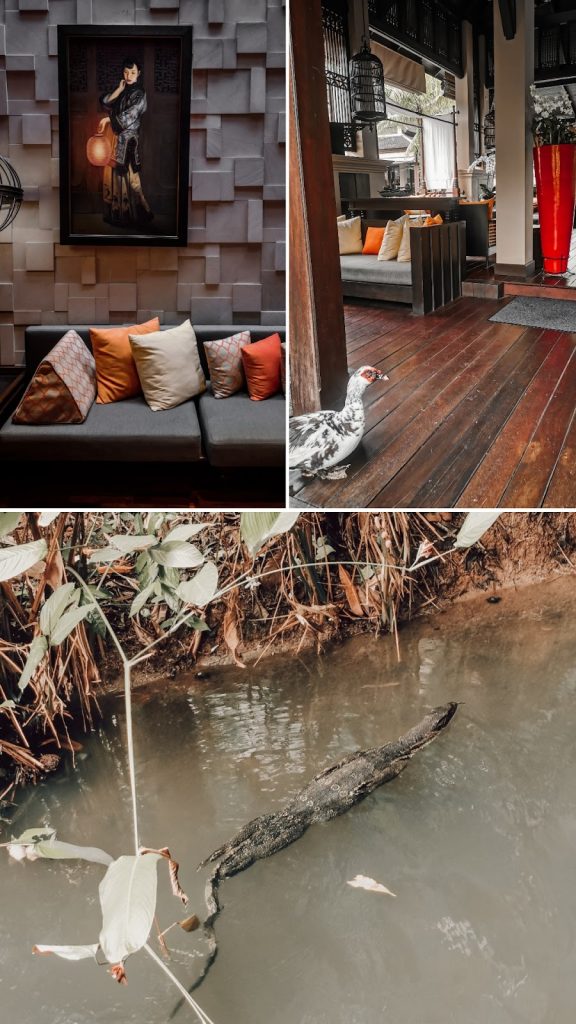 On the back of a golf buggy, we weave our way through this dreamy little resort village. Over the large lilypad-strewn lagoon via wooden walkways, past the temple and Palo the duck, to our private villa.
The Villa
If you haven't been wowed yet, this is where you most definitely will be. Our two-bedroom pool villa is reached via private steps and a traditional wooden sala-style entrance. What lies beyond this little understated door is, simply, beautiful.
An opulent open-plan villa placed around a private pool. A glass-sided sunken bath sits on the edge and within the pool allowing you to bathe in bubbles next to your fellow swimmers. A silver turtle water feature is a reminder of the resort's commitment to its very own marine turtle foundation, developed as an ongoing quest to preserve Phuket's depleting turtle population.
A walk-through wardrobe, a luxurious indoor-outdoor bathroom area and a huge firm but squishy bed overlooking the pool, all provide the idyllic honeymoon hideaway for the next few days.
To-Do List
The beauty of a honeymoon is that there is no to-do list. If you do, however, decide to leave the tranquillity and comfort of your romantic abode, there are a number of activities you can partake in.
From a simple but leisurely bike ride around the resort and its lagoons to a more adventurous dive into the warm waters of the Andaman where the colourful coral reefs await. For those wanting to really glam it up, charter the resort's private Sunseeker yacht 'Major Affair' for a day out on the sea.
We happily entertained ourselves by the pool bar on large luxurious sun loungers overlooking the ocean.
Post-Wedding Diet
Along with the to-do list, you will probably be ditching your two lettuce leaves a day diet, for something a little more satiating. You'll be pleased to hear that Anantara Mai Khao has an abundance of options of not only 'what to eat but also 'where' you can eat it. In the cool open-air beach house restaurant, Sea.Fire.Salt, by the lagoon with Geoffrey (the now named water monitor lizard), in bed in your villa or…in the resort's exclusive Omakase treehouse restaurant. Naturally, we opted for the latter. The lure of spending an evening atop a Banyan tree with 360-degree views and our very own sushi chef was something even I couldn't justify staying in our super comfy bed for.
Tree House Omakase
The word 'Omakase' literally means 'I leave it up to you' and so with that, we left ourselves to the mercy of our sushi-wielding chef. What followed was a night of Japanese food artistry in the form of a twelve-course tasting menu paired with a variety of curated Sake and Japanese cocktails. Open flames, smokey reveals and delicious morsels of the freshest Nigiri I'd had in a long time ensued. The Chawanmushi was a bit of a challenge to my clearly out-of-practice tastebuds but the Hotate (scallop) was something I could have eaten all night long. With full Buddha bellies and slightly Sake squiffy; we happily trundled back to our villa, trying to avoid a wrong step into the lagoon and thus a late night swim with Geoffrey.
We were realising from our stays at the Anantaras, that they are like an eclectic family, each displaying their very own refined but quirky personalities. If Layan was the mature but modern and stylish brother then Mai Khao was the softer, more elegant sister. And so, as our journey to these two Anantara siblings came to a romantic end, it was of course only the start of our journey as husband and wife. Departing with a glamorous list of Anantara-style prerequisites for our future holidays, I couldn't help but feel my new spouse might be quaking in his well-worn espadrilles, just a little bit.
Our 5-Star Highlights:
The Tree House Omakase Experience – the most beautiful culinary night in a magical setting.
The Villas – dreamy accommodation with every luxury at your whim.
The Resort – Honestly one of the prettiest we have been to, it was like being on a film set.
If you'd like to find out more about Anantara Honeymoons you can visit here.
To read visit our Hotel Review on Anantara Layan Phuket Resort visit here
Written by Abbie Ting