It was the works of photographer Horst P. Horst which inspired Jenny Packham's 2019  bridal campaign.
His treatment of light and composition created some of the most iconic photographs of the 20thcentury, with favourite muses Coco Chanel and Marlene Dietrich. His work reflected the ancient Greek ideal of physical beauty and he mainly shot in black and white. We love the way Jenny Packham's 2019 collection has been captured, reflecting these attributes.
Not forgetting the dresses themselves! The stunning collection features lace, tulle and gorgeous beading and embellishments that sit effortlessly alongside each other to create the signature soft and floating silhouettes that are perfectly Jenny Packham. Here's a few of our favourites. You can see the full collection here.
With a tulle bodice and silk chiffon skirt, Lolabelle moves so elegantly. The embellished top catches the light and compliments the simple layered skirt perfectly. An embellished bodice and simple skirt is a winning combination!
Thistle has the prettiest dropped sleeves and wrapped tulle bodice. A short and sweet train completes the gown. This would look gorgeous with an embellished waistband or even just a coloured satin ribbon tied to a bow.
The detail on Sylvia's bodice is just so beautifully detailed. Overlaying a sweetheart neckline, the embellished tulle adds a floral theme to the dress. Perfect for a garden wedding.
The lace overlay of Dahlia reminds me of the Duchess of Cambridge's dress, with higher neckline and dipping V. Sparkling with silver embellishments, this slimline sheath kicks out to a chic train with the signature layered skirt whispering underneath.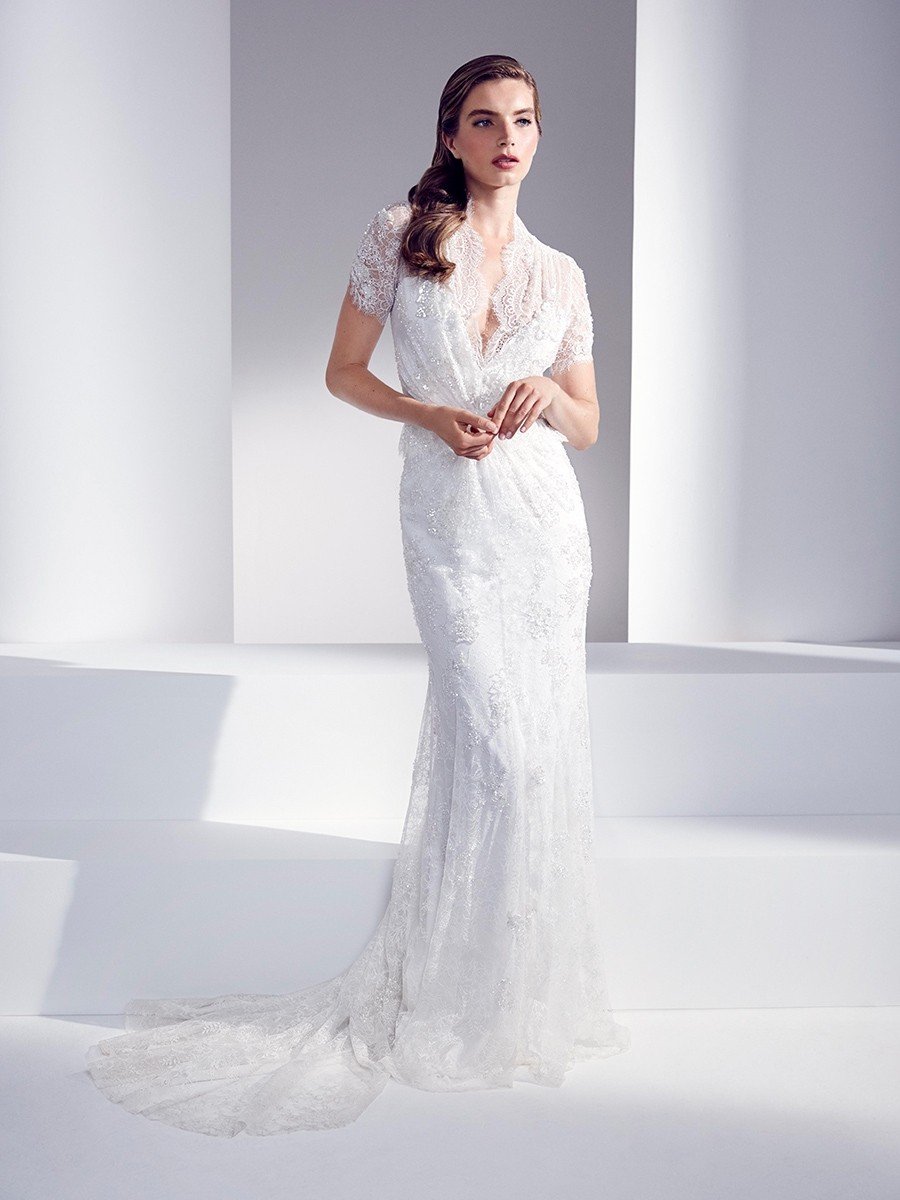 Elina is a show-stopper. Sparkling in sequins, this tulle halterneck adds the perfect glamour to your day. This would be a perfect gown for a beach or destination wedding – light and easy to pack, but full of wedding day wow.
Silk chiffon shoulder ties make Angelica soft and dainty, with the look of a Grecian goddess. A sparkling waistband adds beautiful detail, breaking up the dress and nipping in the waist.
Breathtakingly beautiful dresses that are designed to be totally wearable, we love Jenny Packham. Head over to her website to see the rest of the gorgeous gowns in the collection, and where you can try them on.