It was my first visit to the Burj Al Arab and it truly took my breath away, beyond excitement. As we waited in the spectacular lobby to be greeted by our contact for a tour of this all suite hotel.
The stunning elaborate building, with 321 metres of mind-blowing architecture located a short distance from the shores of the stunning Jumeirah beach.
The Burj Al Arab hotel is certainly one of the best hotels in world located on Dubai's Jumeriah Beach Strip, 15 km from main city centre and 25 km from Dubai International hotel.
We were kindly shown the stately opulent Royal Suite located on the 25th floor with its lavishly appointed interiors, majestic colour scheme and sumptuous furnishings and is a massive 780 square metres.
The Royal Suite has a private elevator, private cinema, on the Lower level has a Dining area, Arabic majlis (reception) style lounge and library.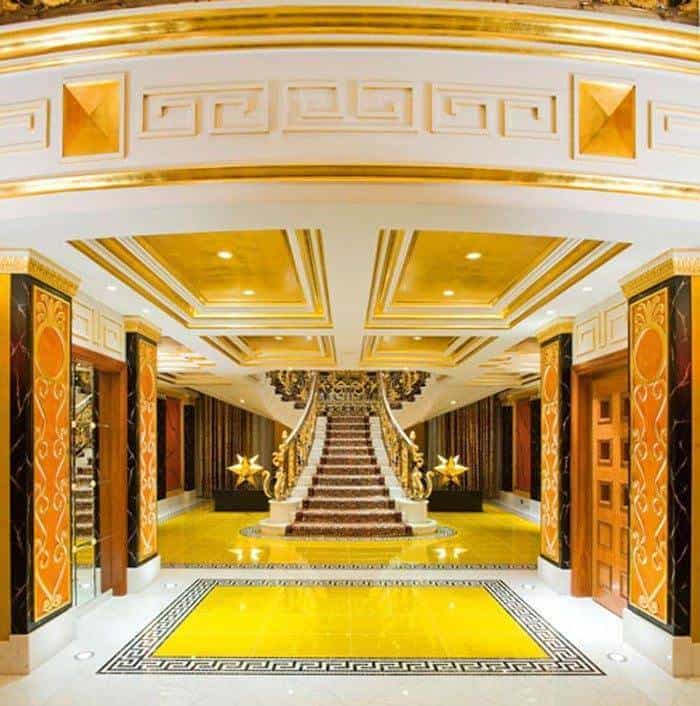 The upper level has a master bedroom with rotating four-poster canopy bed and second bedroom, each with adjoining marble bathrooms with spa bath, walk-in shower, fine porcelain fittings and full-sized Hermes 24 – Faubourg fragrances and body products.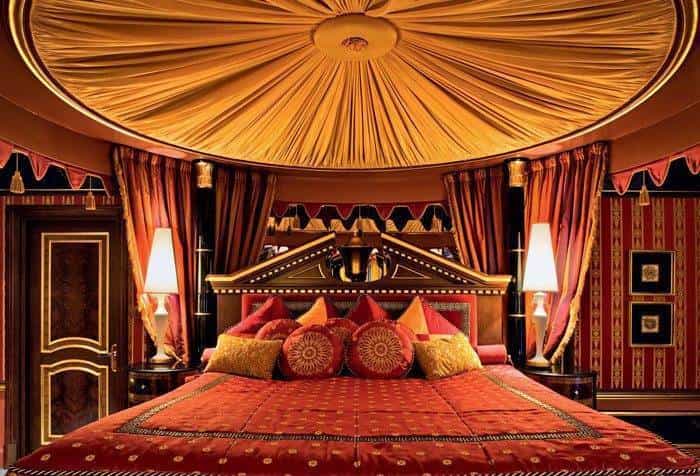 The hotel comprises of 7 restaurants. Bab Al Yam, poolside café restaurant provides informal and a fresco dining with attractive sea view. Al Muntaha , which is a restaurant 200 metres above the sea level and having dinner in this restaurant would seem like an adventure while watching a wide selection of exotic fish in what has to be the most beautiful aquarium in Dubai.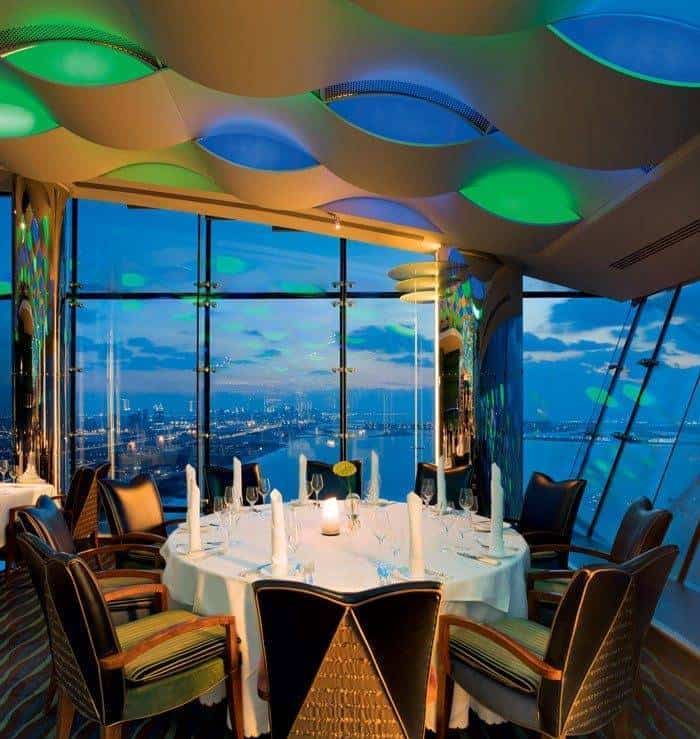 We had dinner in the Royal Dining Hall of Al Iwan a very elegant restaurant in the heart of the world's tallest atrium, flanked by golden columns and next to the lobby fountain is Al Iwan, where we enjoyed a taste of the finest Arabic cuisine.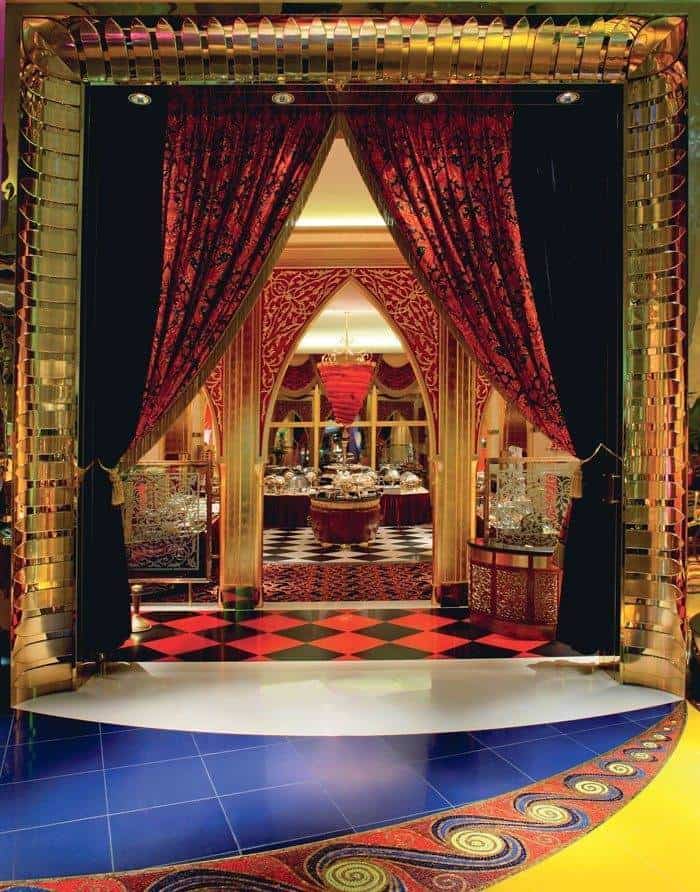 We were pleasantly surprised to be welcomed by a row of friendly staff waiting for our arrival, including the head chef, now I know what it feels like to be an A list celebrity. We were shown to our beautiful table, I could not help but to be wowed by the selection of the sumptuous elaborate buffet in the restaurant.
Our table for the evening was in the corner of the room next to floor to ceiling windows over looking the Jumeriah strip. Al Iwan is a very intimate dining room with flickering candles, ideal for honeymooners.
The service could not have been better, so attentive and the all the staff anticipated our every need. The head chef brought a selection of Meze to our table, then we walked over to the buffet to continue our memorable dinner. After dinner we explored the hotel, the boutique shops, Gold plated lifts, immaculate in every way not to mention the sponge like carpet that your foot sinks into.
The hotel was so fantastic I did not want to leave.
If you are looking for thrills and lots of fun then you must visit Wild Wadi Water Park, situated in front of the stunning Burj Al Arab, Wild Wadi offers 30 rides and attractions. Wild Wadi is themed around the tale of Juha, a known character from the Arabian folklore.
I went on the new Sumerian Sceirah, once you enter the booth to this ride there is no going back. As I held my breath and waited for the trap door to open beneath my feet and tried out this amazing ride. I am so proud I handled the 70 degree slide with up to 80 km of scared it is certainly not for the faint hearted, I have not screamed so much in a long while.