5 Star Wedding Directory speaks exclusively to Gray's Inn on what makes a perfectly crafted wedding menu.
It is essential that you choose a menu that is not only appealing to all but will have your guests talking for years to come! Here is our little guide to choosing the perfect menu for your wedding.
Think of your wedding style
If you're not a fan of tradition and want a more relaxed and flowing day then your wedding may suit a fun interactive style of food such as BBQ stalls or street food. If you like a more refined celebration then the three course with tea, coffee and petit fours may suit you better. Don't be pressured into having a three-course meal if it doesn't suit your style – it's your big day!
Some venues will have their own in-house catering so you may be restricted in terms of set meals or the venue may allow you to bring in external caterers if you are looking for something a little different. Take into account time of year, as seasonal food may be something you want to add to your wedding menu.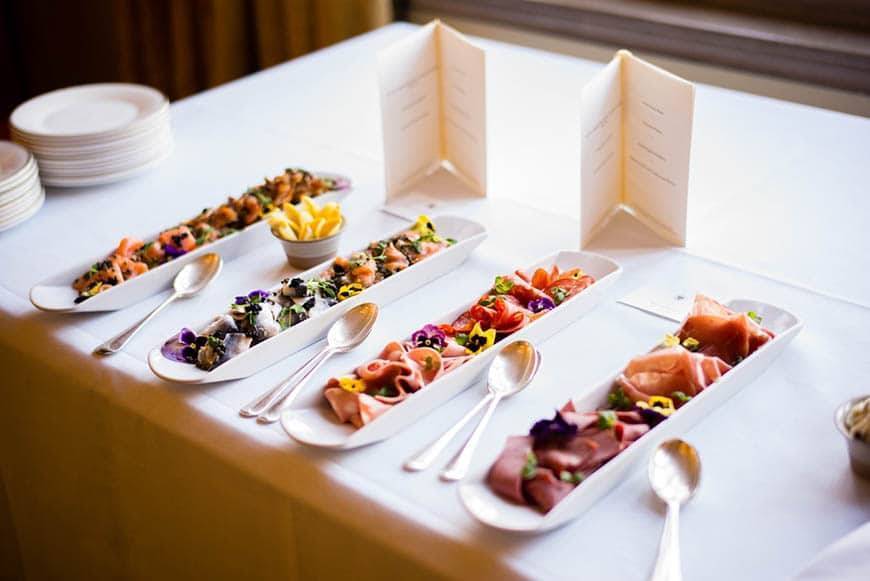 Safe does not mean boring
When choosing your wedding menu it is easy to think that the standard roast chicken will please everyone so that's your best bet. This is true but a bit uninspiring. Our favourite main on our wedding menu at Gray's Inn is the roasted rump of Welsh lamb rolled in herbs & brioche crumbs served with a fine tart of peperonata, roasted artichokes and gratin potatoes.
Not only would this appeal to a number of your guests but it is venue signature special and can make your guests feel extra special knowing they are tucking into a Chef's Signature Dish! Chefs are creatives at heart so do approach them for a more bespoke approach if you would like a more custom menu. Perhaps consider where you met or what your first meal was together on your first date and re-create a meaningful and special menu.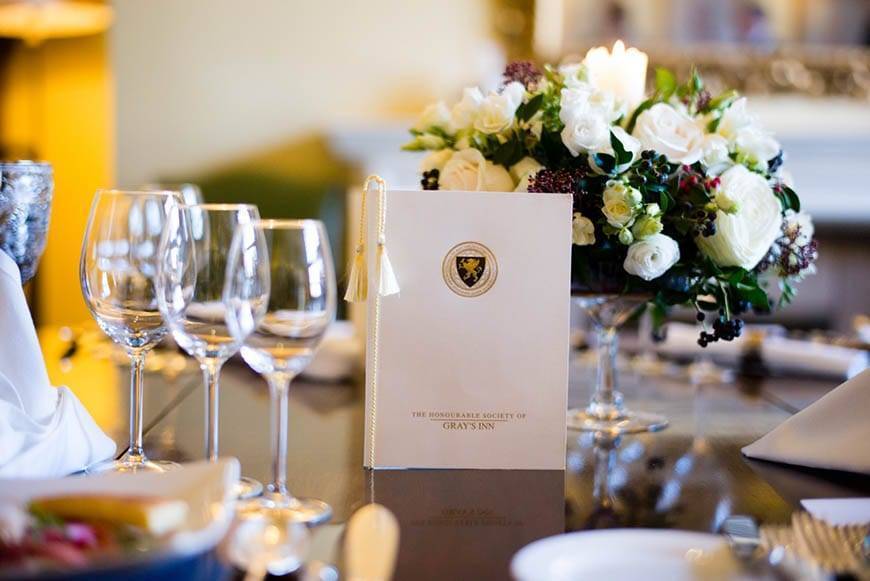 Consider the dietary requirements of your guests
It is vitally important that you ask for the dietary requirements from your guests on your RSVPs as this greatly helps the caterers make special meals when they are needed. No intolerance or allergy is too silly so please write it all down. Some venues will need more notice for very specific dietary requirements so always ask your venue for their deadlines and requirements on notifying them of special requests. Some guests may forget to mark their requirements on their RSVP but most good venues will have 'stand by' dishes available such as a vegetarian option to deal with last minute surprises.
Have a tasting
Most venues and caterers will offer a tasting for the bride and groom. Often this is completely free too. Make sure that you have a menu tasting so that you're 100% happy with your choices. If you're not, make sure your concerns are heard and amendments can be made. As wedding and events specialists we endeavour to create the perfect wedding for you in every aspect. Take notes and even photos at your tasting as it can be a lot to take in at the time and its best to come away with some notes to refer to and to go back to your venue with your set chosen requests rather then chopping and changing your requests.
---
Thank you to Gray's Inn for supplying this content.
Gray's Inn is one of London's most fascinating hidden treasures. One of the prestigious four Inns of Court, Gray's Inn was founded over six hundred years ago and is steeped in a rich and colourful history. An oasis of calm in the heart of the city, Gray's Inn provides a breath-taking setting for weddings, from the authentic Elizabethan Hall, to the five acres of landscaped gardens which form one of the largest private gardens in London, known as The Walks.
This grand and exquisite venue is matched only by its delectable in-house catering team and its impeccable personal wedding planning service. Couples are assigned an experienced personal event manager to guide them through every stage of the planning process, ensuring every little detail is taken care of. With two registered civil ceremony spaces, the Inn can accommodate up to 180 ceremony guests and 300 standing reception guests, with many flexible options for smaller weddings or larger marquee receptions for up to 250-seated guests in The Walks, during the summer period.