What is a roaming band, how does it differ from a traditional on-stage band, what can a roaming band do at your wedding, and is a roaming band right for you?
Performing since 2011 at hundreds of luxury wedding celebrations worldwide, The Travelling Hands are one of the UK's most sought-after roaming bands.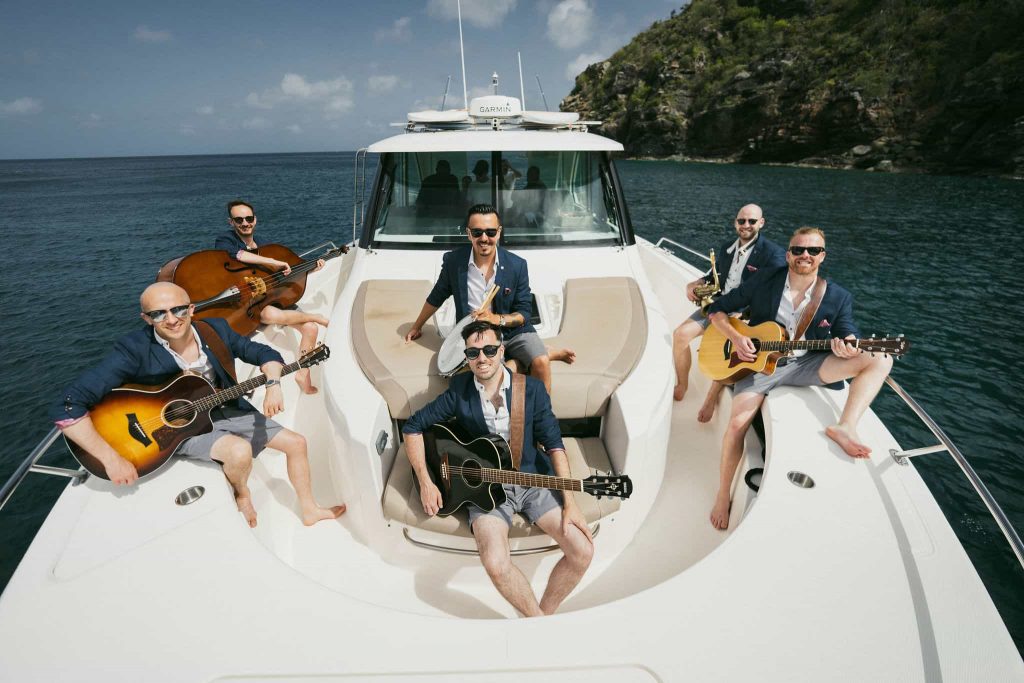 Their founder Tom Warner reveals the truth about roaming bands, what they are, how the addition of this unique style of entertainment can heighten a wedding experience for you and your guests, as well as identifying the perfect moments to place a roaming band throughout your wedding celebration.
What is a roaming band?
Simply put – a roaming band is able to offer musical performances and simultaneously stroll (or roam) with acoustic instruments through almost any area of your wedding venue, providing music that travels directly to you and your guests. This is singalong entertainment on the move, with often a 3-6 piece band typically performing with acoustic guitars, double bass, saxophone and mobile percussion.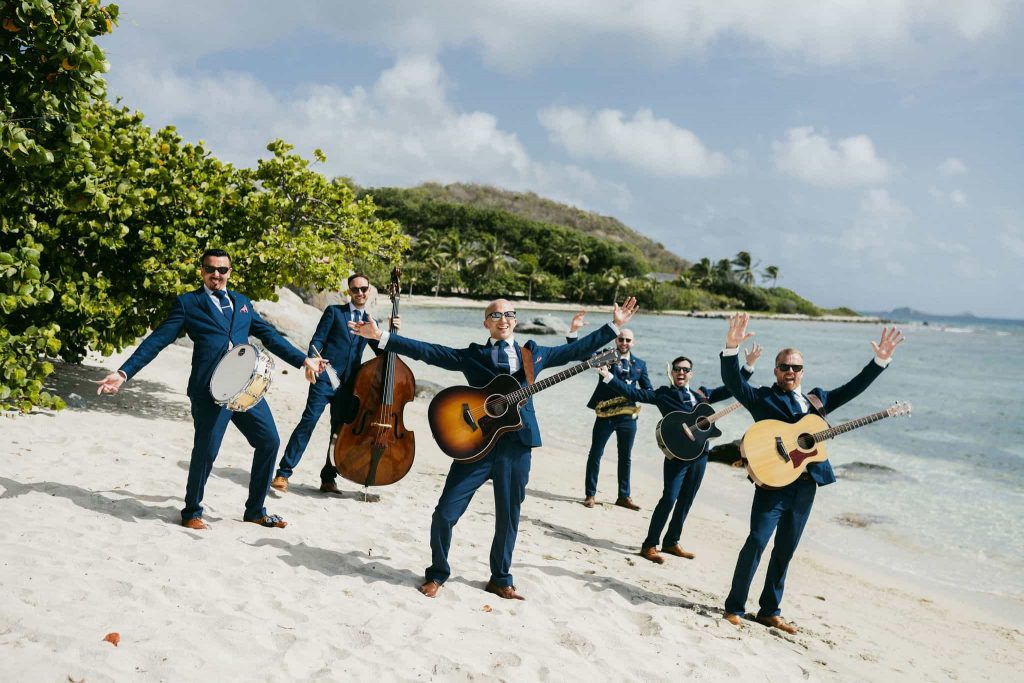 A good roaming band will have multiple singers in their team to bring vocal harmonies and extra volume as they perform energetic feel-good hits from a variety of decades to entertain guests of all ages. From The Beatles to The Backstreet Boys or Simply The Best to Sweet Caroline, there's singalong music for everyone.
The difference between a roaming band and a stage band
Without the restrictions of a stage, a roaming band's performance can be up close and personal with your guests no matter if they are relaxing in a champagne reception after your ceremony, enjoying a sumptuous wedding dinner, or even reminiscing on the night before during a post-wedding day lunch. The mobility of a roaming band enables performances in these moments of a wedding celebration that can often otherwise be overlooked as an opportunity for live performances.
Song choice is organic and a playlist is created live depending on the guests that the band meets as they roam. This way, guests of different ages (or even those with requests) are then given the perfect soundtrack to their day.
The Relaxed Set – Afternoon Drinks
This is the second most popular time for a roaming band to perform. Similarly to a rehearsal dinner performance, or a post-wedding day brunch, roaming performances at this time of day are more of a gentle accompaniment to suit the relaxed mood whilst guests say their hellos and enjoy their conversations. A great roaming band in these moments can offer a flexible acoustic playlist, so no matter if your guests are hoping for something more relaxed, or if they are looking for a more of lively atmosphere, the band can perform appropriately and play off the atmosphere and the guests present.
The Party Set – The Wedding Breakfast
The undisputed best time to book a roaming band's performances is during the wedding breakfast itself. You read correctly – music right in the middle of dinner! At this point of the day, you have your favourite people in the world all seated together in one space.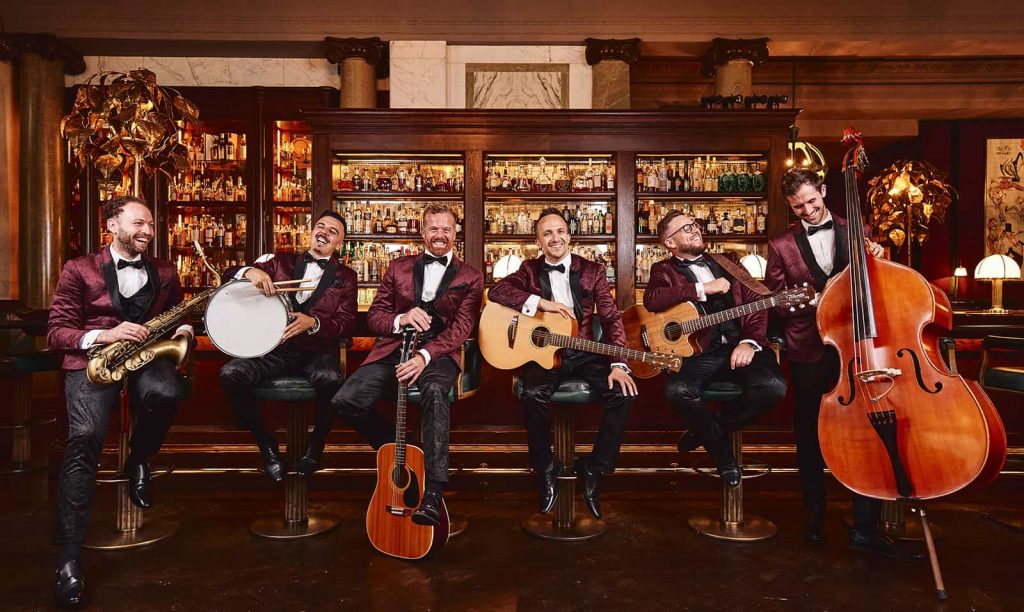 Guests are very relaxed at this time. They have had their catch-ups, the wine has started to sink in, and they are enjoying the delicious menu that you've selected for them – it's time to have some fun!
A great roaming band can help transform these special hours into an immersive dining experience. Strolling into a dinner service, impeccably styled, a great roaming band can take over the dining space, performing an expertly crafted setlist to unite guests in these moments. Think of your band here as the 'hype team' for your wedding day – taking guests by surprise and transforming a dinner into an epic sing-along party.
You may find musicians taking an empty chair to sing with guests at a table, standing on chairs at another table as guests enjoy a saxophone solo, or even dancing with a guest or two! It's time to break the rules, break the boundaries, and break the ice.
From Kensington Palace to the beaches of Bali, we've seen brides and grooms dancing on their chairs at the head table, grandparents singing at the top of their voices, and friends and family borrowing our shakers (and sometimes our jackets) to join the team, and entire rooms erupting into song, uniting family and friends of all ages as they celebrate our couples' special days. The right roaming band should energise your guests through a dinner service to fire them up for a party to remember, no matter what you have lined up for them for the rest of your celebrations.
The Summary – Is a roaming band right for you?
You deserve to celebrate throughout your entire wedding celebration, so why just wait until the evening? A great roaming band will elevate your wedding celebration by surprising and delighting guests as they perform.
From the gentle accompaniment of afternoon drinks to the raucous possibilities of performances during your wedding dinner – a great roaming band can play off your guests' emotions at different times of the day, elevate the atmosphere to heighten their experience, and transform typically gentle moments like dinners into unforgettable parties!
For couples who want to celebrate from start to finish, for those with party-loving friends who love a singalong, and for those couples who simply want MORE – a roaming band may be just what you're looking for.
Find out more about The Travelling Hands online here – thetravellinghands.com