A five star trip to Naples and Capri with Say Yes In Italy
Say Yes In Italy invited us on a whirlwind tour of some of the most beautiful places in Italy, and of course, we couldn't refuse! Just two and a half hours after leaving London Stansted Airport I reached Naples, where I was whisked off on a boat to the stunning island of Capri.
The gorgeous views I'll never forget; glorious hillsides dotted with villas and narrow streets, there was so much to experience and to take in from the point of view of a destination wedding in Italy, honeymoon destination in Italy or as a luxury holiday in Italy.
La Canzone del Mare
A symbol of La Dolce Vita since the 1950s, this was one of the best places I've ever visited. Peaceful, quiet and basking in the Mediterranean sun, the welcome was just superb. Dipping its toes into the sea, the views are spectacular from this perfect hotel. It's family-run, with only seven suites for an exclusive stay.
I stayed in the Sophia Loren suite, devoted to Italy's most renowned actress, with fresh white tiles, antique bureau and Italian charm with the scent of Acqua Di Parma filling the room. A quick dip in the open air salt water pool was totally refreshing, before a boat trip to our restaurant for lunch, Da Luigi ai Faraglioni.
The water changes colour with the weather and light, and the imposing Faraglioni rocks that rise from the sea really bring to life some of the ancient tales of Sirens and gods.
Da Luigi ai Faraglioni
Calming and tranquil, we enjoyed the rustic Italian charm of our delicious lunch; burrata with fresh tomatoes and strawberries followed by mussels and clams with homemade spaghetti – everything you'd want from a classic Italian meal! Tiramisu like you've never tasted before finished the meal, with wine from the local vineyard.
A dreamy, incredible experience. The boat trip back reminded us that there is nowhere in the world quite like Capri. Back at La Canzone del Mare I enjoyed the stunning terraces overlooking the sea and the Faraglioni rock formations, whilst getting ready for dinner.
A wedding at La Canzone del Mare would be absolutely incredible. They can accommodate up to 700 guests, with indoor and outdoor spaces, and every detail carefully arranged.
A wedding taking place that night showed us just how amazing it would be to get married or renew your vows here. A vibrant celebration, then an amazing holiday to enjoy afterwards! Through the hustle and bustle to the port and back to Naples we went, to visit the Britannique.
The Britannique Naples, Curio Collection by Hilton
The Britannique Naples opened in March 2020, this hotel is fresh and new, situated in sight of the live volcano, Mount Vesuvius, and surrounded by palm trees.
Super modern and ultra luxurious, it has everything you'd expect from a luxury hotel. Clean, fresh white bathrooms held Ferragamo toiletries , with feature tiles to remind you you're in Italy. Sparkling Capri lights peek at you through the window, and there's a huge bed to sink into after a busy day.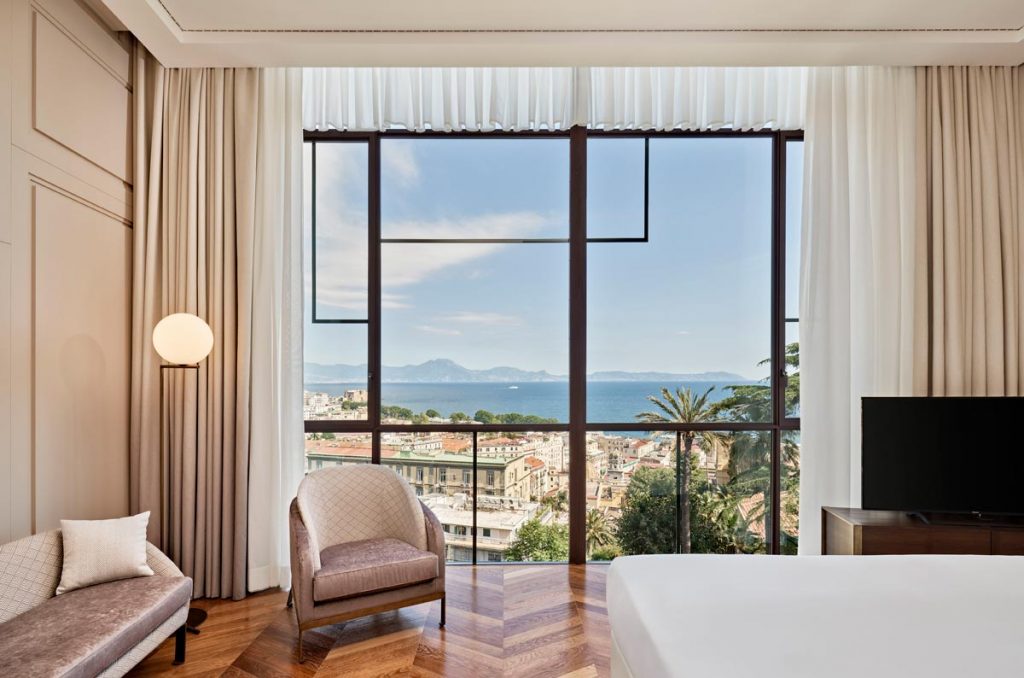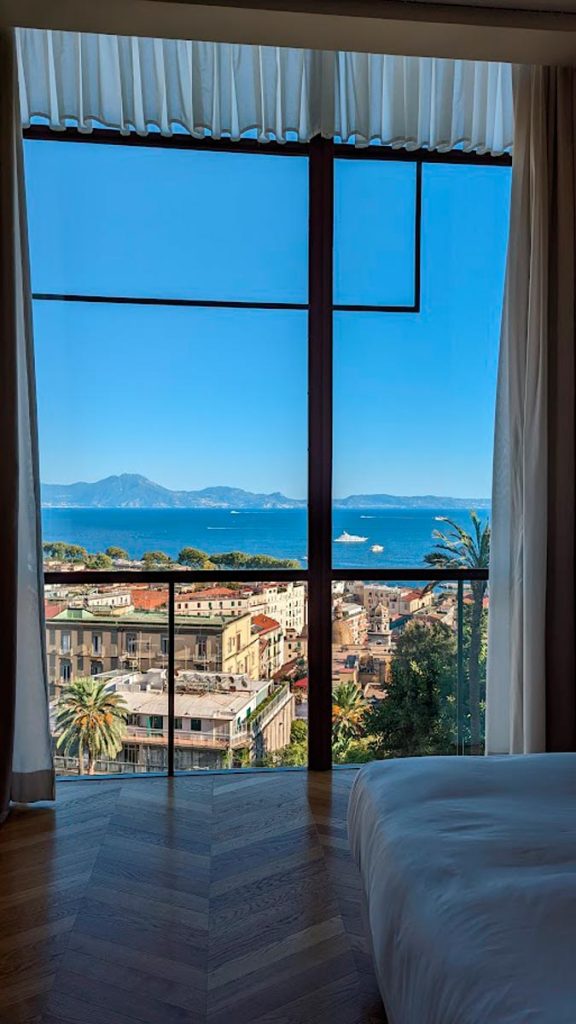 Whisked next door for lunch, we saw the exquisite contrast of old against new, with the Grand Hotel Parker's, overlooking the bay.
Statues towered over us, marble floors shone up at us, and we enjoyed a regal rooftop lunch with panoramic views. Tempura prawns, meatballs, ravioli… this is food I could live off! As well as a table laden with the freshest fruit, vegetables, salads, bread and burrata. With a full plate,
I enjoyed the views over to Vesuvius, before dessert appeared and took my breath away. Pistachio cream and babas – what an afternoon! A tour of the suites, mid-refurbishment, showed me that I will definitely need to come back and experience them, once they're complete.
The White Party
Once in every lifetime, you should experience a white party on a yacht. Dressed in perfect white, guests were treated to a night on the ocean waves, to Capri and back, hosted by Say Yes In Italy.
Hostesses adorned with fresh floral headdresses, a DJ, cocktail bar and the most spectacular views of the harbour lit up… it was an experience to remember.
The Faraglioni rocks looked so much more imposing at night, rising majestically against the moonlit sky. Moonlight, dancing, plenty of food and cocktails, there was also a chill out area for a spot of calm, before we pulled back into the harbour after midnight.
Villa Domi
The next day saw a quick trip to Villa Domi for lunch, set high on the hills overlooking the Gulf of Naples, surrounded by trees and with beautiful gardens to explore. Lunch was served in little paper cones full of delicious delicacies; savoury doughnuts, fish caught earlier in the morning, seaweed, tempura and fresh ravioli, to see us on our journey to the next villa.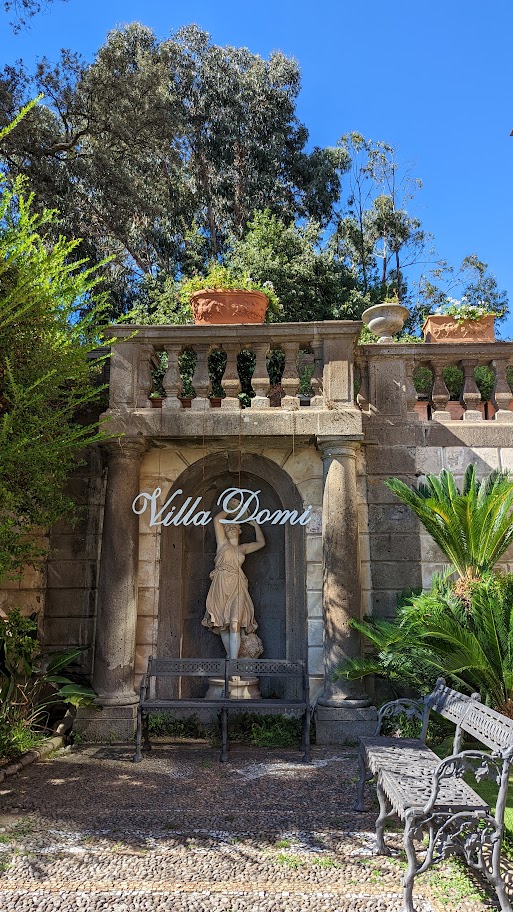 Villa Signorini
A long driveway rose to an impressive pink building the next day, as we travelled to Villa Signorini and some glorious panoramic views of Naples once again. Privately owned, this villa, built in 1830, would be a wonderful place to host a wedding. I love the idea of eloping here, and you could even bring up to 800 of your closest friends to celebrate with you.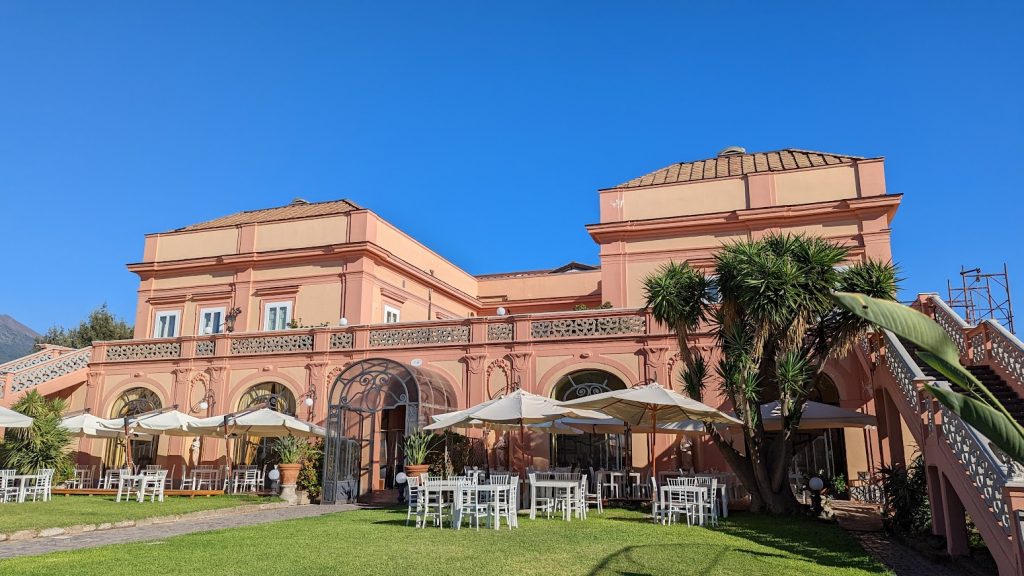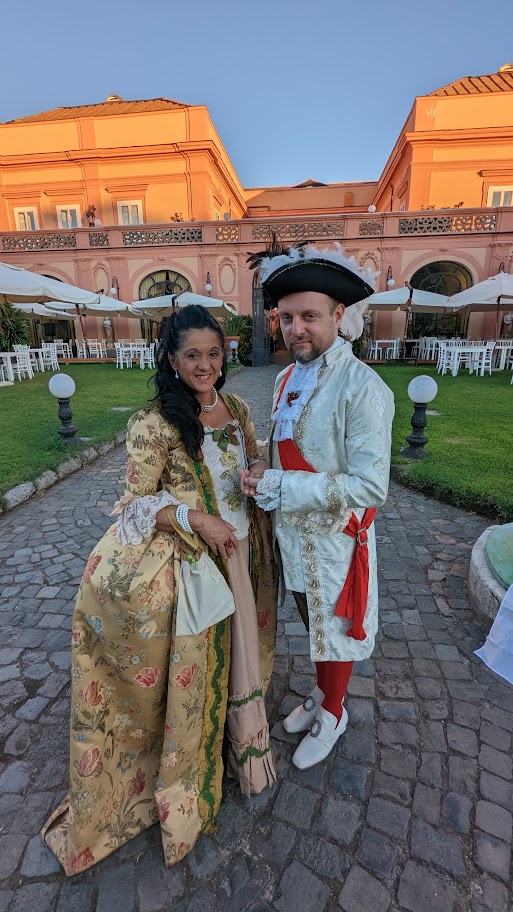 The views over the gardens with original fountains and out to Vesuvius are breathtaking and the villa is just so pretty, with chandeliers in each room and a classic, charming décor. So far we had sampled some of the best cuisine Italy had to offer, and once again, as dinner was served, we were treated to more delicious food.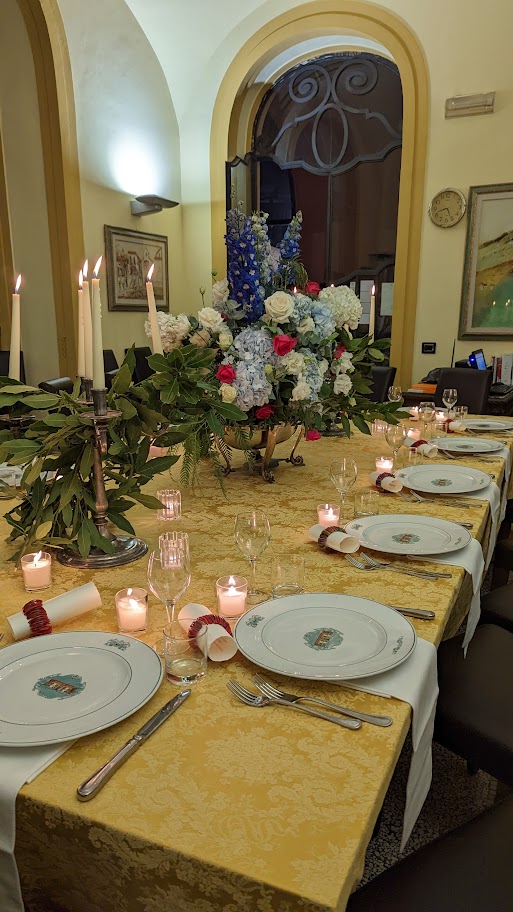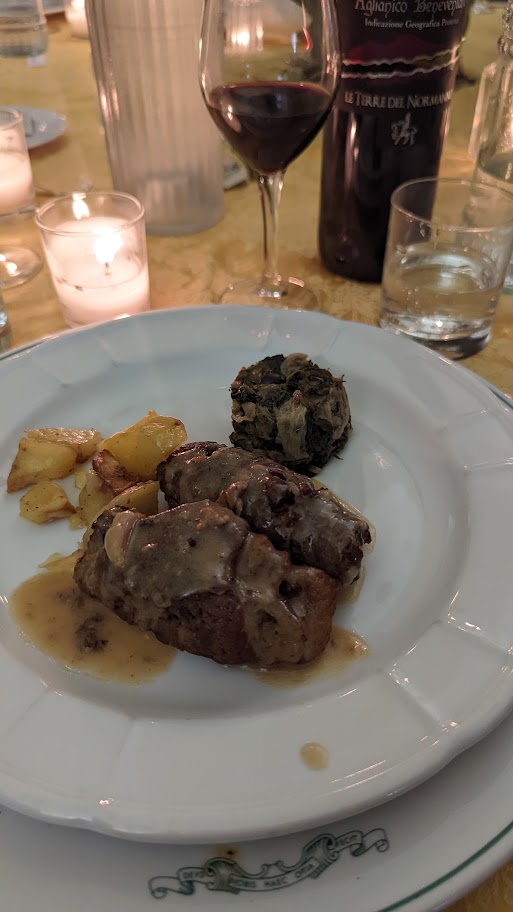 The menu, wrapped in a coral bracelet, was printed on handmade Amalfi paper, with such lovely attention to detail. Each course was presented with the history of the dish explained, with folk tales along the way. Mussels, risotto, beef and another delicious baba were happily enjoyed, created by the chef, who has been at the villa for 23 years.
We also learned that many hotels and villas have their own fisherman, simply serving whatever they caught that day. Such a simple and delicious concept, we very much enjoyed our evening and a great sleep before heading home.
Say Yes in Italy invited us on this wonderful trip. They create beautiful wedding packages, bringing together experts and suppliers for your perfect Italian wedding.

Yasmine. 5 Star Weddings
The amazing team that made the 5 Star trip to Naples and Capri so successful
@elisabettapicardi_ @say_yes_in_italy
@camelia_lambru @amewedding
@sinfoniawedding @5starweddings
@suellenfernandescelebrations
@angelogarini.creativedesigner
@ambientimage @discepoloannibale
@maritacampanella @suita.wp
@historiaantiqua @isanticateringandbanqueting
@redomoniumartevents @drinkmeventbarcatering
@thebritanniquenapoli @villadominapoli
@lacanzonedelmarecapri
@grandhotelparkersnapoli @cb_napoli
@lalladambrosio @italyforweddings
@ferdinandconcept
Read more: Top wedding Planners in The Amalfi Coast
Read more: 7 Reasons For A Winter Weddings in The Italian Alps