Fragrant flowers, gorgeous food and perfect entertainment
An evening to astound the senses, the gala dinner that followed Karen Tran's three day royal wedding inspired masterclass was, quite simply, one of the prettiest and most amazing events I've been to.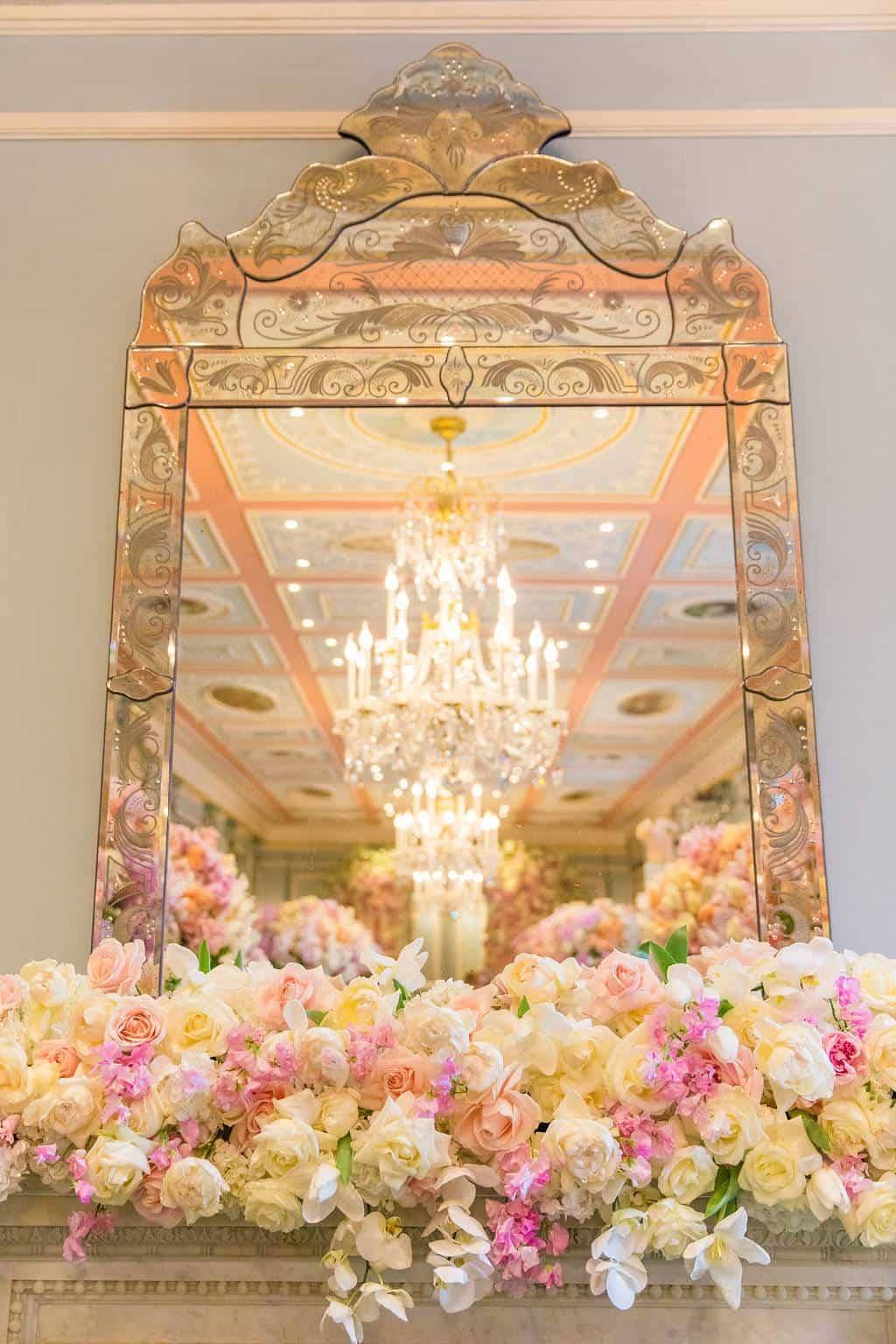 We were invited to see the results of all the hard work that Karen's students had been putting into the displays, learning techniques and picking up expert advice over a three day floral masterclass, inspired by the royal wedding. From the moment we entered The Lanesborough Hotel, we knew we were in for a treat. Before we'd even entered the Belgravia Room for dinner we were welcomed with a gorgeous floral staircase and Karen herself, in a beautiful ballgown from The Wedding Club. Hosted by Planned to Perfection and Elizabeth's Cake Emporium, we had a lovely time chatting with industry colleagues and enjoying the canapes before the dinner gong sounded and we were invited into a dreamland of floral beauty.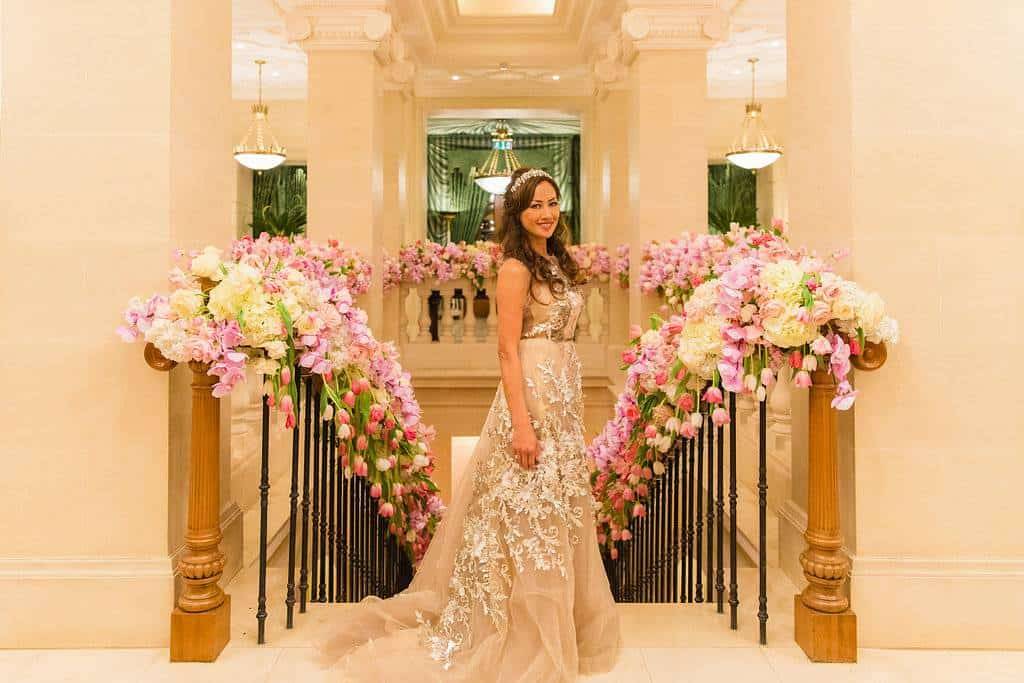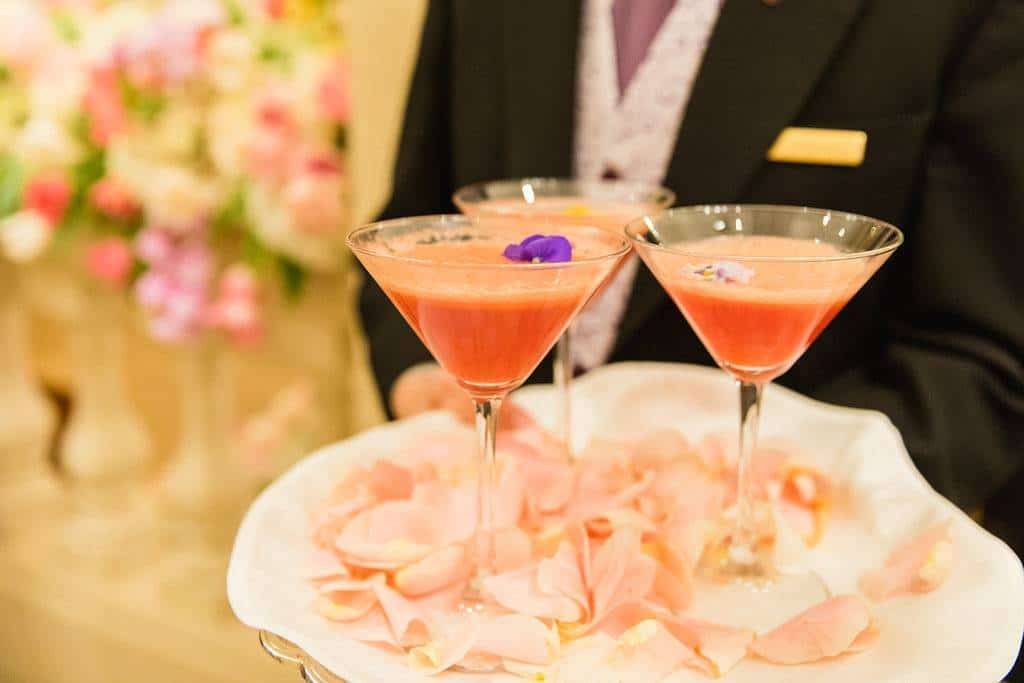 Through a tunnel of roses and hanging tulips, we all entered, phones in hand to capture the sight, as the prettiest fragrance met our noses. It was a stunning sight to behold. A mirror held the table plan, four tables for about 60 people, so a lovely intimate gathering. Fresh hanging tulips and peonies, orchids dripping off the displays with dainty bunches of sweet peas and roses adorned every table, and in the centre of the room, a floral pedestal held the most epic seven tiered cake from Elizabeth's Cake Emporium.  The room itself is so beautiful, with gorgeous plasterwork ceiling and pastel panelling, and the flowers and cake complimented the room so elegantly, it was truly like a dream!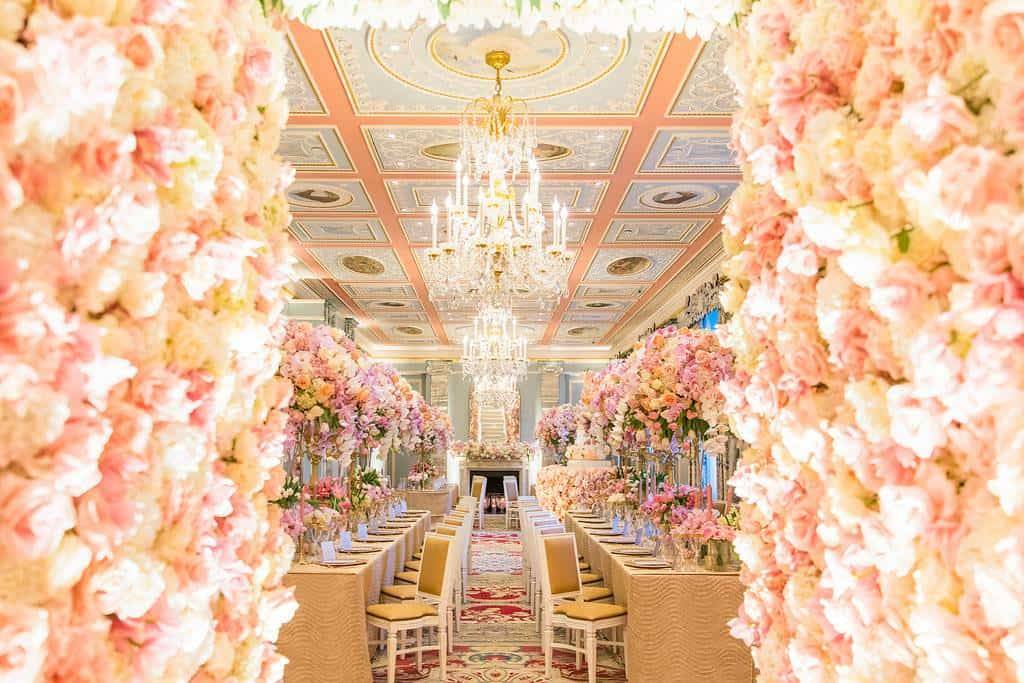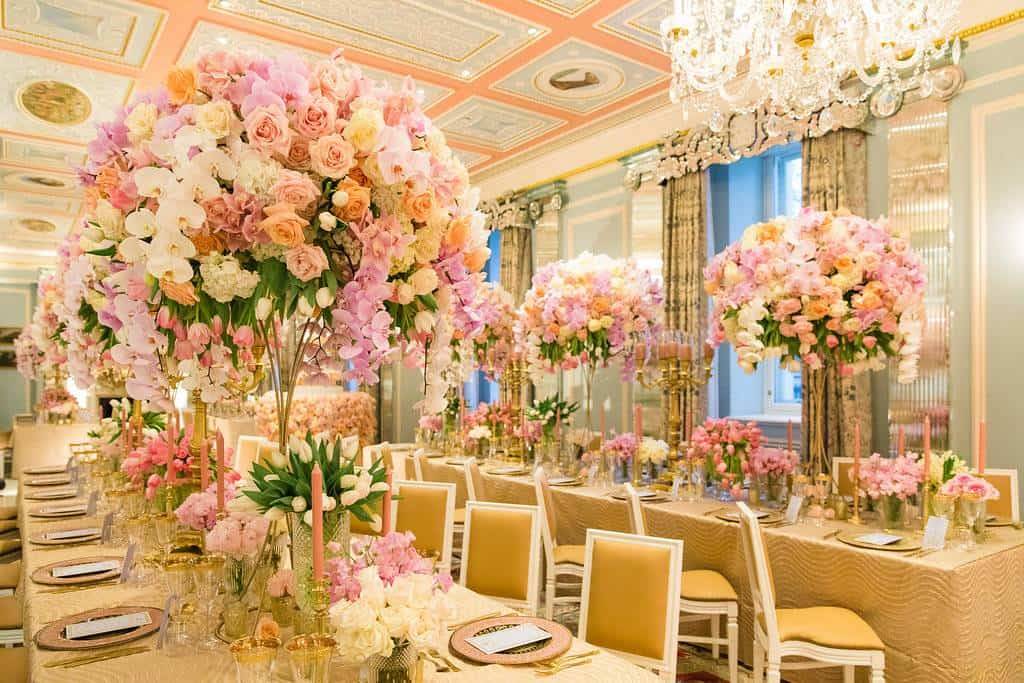 Finding my seat, I had a moment to appreciate the pretty gold embossed menu and rose gold cutlery before Karen Tran and her husband made their entrance. I was privileged to be siting with some of the students who had created the beautiful displays on the course, and it was lovely to get a little 'behind the scenes' info from them and hear about how they created the amazing displays and tied the room together.
And then the food arrived, pretty as a picture and the flowers decorating the room, we enjoyed scallop carpaccio, stone bass in globe artichoke and a decadent chocolate streusel. The elegant charger and beautiful crockery made the meal a delight, and we were treated to an A Capella operatic performance as well. The occasion truly was a feast for all the senses!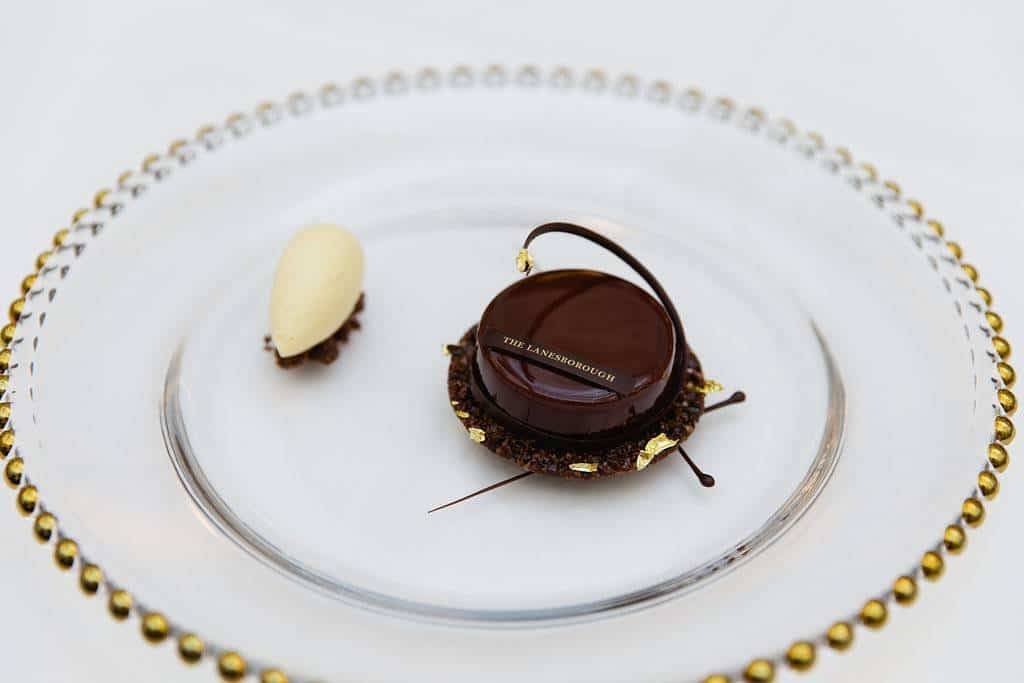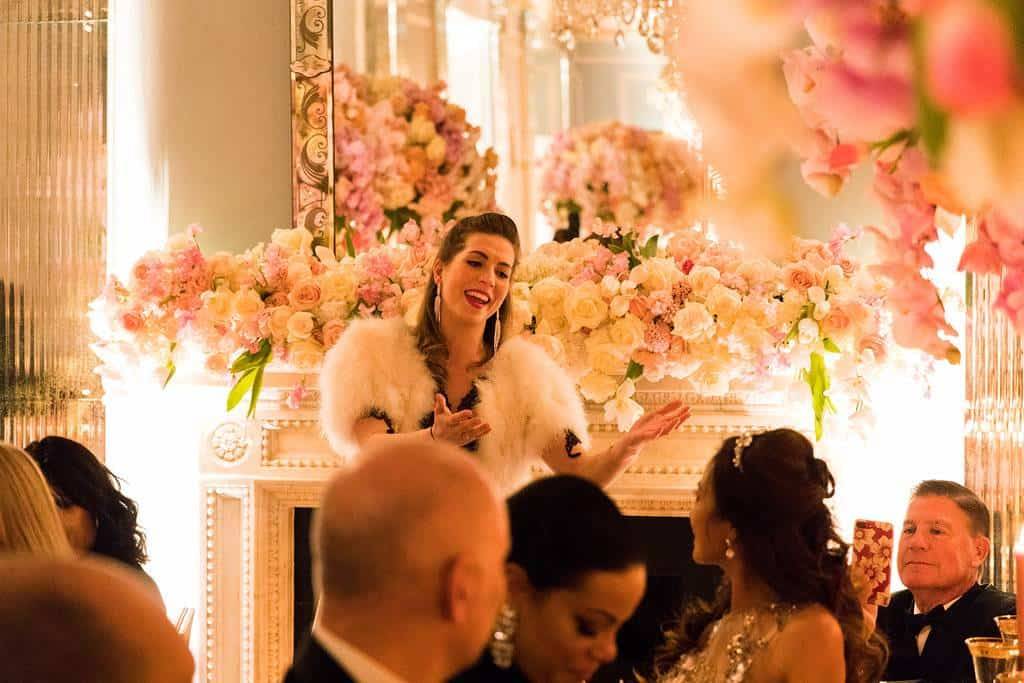 Coffee and petit fours followed, but, like a classic Cinderella story, I had to depart the elegant celebrations to catch my train home. What an evening to mull over on my journey… To read about Karen Tran's work and see pictures of her displays is one thing, but to experience it in the flesh is definitely something extra special. We were delighted to be invited and can't wait to see what Karen Tran creates next.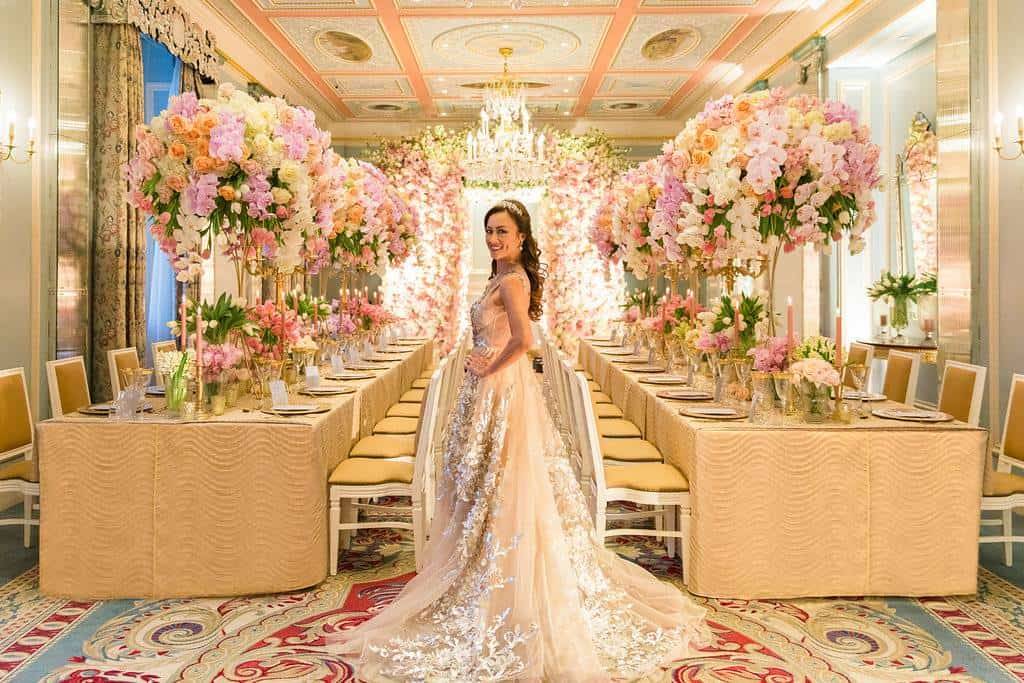 Suppliers