Back again, as promised I thought I would let you all know about my day out to The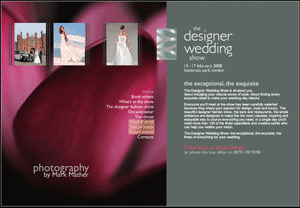 Designer Wedding Show in London. Well it was a bit of a nightmare to get to, as I can't drive anywhere without my good old navi (Tom Tom), but for some reason it took me the long way, 2 hrs later passed Harrods and even South London I arrived over the bridge at Chelsea. I have to say that the event was not very well sign posted. Anyways I found a spot to park right out side the door, which I was glad about that as it was still pouring with rain. I made my way to the que of people to pay my entrance fee (£17.50).
From the que I made my way to the ladies to sort out my frizzy hair after that rain had attacked me. On entering the ladies, I had a good scope of the entrance, the cream carpet court my eye, then the sound of funky jazz playing live as I noticed the 3 guys in the corner playing there music, the laughter and talking and the drinking of champagne was all going on. After sorting myself out in the ladies I headed in the exhibition room.
My first vision was this cake stand of Linda Fripp wow cakes were amazing, with real cutting edge designs, she even supplies to celebrity and royal weddings she had so many people all admiring her creations.
I thought I would start one way and walk all the way around, but I got so distracted as there was so many beautiful display stands I just had to visit. My first conversation was with the manager of Pal Zilari the finest men suits from Italy you would find, so smart. Then the stand of Vera Wang court my eye, I met with the marketing manager who was complementing her advert she has with us on my web site, after this I had to take a little sample of the latest Vera Wang perfume, this has to be one of my favorites now. This fragrance was on me all day and could not stop smelling my wrist I regret not taking more samples. I know what will be on my Christmas list now! I then met with so many contacts of mine and really got a buzz being in this industry it was a great feeling.
I spoke to Emmy Shoes who described her collection of elegant and vintage range, even her business card impressed me with a little diamante.
A company who I had not heard of was there Michal Negrin, the stand was like a princess bedroom lots of sparkling and detailed jewelry and accessories. Another New company I spotted was the Utterly Sexy Cafe, I met Amanda who was a lovely kind lady who was very interested in what I had to say about 5 Star Wedding Directory, her cakes were so exquisite and deliciously visual, coffee sponge to tangy lemon fillings decorated with Jewels, edible glitter, sugar roses and butterflies.
If you are tired of the same type of venues? Then I would recommend taking a look at LPM Bohemia, walking inside a beautiful circular tent, the theme was of India with the most amazing ceiling and it was so cozy that I did not want to leave, so check out LPM Bohemia.
Another designer item was FrouFrou and Thomas, she was telling me about her designer couture wedding crackers she makes from natural papers to hand create the unique finishes. Henuk was there also showing there Bespoke handmade that are lovingly designed and gives a unique experience for the bride.
I soon got talking to Jackie from the Graham Fenton Experience, "News Flash" they have been voted in the top 25 videographers worldwide! and has won many other awards for there stunning work, well done. After seeing a quick snip I could soon see why as they film with a very difference and classy style.
Having walked around the show several times and I made sure that I met all the key contacts I need to thought I would head back for my long journey home in the rain. Making sure I collected all the useful information and glossy collateral they were giving away for my files.
To conclude, It was simply stunning, and well worth going to. I will recommend this event to any bride and groom with a bit of cash to splash on their big day.
Yasmine
www.5starweddingdirectory.com