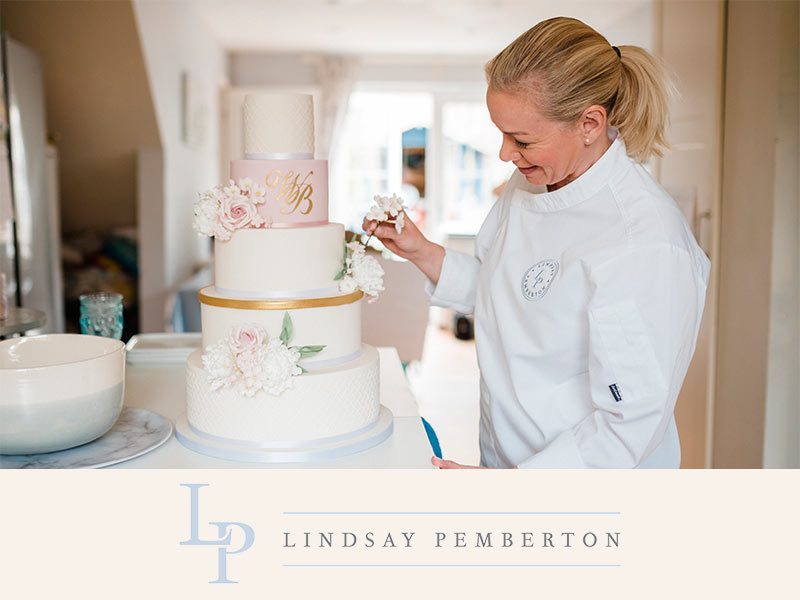 We are excited to present on today's 5 Star Wedding Directory Spotlight List, one of our key suppliers whose delicious creations have cemented their name amongst the best wedding cake makers in England, Lindsay Pemberton.
Lindsay is a fantastic pastry chef who has a reputation for her outstanding wedding cakes and desserts. Her fabulous and delicious creations were awarded the Bridelux Award for "Best Cake Maker" in 2021, as she blends exceptional flavours and artistry whilst creating unique and one of a kind wedding cakes.
She is known for her passion for creating visual and tasteful masterpieces, along with handcrafted sugar flowers and decorations. Apart from her stunning work, Lindsay is also known for her attentive service as she sits with each couple and takes in everything they imagined for their wedding cake and desserts. They make sure that each cake and dessert table receive undivided attention by designing and producing exquisite cakes that are crafted down to every last detail to perfection.
Lindsay offers a variety of flavours, styles and ideas, whether you want a towering tiered wedding cake in a multitude of flavours, a luxurious and unique culinary centrepiece for your wedding day that will beautifully reflect your taste and style, to dessert tables with a mix of different types of cakes and pastries that will fit every guest's needs. At Lindsay Pemberton, you and your guests will receive a huge level of flexible and delicious flavours to indulge in.
If you want artistry, irresistible flavours and luxury service, then Lindsay Pemberton is exactly what you are looking for. Using their experience and expertise they will guide you through all the options you have for your big day. From a fondant covered cake in different and unique styles to choose from, whether you would like crisps, Sharpe edges or smooth tiers and an abundance of sugar decorated flowers or any other decorations you desire. The cakes can come in a variety of colours to match the style and can be moulded into the most spectacular designs.
Along with the wedding cake of your dreams, combine it with luxurious and rich dessert tables which allows your guests to choose from a range of heavenly cakes and delicious pastries, where they also offer a delightful selection of patisseries to suit every guest individually and considering any dietary requirements needed. All the cakes are tailormade and handcrafted specifically for your special day. Lindsay will guide you through a series of collections that you could choose from and create a beautiful display.
You won't be let down if you choose Lindsay to help you host on your big day. You can also offer your guests a stunning individual gift box filled with delicious treats, suitable for thanking them and sharing your love with all your guests.
Lindsay Pembleton will make all your dreams come true down to the smallest detail for you and your guests to remember for years to come.
Make an Enquire
Get in touch below, and create the wedding cake of your dreams!