Highly acclaimed photographer John Nassari held a wedding photography workshop this week, and I was delighted to be in the number of select few invited to learn more about taking fantastic photographs with the award winning new Olympus OM-D range.
John's wedding photography career has seen him win a number of awards, and he has had the pleasure of photographing many celebrities – even royalty. He also pioneered a ground breaking 360° multi-media interactive photography service for weddings and has recently published a book and exhibition – 80at80, celebrating 80 years of Olympus cameras and situated at the Mandarin Oriental Hype Park hotel – our venue for the day.
John had invited photographers as well as digital influencers such as myself, to come and see Olympus' latest camera offering and try it out under expert supervision and guidance. We were welcomed with coffee to a beautiful room in the Mandarin Oriental with shutters pulled open to reveal Knightsbridge in all its glory and were then captivated by John's story.
He gave us an overview of his 25 years of work and the many places and people he has had the pleasure of capturing on film, as well as the range of galleries his work has been shown in and the awards he has won.
After this fascinating talk, John introduced us to the camera we would be using later on in the day. John is an 'Olympus Visionary' – a brand ambassador for the company and guided us around the many features of the gorgeous new OM-D range.
Lightweight, compact and incredibly easy on the eye, it provides outstanding image quality and high performance to satisfy even top professional photographers.
Then it was our turn to try it out. Gathering outside the royal entrance, cameras at the ready, we awaited our subject – a beautiful bride, who serenely emerged, ready for her photo call.
A team of Olympus reps helped with lenses and assisted with getting the best out of the camera to capture the beauty of the dress, provided by State of Grace, hair by Errol Douglas, make up by Kylie McMichael and exquisite floral designs by Neil Birks at NB Flowers. Union flags fluttered about the grand exterior and a crystal chandelier sparkled in the background, creating the perfect backdrop.
A quick dress change for the model, and we were whisked inside to experience a different setting. More beautiful flowers on display and another stunning dress set a stark contrast to the black iron balustrading that accented the staircase. The model was positioned to make the most of the natural light and we were given another chance to try out the cameras.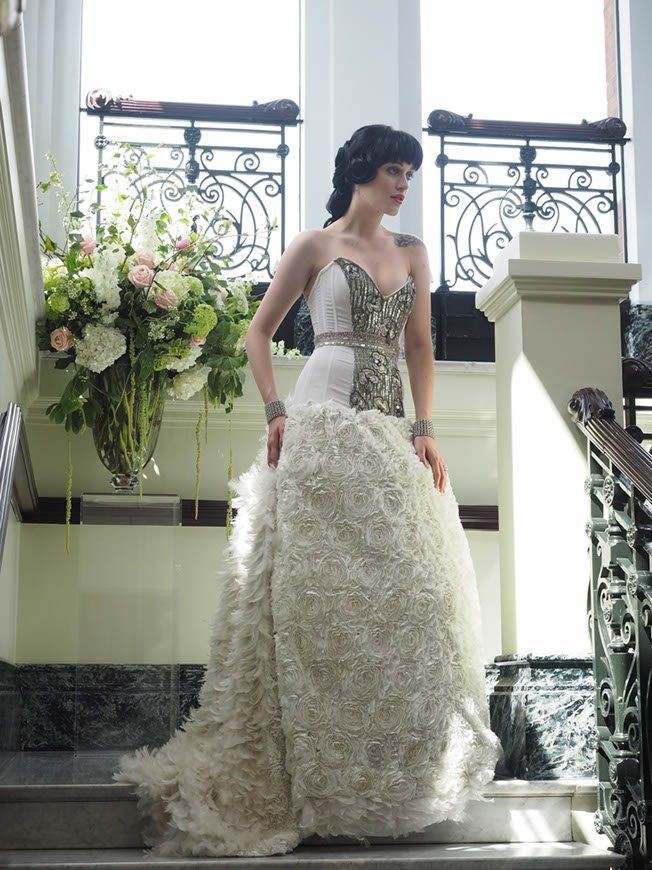 More photo taking after lunch with some dramatic ballroom shots before reviewing our work, with John choosing some of the best photos to show on a big screen. A great feature of this new camera is the ability to connect it to a device via wifi. Download an app and all the photos you have shot are uploaded to your phone or tablet to review. This is such a smart feature and really lends itself to wedding or even honeymoon photography where you can relax together and review all the images you have taken over a glass of wine in the evening.
I really appreciated the invite to this workshop. I've been to a few of John's events, and it's always a pleasure. I would definitely take his recommendation for this piece of kit – perfect for a professional photographer or a honeymooner who wants some really outstanding shots. John uses this compact camera for weddings as well as for many other shoots and really does achieve incredible results.
Suppliers: