Today's real wedding comes from Rellini Art Studio who shot this gorgeous wedding in the hills above Florence. Matt and Nisha live in London, but decided to head to Florence to tie the knot in an amazing destination wedding.
The Venue
Their chosen venue was the stunning Villa Corsini a Mezzomonte, perched on the Florence hills nestled among olive trees and gorgeous greenery.
The Ceremony
They held an intimate ceremony under the sun on the villa lawn, then moved to an amazing Italian style garden where all the 100 guests had an aperitivo and a string quartet played classical melodies.
The Dress
The bride wore a layered white dress, intricately embellished with beading and featuring a gorgeous detailed back. Her veil's edging matched the detailing, with pretty beading around the edge, which caught the light beautifully. The bridesmaid' contrasting violet dresses were a perfect choice, coordinating with the deep purple accents in the bouquets.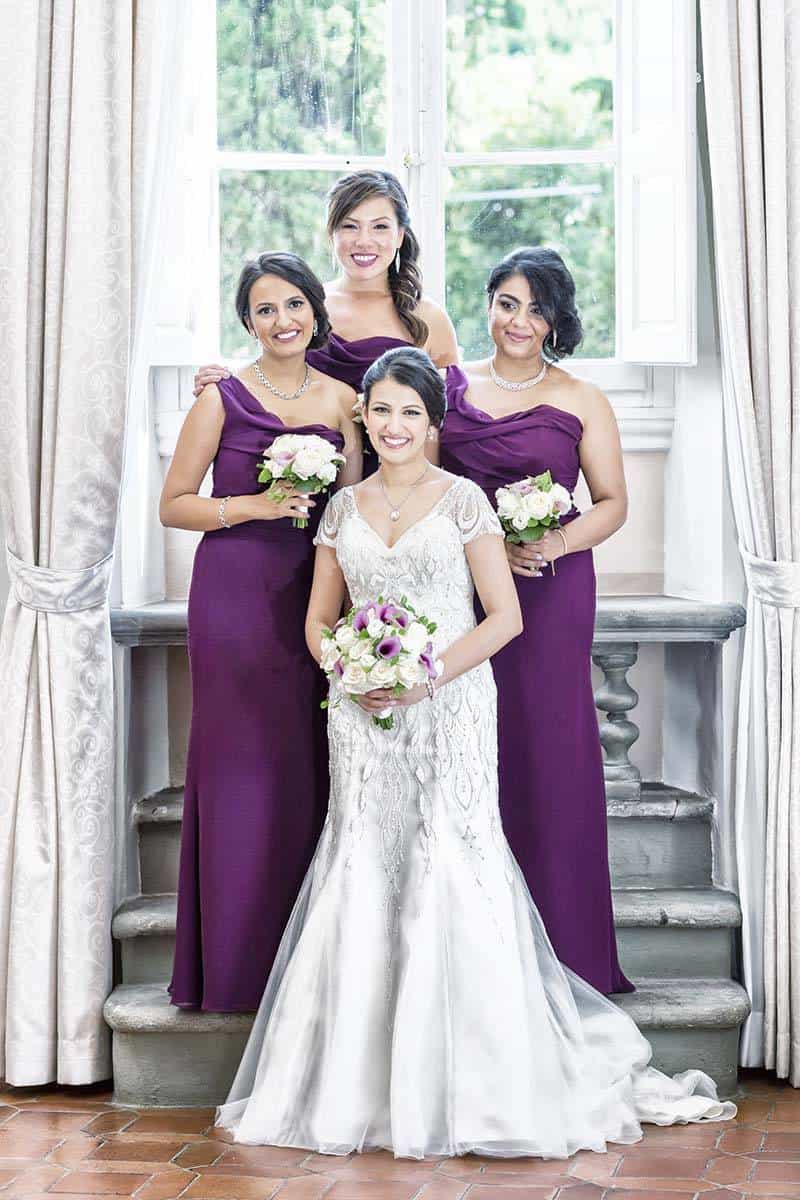 The Groom
The groom and his groomsmen chose classic, elegant tuxedos with a single white rose adorning their buttonholes.
The venue was so incredible that we chose to shoot some portraits in the tree covered alley, beneath the magnolia tree and among the medieval statues.
The Theme & Colour Palette
Dinner was served in the amazing gallery under 1600 incredible frescoes. The couple's simple, clean white colour palette ensured the focus was on these beautiful works of art.
The Party!
The party was held in another hall in the venue, where a band played and the guests danced all night long.

This beautiful couple picked a perfect place to wed. A fantastic celebration surrounded by amazing art and architecture – a wonderful occasion!
Suppliers:
Photography: Rellini Art Studio
Wedding Planner Savvy event studio
Venue: Villa Corsini a Mezzomonte
Catering: Roland's
Band: Rip it Encore
Flowers: Florum
Lights & audio: Alma Project