Intrigue and expectation were already at peak for this high profile celebrity wedding – and then we saw the dress. We've done a little digging into how this stunning custom Ralph Lauren gown came to be.
Actress Priyanka Chopra married singer Nick Jonas on the 1stDecember 2018, holding two lavish ceremonies to celebrate the fusion of their family traditions – Eastern and Western, Indian and American, Hindu and Christian – and so, of course, there were two wedding dresses. She chose a traditional, custom made red lehenga for her Hindu ceremony, after leaving jaws hanging with her first dress, a custom Ralph Lauren.
Apparently Priyanka chose Lauren after learning he had only ever designed three wedding dresses – his daughter's, his daughter-in-law's, and his niece's. The design process took months, with sketches of the gown and details of the materials to be used.
The outfit combined a column dress with a sheer, hand embroidered coat, emblematic of the formalwear trends that Ralph Lauren admires, fusing a figure hugging silhouette with floating lines and handmade details.
The coat contained eight special words and phrases embroidered into it that Priyanka had requested, including the date of the ceremony – 1stDecember 2018 – the words 'hope' and 'compassion' as well as a Hindu mantra, 'Om Namaha Shivay'. She had her fiancé's name stitched at the front, representing her future, and her parents' names stitched at the back alongside 'family' down the right sleeve and the word 'love' over her heart. She also incorporated a piece of lace from the wedding dress of Nick's mother.
Fifteen artisans from Mumbai, India hand embroidered the coat which took 1,826 hours to create. 32,000 pearlescent sequins, 5,600 seed beads and 11,632 Swarovski crystals adorned the intricately decorated coat, which was closed with 135 satin buttons. The column dress that hid beneath was covered with over 2 million sequins, making the whole outfit shimmer. In a sweet statement, Nick had a piece of the dress stitched into his custom Ralph Lauren suit, just over his heart.
And the veil…? Well you can't possibly disagree with a 75 foot tulle veil that takes five people to carry, can you?!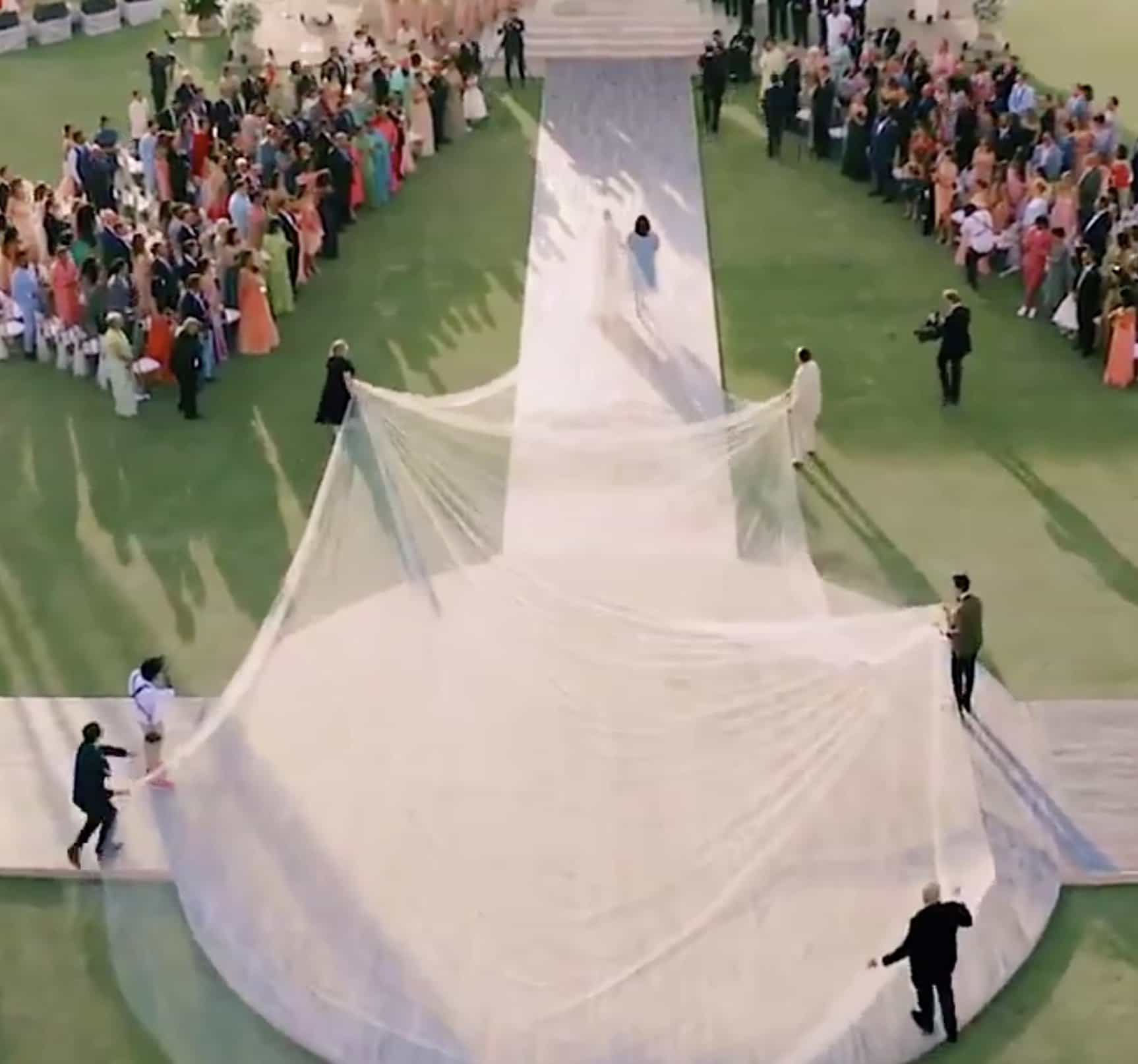 All images Ralph Lauren unless stated.