Top 10 UK Luxury Wedding Cake Designers – Every wedding reception is filled with guests eager to see the wedding cake. It is always a highlight at each wedding reception, along with the bride and groom of course. Each wedding cake symbolizes prosperity, Good Luck, and Fertility along with the best ingredients so that the marriage will be long-lasting and full of happiness and joy. Although these may just be prejudiced statements, it is a beautiful moment at each wedding reception when the couple joins hands and cuts their first piece of cake together, and take a bite! It is not easy to satisfy your needs and try to impress your guests at the same time. Luckily for you, we found the top 10 Wedding Cake Designers that will offer you the most glamorous, elegant, and creamy wedding cake of your dreams.
1. Elizabeth's Cake Emporium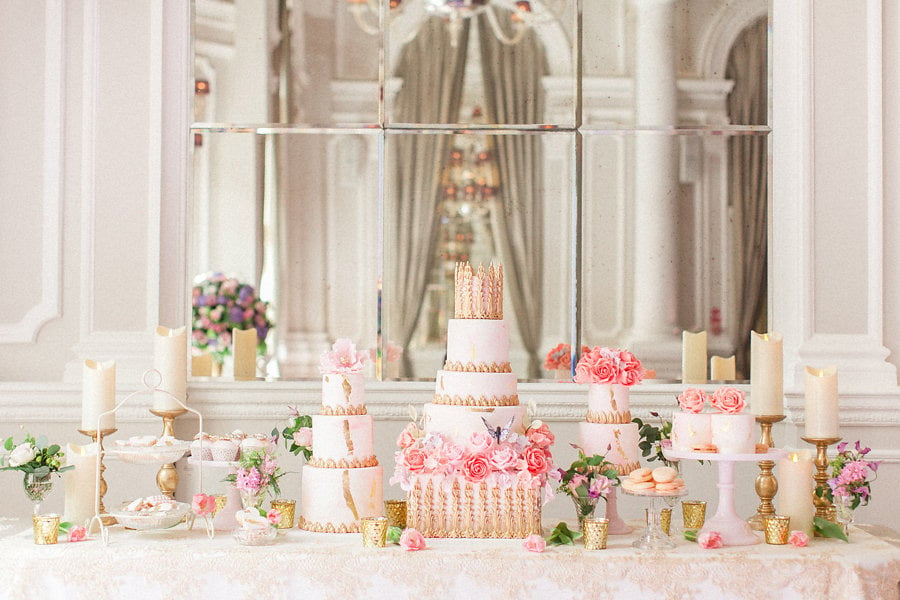 Elizabeth's cake emporium is the home of the best luxury cakes for all occasions. They are known for their intricate details and realistic creations along with the more tasteful and sugary masterpieces. The founder is Elizabeth Solaru who is a world-renowned sugarcraft teacher and has an international reputation for producing beautiful wedding cakes, party cakes, cupcakes, and the most luxurious deserts anyone would want at their event. The company has supplied to some of the best venues in the world including, The Dorchester, The Savoy, Blenheim Palace, The Corinthia, and more. Choosing Elizabeth's cake emporium will leave you and your guests with an unforgettable tasty experience.
Link: https://elizabethscakeemporium.com/
2. Rosalind Miller Cakes
Rosalind Miller Cakes are  London based cake studio that is known for creating luxurious and modern wedding cakes. With the best craftsmanship and exceptional artistry, their cakes have been bespoke by Harrods and the wedding gallery. Rosalind Miller will create the most exquisite and dreamy cakes for your celebrations.
Link: https://www.rosalindmillercakes.com/
3. Luxury Cakes by GC Couture
GC Couture is a luxury, award-winning cake brand that is located in Mayfair, London. Their cakes have been delivered to some of the most prestigious hotels and exclusive venues in London. They have a wide range of chocolate and sweet choices, from mouthwatering cupcakes to delicious wedding cakes for you and your guests. With their outstanding customer service and exquisite cakes at GC Couture, you are in for a treat.
Link: https://www.gccouture.co.uk/
4. Couture Cakes
Each one of their exclusive creations fits perfectly for each and every occasion. Their cakes are decorated with intricate hand craftsmanship with an eye for detail. Their experience and talent enable them to produce wedding cakes of all styles from traditional tiered wedding cakes to savoury cheesecake towers, in short, they can create the cake that you always imagined. Couture Cakes is recommended by the finest wedding venues and their spectacular creations have been enjoyed by celebrities and royals.
Link: https://www.couture-cakes.co.uk/
5. Claire's Sweet Temptations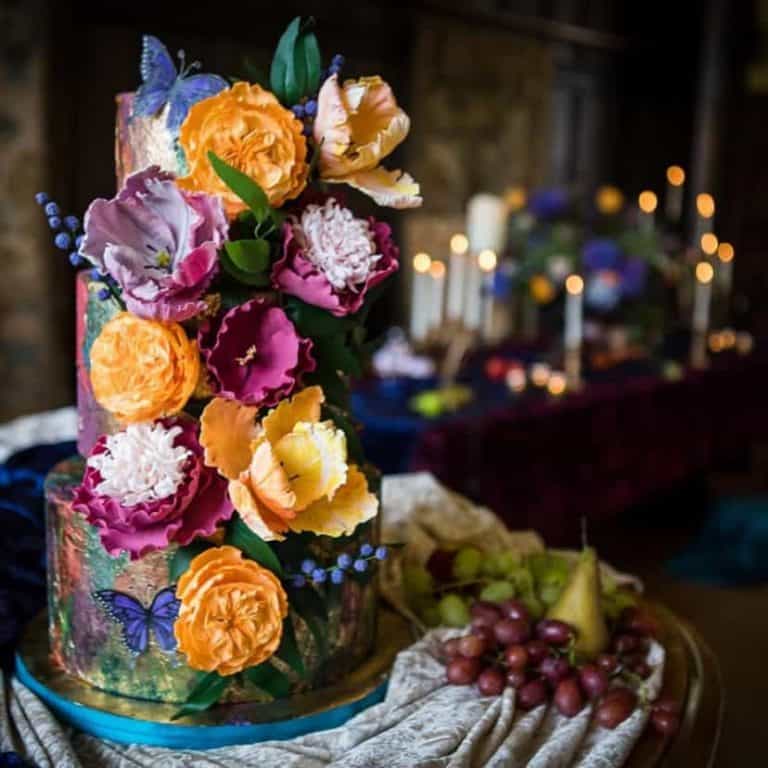 Claire's Sweet Temptation has one aim, to simply provide the wedding cake of your dreams. Using fresh and high-quality ingredients they create glamorous, luxurious and the most delicious wedding cakes for you and your guests. Their creations have been awarded and featured in some of the worlds most prestigious magazines such as Vogue, Hello!, WedMagazine and at the Global Wedding Awards Wedding Cake Designer of the year 2020. At Claire's Sweet Temptation you are bound to receive an outstanding wedding cake design with the most heavenly of tastes that will serve as a beautiful memory for everyone.
Link: https://www.clairessweettemptations.com/
6. Peggy Porschen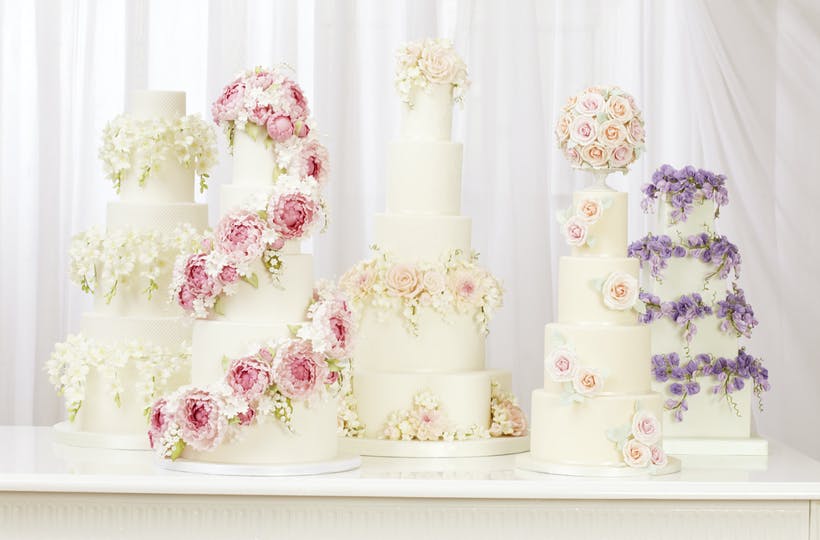 Peggy Porchen has been titled "the best cupcakes" by Vanity Fair and there is no doubt that their treats are heavenly. Right in the heart of London and "next door" to Buckingham Palace, their goal is to create dreamy, tasteful and sugary desserts to captivate and connect their customers with their inner-child. Choosing Peggy Porchen for your celebrations will serve as the perfect match for you and your guests to explore the delightful world that they will offer through their creations.
Link: https://www.peggyporschen.com/collections
7. Little Venice Cake Company
The Little Venice Cake Company has created over 20,000 bespoke cakes since the day they opened its doors back in 1999. Their award-winning innovated designs and signature touches have been a favourite amongst celebrities, London's prestigious hotels and have served their spectacular creations at Harrods, Fortnum and Mason, Harvey Nicolas and many more.
Link: https://www.lvcc.co.uk/
8. Laduree
Their pastries are known throughout the UK and globally and are one of the oldest remaining cake companies to stay open and have been thriving since1862. Their macarons will make you speechless as their unique taste will leave you with heavenly tastes that you will remember forever. With an outstanding and innovative touch, Laduree will produce the cake of your dreams for any occasion.
Link: https://www.laduree.co.uk/
9. Sugared Saffron
The Sugared Saffron cake company pay attention to detail and make sure that their tasty and authentic creations match with everything you want and adapt to your needs. The customer service is unique, as their priority is to sit down and listen to you and your partner in order to create the most perfect delights for you and your guests. Their creations have been featured in Perfect Wedding, The Telegraph, Harpers Bazaar, Belle Bridal Magazine and more. They will definitely not disappoint.
Link: https://www.sugaredsaffron.co.uk/
10. Hall of cakes
Hall of Cakes was established in 2007 by Nicola and have since been the centre of wedding cakes. Their astonishing and luxurious designs have left their mark on every occasion they serve at. With custom occasional cakes and rich creams, they have worked with the BBC, Channel 4 and Channel five. Without a doubt, the Hall of Cakes will create the cakes of your dreams combined with heavenly tastes.
Link: http://www.hallofcakes.co.uk/
It's not easy to choose the perfect wedding cake that will fit your standards and ideas, but with the help of the above professional cake makers, you are guaranteed to provide you and your guests with the most elegant and unique wedding cake that no one will forget.
Check out our list of the Top 15 UK Wedding Planners to help your big day go smoothly and stress-free.