Top 20 Luxurious Hotels in Dubai
Dubai is one of the most romantic destinations, that mixes abstract and traditional architecture, action-packed adventures and luxurious accommodation. It is one of the most exotic places in the world that will suit your every need. There are no limits of places to visit in the City of Gold, whether you and your partner want to go on a dune buggy safari or take a romantic beach stroll next to a blissed-luxurious retreat at one of Dubai's finest Hotel Resorts, there are endless choices for you to have your upcoming nuptials and honeymoon.
We have discovered the top 20 most glamorous and luxurious hotels in Dubai that you are going to love, Here is our top 20 best Dubai Hotels:
1. Burj Al Arab
This luxurious hotel is located on an island and is a sail-shaped building. The hotel is only a 5-minute walk from the Wild Wadi Water Park and about 4km from the Mall of the Emirates.
The opulent suites feature floor-to-ceiling windows with stunning views of the city or gulf. The rooms contain 24-carat gold iPads, free wi-fi, and iPods, whilst offering designers toiletries, Egyptian Linens, whirlpool baths and butler service.
For your afternoon relaxation, they have an outstanding spa, a fully equipped gym and a kid's club. Choose Burj Al Arab for your honeymoon destination and live out one of the most romantic and adventurous holidays you ever had.
2. Mandarin Oriental Jumeira, Dubai
The Mandarin Oriental Jumeira Hotel is just 15km away from Dubai International airport and is based on Jumeirah Beach along the Gulf. The rooms provide HDTVs and Nespresso machines for your morning coffee. They are spacious and have marble bathrooms.
The dining options include Japanese and Portuguese cuisine and a glamorous 24—hour lounge for you to feast like a royal. After your lovely dinner, you can relax by the poolside bar and have a fabulous cocktail to enjoy your evening.
3. Palazzo Versace Dubai at Jaddaf Waterfront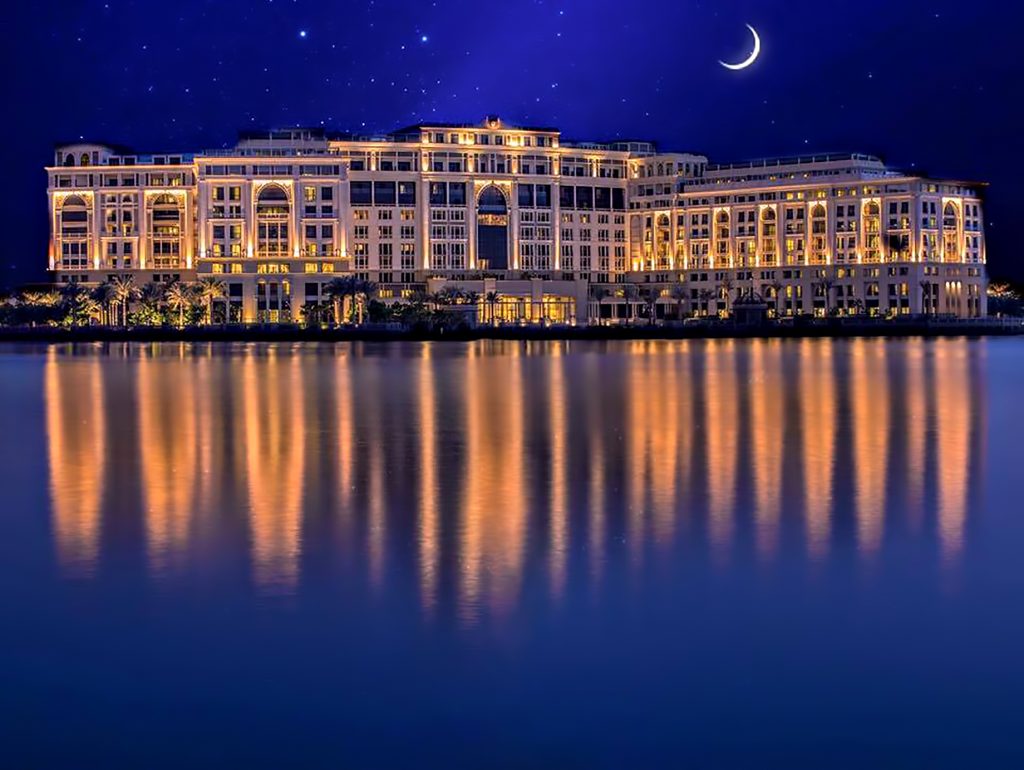 This luxury hotel is just a minute walk away from the famous Dubai Creek and is a few minutes walk from the Dubai Culture Village.
The stunning rooms feature designer linens, marble-tiled bathrooms, free high-speed wi-fi and balconies which overlook the Creek or Culture village. Suites add living rooms, 24-hour butler service and access to a glamorous stylist, private lounge that offers free meals and happy hour!
You can't go wrong choosing the Palazzo Versace Dubai Hotel for your wedding/honeymoon destination.
4. One & Only Dubai The Palm Resorts
The One and Only Dubai Resorts group has an endless amount of brilliant holiday packages for you to choose from and have the honeymoon your always desired or the wedding reception you always dreamed of. The resorts are on a stunning beachfront on the iconic Palm Jumeirah and are surrounded by the gulf and gardens.
You have a variety of manors, mansions and villas to choose from for your big day. The plush rooms and suites offer excellent entertainment systems, living areas and grand bathrooms with free-standing tubs.
Each room has a veranda with garden or gulf views and you could ask for a private butler. The 2-bedroom villas are on the beach and feature bars and private pools. Book now and have the wedding you always imagined.
5. Armani Hotel
This high-end hotel is a high-rise glass tower and is a 10-minute walk away from the Dubai Mall. It offers outstanding modern rooms with free wi-fi and a stunning view of the entire city. The rooms also include minifridges filled with delights and a Nespresso machine for your morning coffee.
The upgraded suites offer dining areas, bars and gyms for you to stay in shape during your vacation. Although room service is available, there is an outdoor terrace with city views that have 8 chic restaurants with a variety of foods to choose from. Armani Hotel is the best and most romantic place for your upcoming wedding, where you will create unforgettable memories with your loved ones.
6. Atlantis, The Palm
This breath-taking luxury ocean-themed resort, Atlantis The Palm, is set on Palm Jumeirah and is 36km from Dubai International airport. Their refined rooms have stunning gulf and island views and Suites offer sitting areas, which some include their own private terrace, butler service, private hot tubs and views of the aquarium marine life.
This hotel has excellent customer service and offers 24/7 room service. If you prefer to eat outside, the hotel also offers Japanese, Peruvian, Italian and Chinese restaurants, along with a chic underwater venue. Don't miss out and book today.
7. The St. Regis Dubai, The Palm
This premium hotel, St. Regis Dubai, is just 4km from The Palm Fountain and 6km from Aquaventure Waterpark.
For your stay, you will have a sophisticated room with minibars, tea and coffee facilities, an outstanding flatscreen TV and a sitting area. If you want a fancier suite then you can choose one that includes a lovely view of the gulf, has a separate living room and has a butler service that will be available 24/7.
The St.Regis hotel is the perfect place to choose for your honeymoon vacation. You will be offered the most luxurious services at an outstanding location. You and your partner will live your dreams on a honeymoon filled with adventure and memories.
8. Bulgari Hotel and Resorts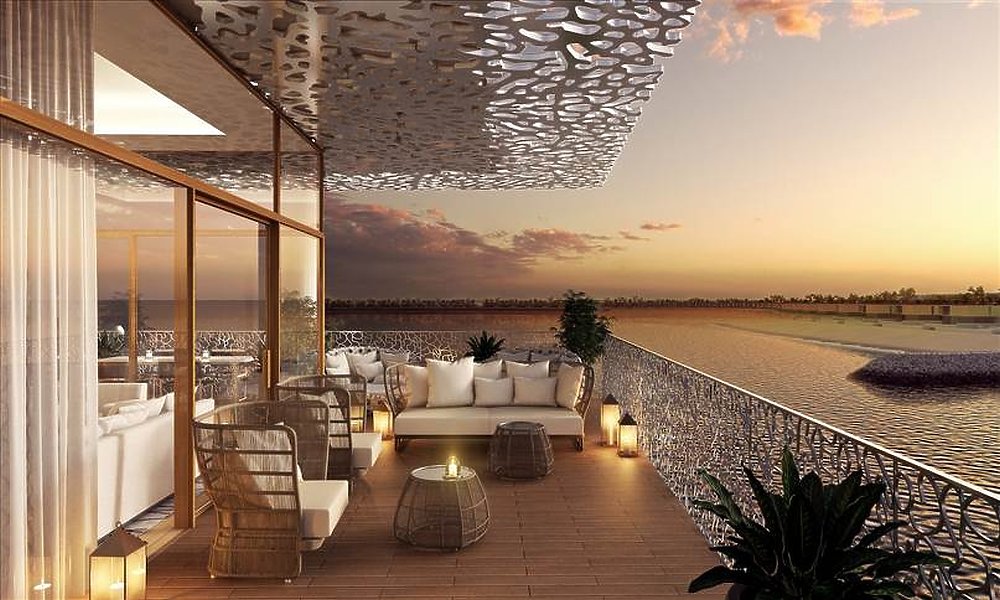 This fabulous hotel is set in Jumeira Bay and was designed by renowned Italian architect, Citterio-Viel. Bulgari Hotel Resort is just 5km from the famous Jumeirah Beach, which could work as your fairytale setting for your nuptials.
You and your guests can make your way to the hotel where you will stay in your chic rooms filled with plush furnishings and private balconies. For the couples room, you can opt for one of Bulgari's polished suites which have lounges and beautiful sea views.
Bulgari resorts also offer glamorous villas which include kitchenettes, marble bathrooms, a private pool and an indoor cinema room. The hotel has 3 brilliant restaurants, including an elegant Italian eatery that has ocean views. You won't be let down choosing the Bulgari Hotel as your wedding destination choice.
9. Four Seasons Resort Dubai at Jumeirah Beach
The glamorous Four Seasons is a beachfront resort that has a modern Arabian style which will make you feel like you are living in Disney's Aladdin.
The rooms feature furnished balconies with gulf or city views, that you can choose from. The rooms have marble and mosaic-tiled bathrooms with designer toiletries and freestanding tubs.
The suites add living rooms, kitchens and fitness areas, along with 24/7 room service for you and your partner to enjoy. Make your dreams come true and explore a whole new world with your partner.
10. Le Royal Meridien Beach Resort & Spa
The Le Royal Meriden is a breath-taking resort is surrounded by landscaped gardens along the gulf and is only 5 km from the posh Palm Jumeirah archipelago.
Enjoy a lovely honeymoon in one of their dreamy suites with their sea views. The upgraded rooms offer complimentary breakfast and a 24/7 butler service to be at your disposal and make your stay even more exciting.
Enjoy your time at the beach or, for something more private, at their fantastic pool and after enjoying a refreshing drink by their luxurious pool-side bar.
11. The Ritz-Carlton
The glamorous and famously known, Ritz- Carlton Hotel, is nestled on a private beach and offers its guests a secluded walk at JBR.
The luxury resort features guests rooms with sea views, a dedicated Club Lounge, fantastic culinary experiences, along with leisure facilities and a spa that will relax you fully.
The Ritz-Carlton can serve as the perfect wedding destination, where you and your guests can enjoy a full traditional Arabian experience after your lovely nuptials by the sea.
12. JA Ocean View Hotel
This fantastic hotel is set in the Dubai Marina area and is a modern high-rise hotel that overlooks the gulf.
The sleek rooms have living rooms and balconies where you can admire the gulf whilst having your breakfast.
Upgrading quarters have access to a private lounge and offer complimentary breakfast. Enjoy your honeymoon vacation drinking your coffee by the luxury pool and in the evening you can explore Dubai and try their famous Shisha. Create the most unforgettable memories at the JA Ocean View Hotel with your loved ones.
13. Andaz Dubai The Palm
Andaz Dubai is right on the palm Jumeirah and features floor-to-ceiling windows along with modern, colourful stained glass.
The room oozes glamour and romance for you and your partner to explore and feel like you are royalty. The marble bathrooms have rainfall showers that will give you the full Dubai luxury experience.
Suites have gulf views, living rooms, kitchen areas and a terrace. Choose Andaz for your honeymoon choice hotel and you won't be let down.
14. Address Sky View, Dubai
The Address Sky View hotel is made out of 2 striking contemporary towers linked by a skywalk which is a 9-minute walk away from the Dubai Mall and the Burj Khalifa skyscraper where you can sit on the deck and admire the view with your loved ones.
The Address Sky View is the perfect place for you to have your wedding reception at. The rooms are fully equipped with WI-FI, minibars and Nespresso machines.
The top floors have skyline views which can be the perfect background for your ceremony photos and the suites offer living areas and lounge access for your absolute honeymoon package.
15. Habtoor Grand Resort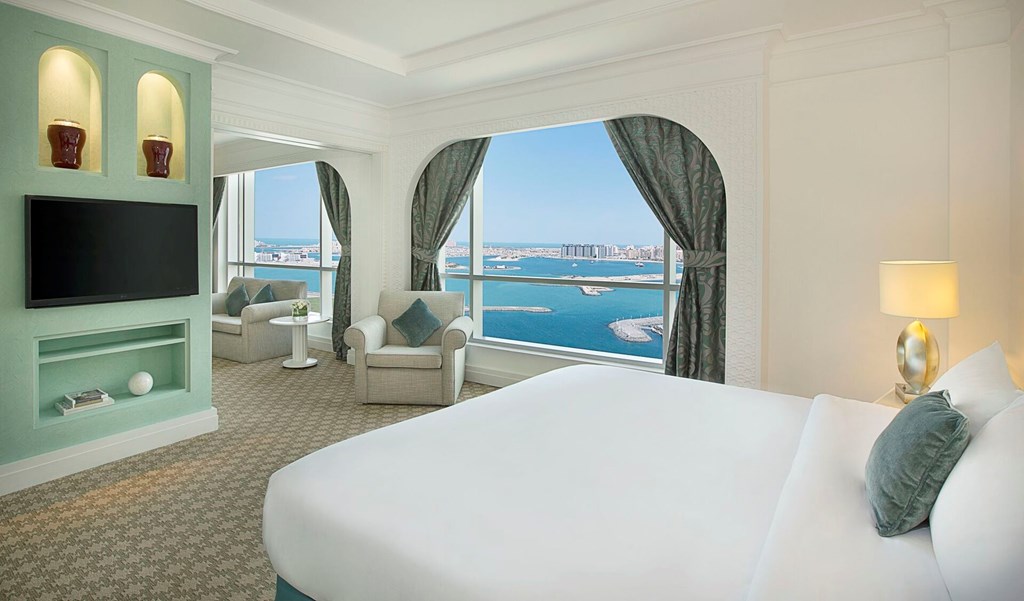 The Habtoor Grand Resort consists of 25-storey buildings on Jumeirah Beach which feature gulf or garden views, you can choose. Their stunning refined rooms offer luxurious furniture, that will make you feel at home.
For your honeymoon suite choice, the club room includes access to a private lounge with free breakfast and drinks along with glamorous living room areas. There are also 16 dining options for your romantic dinner for two. Choose from Thai, Cuban and Italian and then end your night at some of the most famous Dubai nightclubs or bars.
16. Jumeirah Beach Hotel
Jumeirah Beach Hotel is a striking building that overlooks the Arabian Gulf and is famous for its luxurious suites.
Each room has gulf views and features décor that will suit your style, from modern to traditional and has stunning floor-to-ceiling windows and high-end toiletries. Each room offers iPod docks, tea and coffee makers.
The upgraded rooms offer sitting areas and stunning balconies overlooking the gulf. For your ideal wedding destination, you can choose one of their luxe villas that have 18-carat gold plated bathrooms. Book your stay at Jumeirah as soon as possible and have the honeymoon of your dreams.
17. Shangri-la Dubai Hotel
This stunning, posh hotel offers fully equipped rooms, along with bathrooms with soaking tubs and breath-taking views of the city or the dreamy Arabian sea views. Upgraded suites offer butler service, kitchenettes and access to the lounge with free breakfast, snacks and drinks.
The Shangri-la hotel is filled with different activities that you and your loved ones can enjoy. You can have a lovely romantic dinner at 3 of the finest restaurants In the city, enjoy a couples spa day or for a more adventurous time you could join the fitness centre or have fun by the pool. Enjoy your nuptials at an unforgettable location and make lovely memories that you will cherish with your loved ones.
18. Raffles The Palm Dubai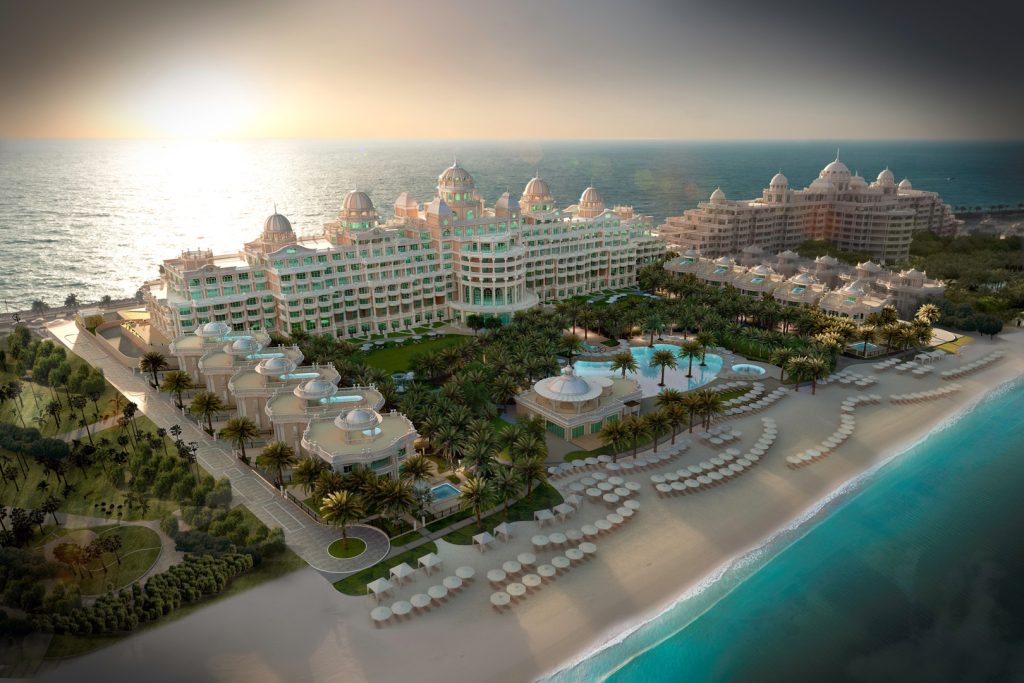 This luxurious hotel is right along the beach on Palm Jumeirah island and will make all your Arabian night's dreams come true. It has plush, ornate rooms that have gold and silver leaf décor and stunning chandeliers that are fit for the royals.
Upgraded rooms offer balconies with sea views, separate living rooms and elegant whirlpool tubs. For an even more luxurious and intimate romantic honeymoon or perfect wedding destination, you could rent one of the Raffles brilliant villas which provide private beaches or rooftop pools, gardens and spa areas.
It is the perfect royal destination for your nuptials and romantic honeymoon all in one.
19. Fairmont The Palm
Hotel Fairmont is inset in the man-made Palm Jumeirah archipelago and is just 9km from the Ski Dubai which is an indoor ski centre that you could visit with your partner.
The serene rooms feature Arabic Mashrabiya décor, breathtaking balconies and marble bathrooms. Luxe one-bedroom suites include living rooms, gulf views and workspaces. The hotel has 4 outdoor pools, 6 chic bars and restaurants and a bakery filled with fresh delights.
Enjoy your honeymoon spending time at their private beach, fitness centre or for a more relaxed option, get a massage treatment. If you and your partner are more sporty, you can have some private sailing lessons, go on speed boat rides and join other water sports. The list is endless on what Hotel Fairmont will offer you and your partner during your romantic stay.
20. Anantara The Palm Dubai Resort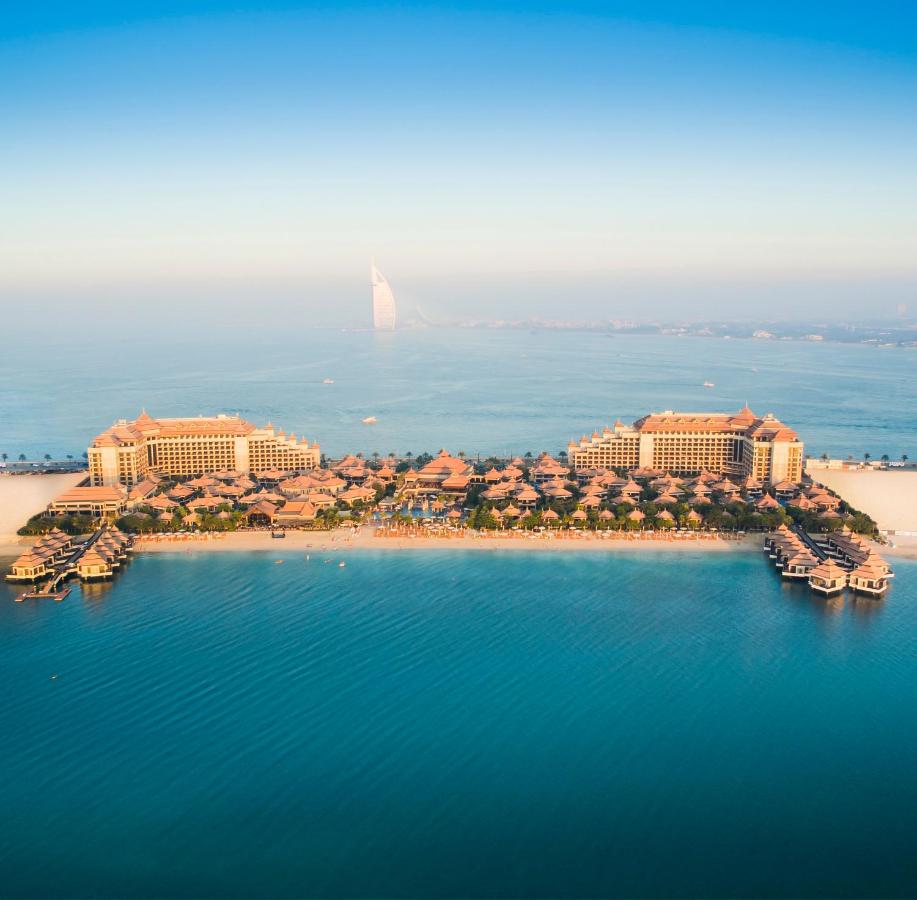 The Anantara Dubai Resort is a mix of sophisticated Thai-themed hotel rooms and villas set around a lagoon-style swimming pool.
The beauty of the Anantara hotel does not end there, their chic rooms feature private terraces and balconies, stunning windows with sea views and for a more private vacation, choose to upgrade your room and receive direct pool access, over-water villas with gulf views, glass floors, extra bedrooms and private infinity pools.
Their customer service is outstanding as they work to make your stay as best and most comfortable to your liking. They have all-day activities for you to enjoy, from spas, torshi baths, gyms and Thai cooking classes.
With adventurous activities, beautiful culture and luxurious hotels, Dubai have proven itself to be the best wedding/honeymoon destination for couples. Create the most romantic atmosphere in the most luxe accommodations for you and your loved ones to enjoy whilst living the Arabian dream for your big day. Book your accommodation now and get started on making unforgettable memories.
Leave a comment to recommend other hotels that you feel can be added to the above list of the Top 20 Luxurious Hotels in Dubai and see more hotels on the 5 Star Wedding Directory
Comment below on your favourite hotel in Dubai.