5 Star Weddings Presents 'One of a Kind' Venues for Stylish Couples.
 Choosing your wedding venue is often the most difficult part in organising a wedding. It's where couples start their planning and it's often what sets the theme for the rest of the day's celebrations.
5 Star Weddings is home to an eclectic mix of wedding venues in the UK and abroad, from an Old English Country Inn to a Luxury Hotel Overlooking the Aegean Sea, there is a special place for every couple to make their own.
Kempinski Hotel Barbaros Bay, Bodrum, Turkey
The serene location of Barbaros Bay, Bodrum in Turkey, offers the perfect setting for couples wanting to get married in tranquillity and with dramatic backdrops of the Aegean. The luxury Kempinski Hotel is perched right on the edge of Barbaros Bay providing stunning views of the sea from almost every aspect. Couples can plan their wedding with ease at Kempinski Hotel, Barbaros Bay, where a dedicated wedding planner will ensure that every detail is looked after for you and your guests. For further information visit kempinski.com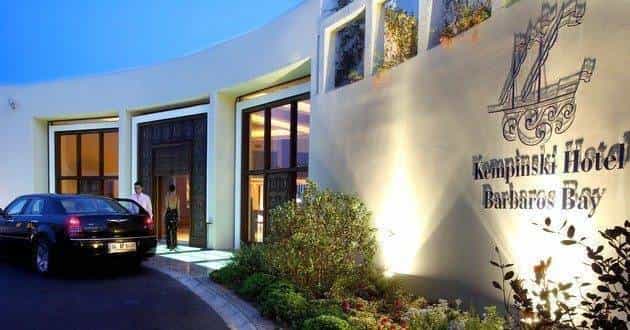 Chewton Glen's Tree House Suites, Dorset
Imagine escaping to the lofty heights and complete serenity of a luxury tree house with floor to ceiling windows and panoramic forest views. Chewton Glen, the privately owned and award winning country house hotel situated on the edge of the New Forest and a few minutes' walk from the coast, is taking honeymooners to new heights with these romantic tree house suites. Set in a secluded valley in the grounds of Chewton Glen, guests will have access to the hotel on foot or by buggy. The sumptuous Tree House Suites make an idyllic escape for couples who have married at Chewton Glen and want a retreat that's not too far to get to after the wedding. Chewton Glen is one of the finest country house wedding venues in the UK, with luxury facilities set within the 130 acres of stunning grounds. The hotel offers a range of various wedding packages in Hampshire to suit any requirements you might have. For further information visit www.chewtonglen.com
The Bear Hotel, Hungerford
The Historical Bear Hotel with its beamed ceilings and uneven floors, give it a sense of romance that make it ideal when looking for an old country wedding venue with all the modern luxuries a bride and groom require. Set in the The North Wessex Downs Area of Outstanding Natural Beauty, perfectly located for weddings in Berkshire,Wiltshire and Hampshire. The hotel has two rooms licensed for civil ceremonies; The Restaurant for 60 or the Riverside Suite for 80, which also has a conservatory and terrace overlooking the River Dunn and Bear Island. For further information please visit thebearhotelhungerford.co.uk
Ston Easton Park, Somerset
Ston Easton Park is a Palladian mansion nestled in a romantic West Country estate. The luxurious hotel, with its crackling log fire, antique furnishings and country charm is set amidst 36 acres of parkland with the quietly cascading River Norr running through the grounds. Not only does the hotel boast an idyllic Mendip Hills setting, but also features an authentic Victorian garden that provides much of the produce used in our award-winning restaurant. Ston Easton Park is currently offering a special exclusive use rate of £5,500 for 2012 weddings (conditions apply). For further information visit stoneaston.co.uk
Bovey Castle, Devon
As the only five-star luxury hotel and country estate in the county, Bovey Castle is a fabulous location for a Devon wedding. The stunning Dartmoor setting and attention to detail from Bovey Castle's wedding co-ordinators ensure that every wedding is a very personal, special event – whether you're planning a lavish party for hundreds or a private gathering of close friends. An exclusive use wedding at Bovey Castle is an unashamedly lavish affair, as you celebrate in the utmost style and the privileged ambience of the hotel's grandiose surroundings and elegant service. For further information visit boveycastle.com