An Italian family affair
A wedding is not just the union between bride and groom, but also the connection between two different families and two different worlds. That's so clear in Michele and Valeria's love story! With Michele from Lombardy (north of Italy) and Valeria from Apulia (south of Italy), they both lived and worked in Birmingham where they met and fell in love. As the Italian tradition goes, they decided to celebrate their wedding in the bride's region: the amazing Apulia. Our friends Liliana and Niclanna, wedding planners at weapulia.com (based in Corato – Apulia) planned and organised the beautiful day.
The Bride
Valeria wore a soft lace mermaid gown by Gemy Maalouf, with a romantic long white veil. She chose a vintage style for dress, hair, bouquet and decoration, which we absolutely adore. She had her hair softly gathered in a charming loose chignon and finished the look with a pair of classic open toe sandals.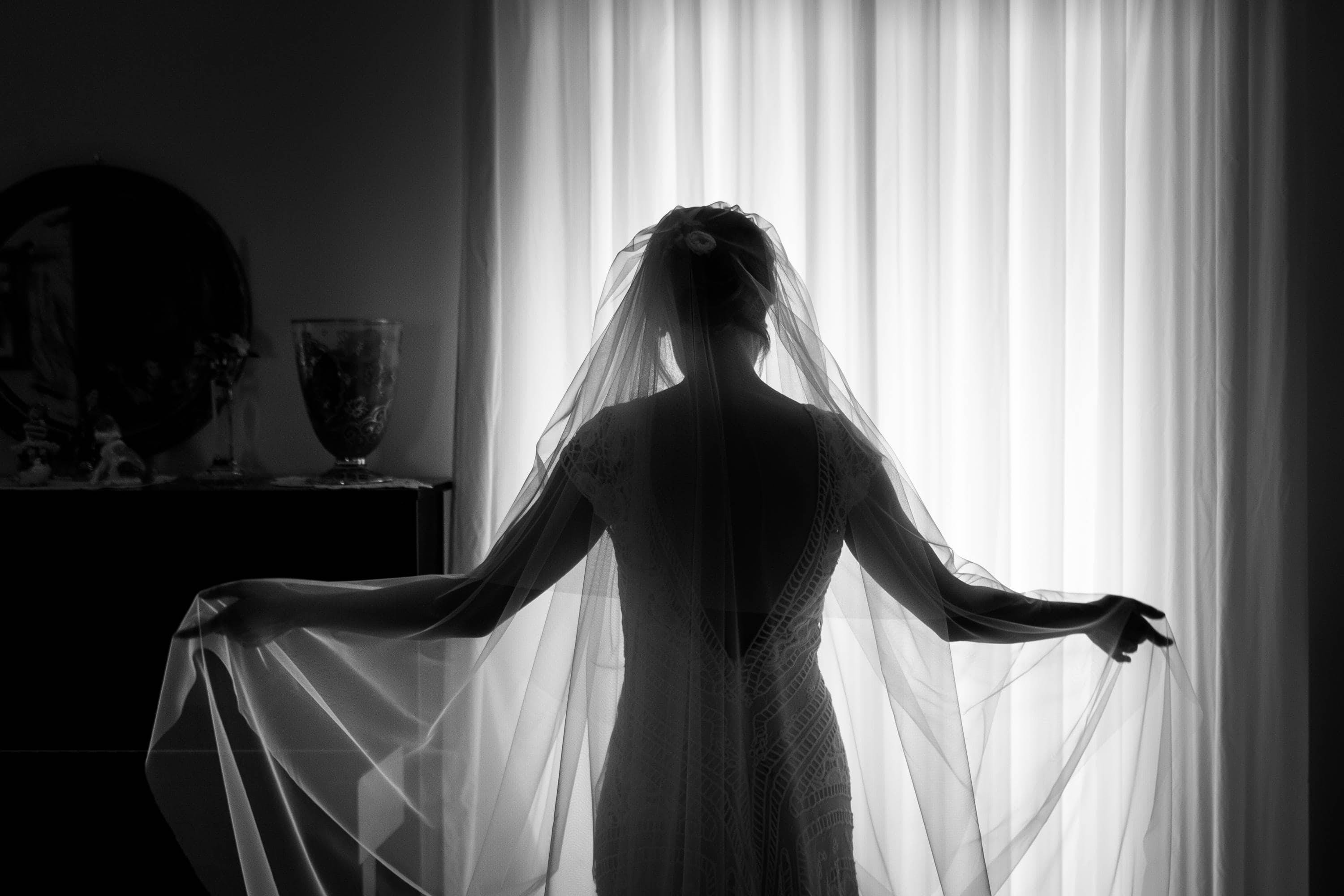 The groom
Michele chose a classic black three-piece Tagliatore suit, blue trousers and jacket and grey waistcoat. A tailored fitted suit that perfectly matched the bride's style. A really lovely combination!
The flowers
Pure white and cream roses were combined with small pale pink and peach English roses in the bride's bouquet. Matching centrepieces composed of white lisianthus flowers, pale pink roses and eucalyptus leaves decorated tables in reception's venue. Coordinated flower compositions embellished the church during the ceremony.
Apulian vintage style
Weapulia.com wedding planners created a vintage theme in Valeria and Michele's wedding. They used many Apulian tradition details: starting from the  tableau de marriage, it was created using two big flat baskets, typical of Apulian farming culture and called "seccafichi". In the past, they were used as a sort of big plate on which fruits were laid out to dry under the sun. All the names of the guests were written on cream sheets tied to old keys fastened to the baskets – such a sweet idea.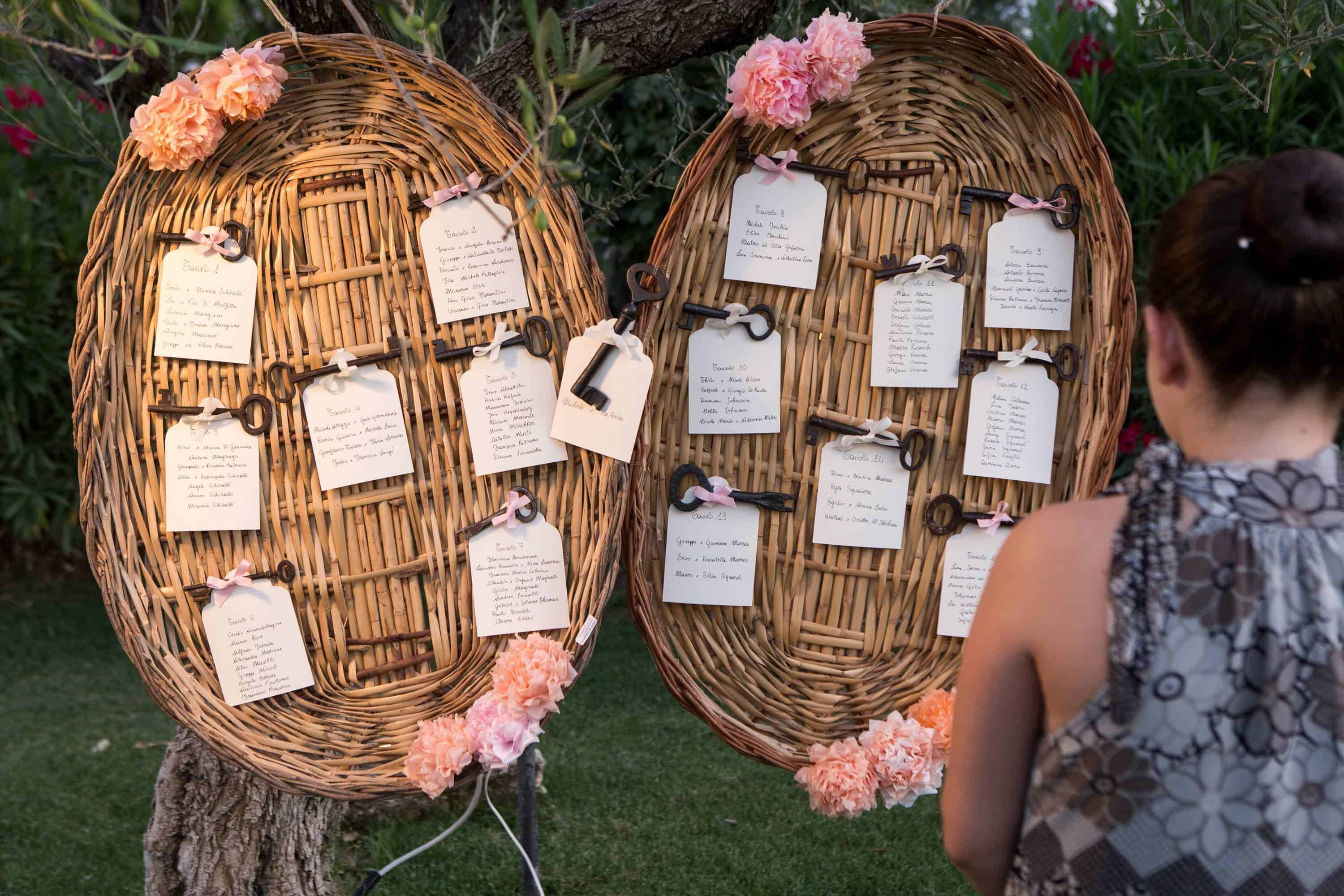 The greeting table for guests was another corner embellished in Apulian style. An old wooden desk was used, on which sat an old family typewriter from Valeria's family. Guests could write quotes and thoughts to the newlyweds and lots of white little roses inserted in lovely old style tin box. Such a beautiful idea, and so much fun!
It was a priority of the theme to connect the young couple to their own families, and photos of their parents and grandparents' wedding were hung around the venue, bringing family right to the heart of the celebration.
The party favours
In Italy it's tradition to give to guests little candies made of almonds and chocolates covered with sugar called "confetti"; there's no wedding without confetti! For Michele and Valeria's wedding the confetti was packed in very little boxes adorned with paper flowers carefully made by Liliana and Niclanna. A very delicate way to welcome guests to the party.
The wedding favours were composed of three pieces: a little bottle of Nocino (a typical Apulian fine liquor), a box of delicious Apulian pastry and a small handmade terracotta medallion. All the presents were packed in a natural kraft shopper bag with customised printing on it – the initials of the gorgeous couple and a handmade pink paper tissue flower.
A simply stunning day, beautifully created by our lovely friends at We Apulia.
WEApulia are a trusted 5 Star Wedding Directory supplier, see their directory listing here.
Suppliers
Wedding planners – Niclanna and Liliana – weapulia.com / Wedding Photographer – Aldo Dith / Apulian pastry in party favours – Pasticceria "Monastero di Santa Chiara" / Bride gown and shoes – Gemy Maalouf – Francesco Campana / Groom's suit and shoes – Tagliatore  – Pawelk's