Anna and Skylar engaged! | The proposal, the pics, and 5 things we know about the pairing so far
She said yes! Pitch Perfect co-stars, Anna Camp and Skylar Astin announced their engagement this weekend via Instagram, with an elated Camp holding up her newly accessorised ring hand to show off the pair's good news. The caption of the image reads 'He asked. I said YES!!!', and has – so far – racked up almost 60k likes from happy fans.
Anna and Skylar Engagement | 5 things we know about the Pitch Perfect pair so far:
1 – They share more than screen time
While Anna and Skylar weren't romantically linked ON screen in Pitch Perfect (Astin was the cinematic beau to Camp's co-star Anna Kendrick) love soon blossomed off screen, to the delight of thousands of fans, who have nicknamed the duo 'Castin'. But, the two also share a birthday month (it's September) and a star sign (Libra). Last year they celebrated together with a yummy red velvet cake…
2 – They're already proud parents…
…to a dog. Sorry, that was misleading – but Astin himself does profess through Instagram to be the pup's 'parents', and he wished Camp a happy Mother's Day last year with a sweet pic of the adorable puggle, Rocky.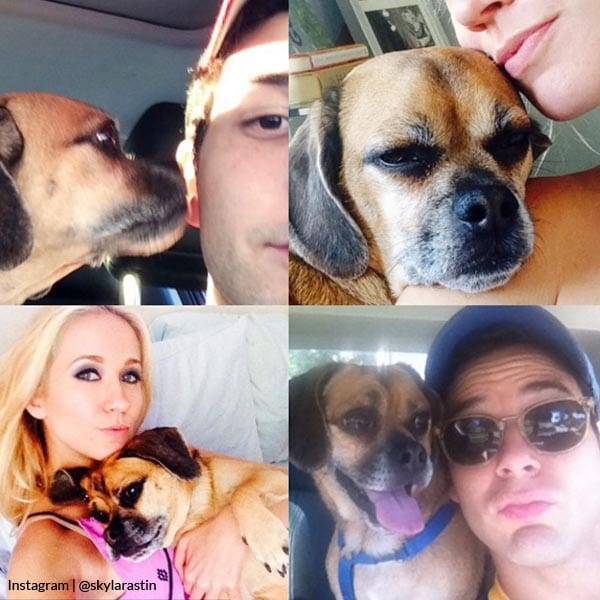 3 – Skylar is a TOTAL softie
Absolutely smitten by his lovely fiancée, Astin can't help himself from gushing about Anna, and even dedicated a heartfelt poem to Camp in an Instagram caption a few weeks ago;
'Tomorrow night I travel the skies
With little sleep and tired eyes,
To a little town in Tenessee,
Where my sweet southern darling waits for me.'
4 – They should definitely take tips from their fabulous parents!
Both Camp and Astin have posted pictures of their parents on their wedding days! We hope Anna take some style inspiration from her beautiful mother's understated, structured gown on the big day, and hope the newly engaged couple's marriage will be as happy and long-lasting as Astin's parents' 31 year union…
5 – We can't wait to see the wedding photos now…
I mean – just look at them.
Congratulations Anna and Skylar!!