Ben Affleck and Jennifer Lopez tied the knot, again, on Saturday at Affleck's Georgia estate, along with their famous guests watching their love blossom.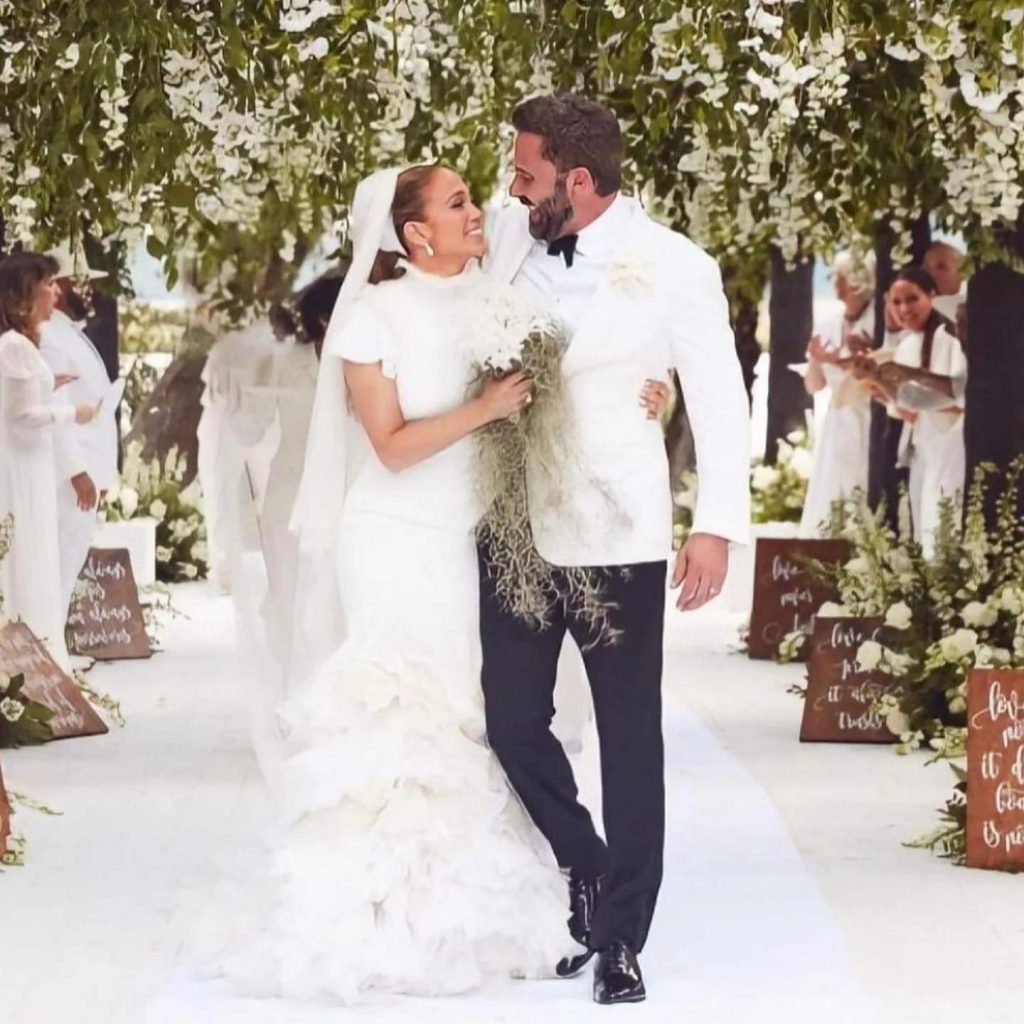 The Hollywood stars had their must-awaited wedding at the "Deep Water" 87-acre compound outside of Savannah in an elaborate ceremony.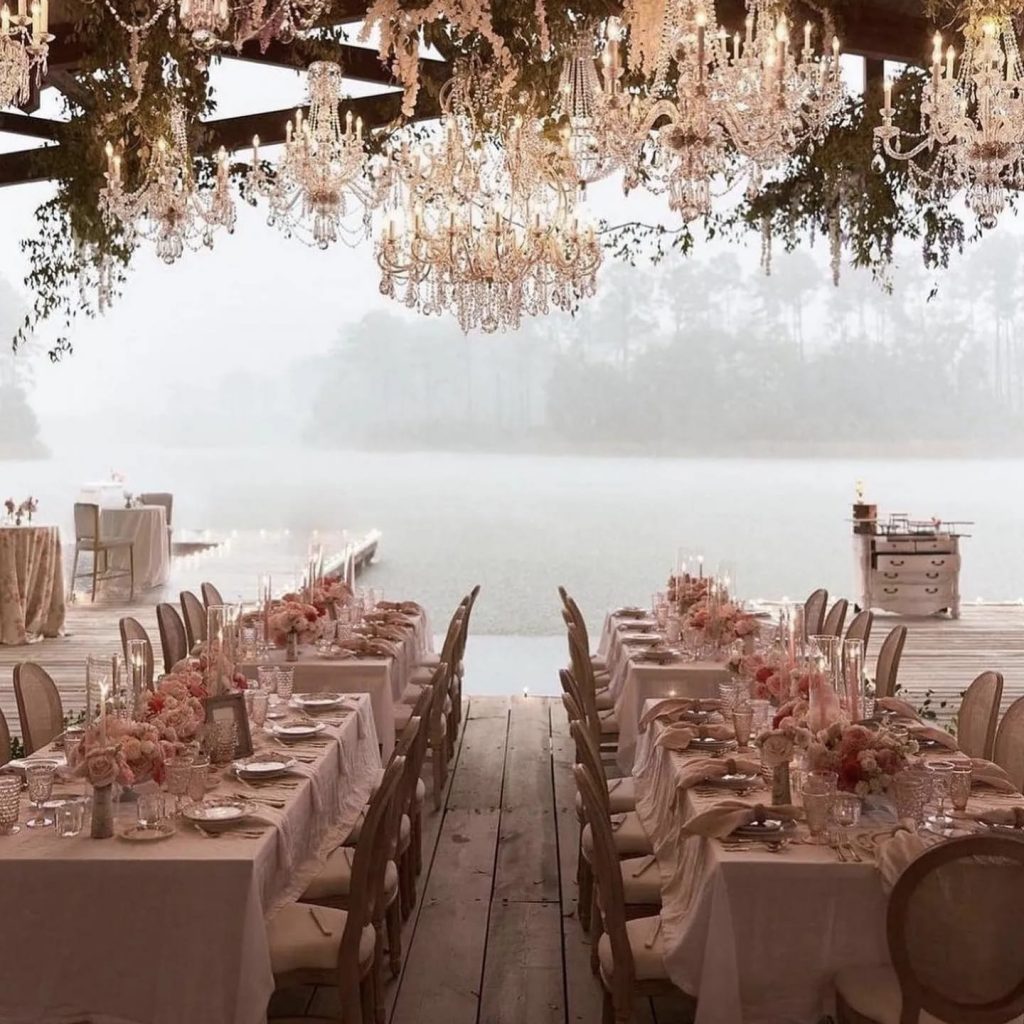 With many A-list guests and a strict all-white dress code. The two celebrated their second wedding following their Las Vegas nuptials.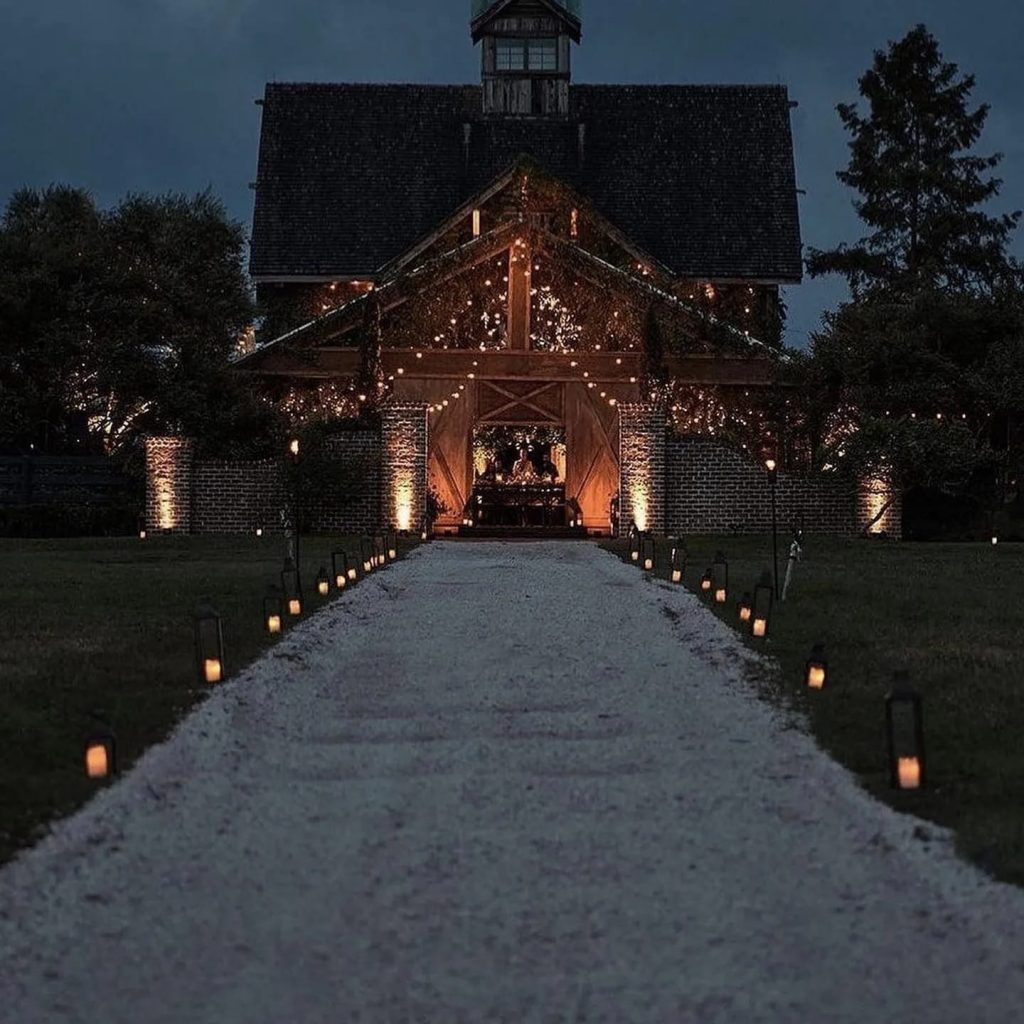 The stunning bride teased her bridal looks on social media. She posted a sneak peek on her Instagram and wrote "First peek at my wedding looks at OnTheJLo.com,"
The actress/singer posted a close-up shot of her eyes with dark mascara and a light lip color and just a hint of her dress, designed by Ralph Lauren.
In her newsletter soon after she had additional images showing not one or two but three different white gowns.
"The dresses were dreamy," she wrote. "Thank you, Ralph Lauren."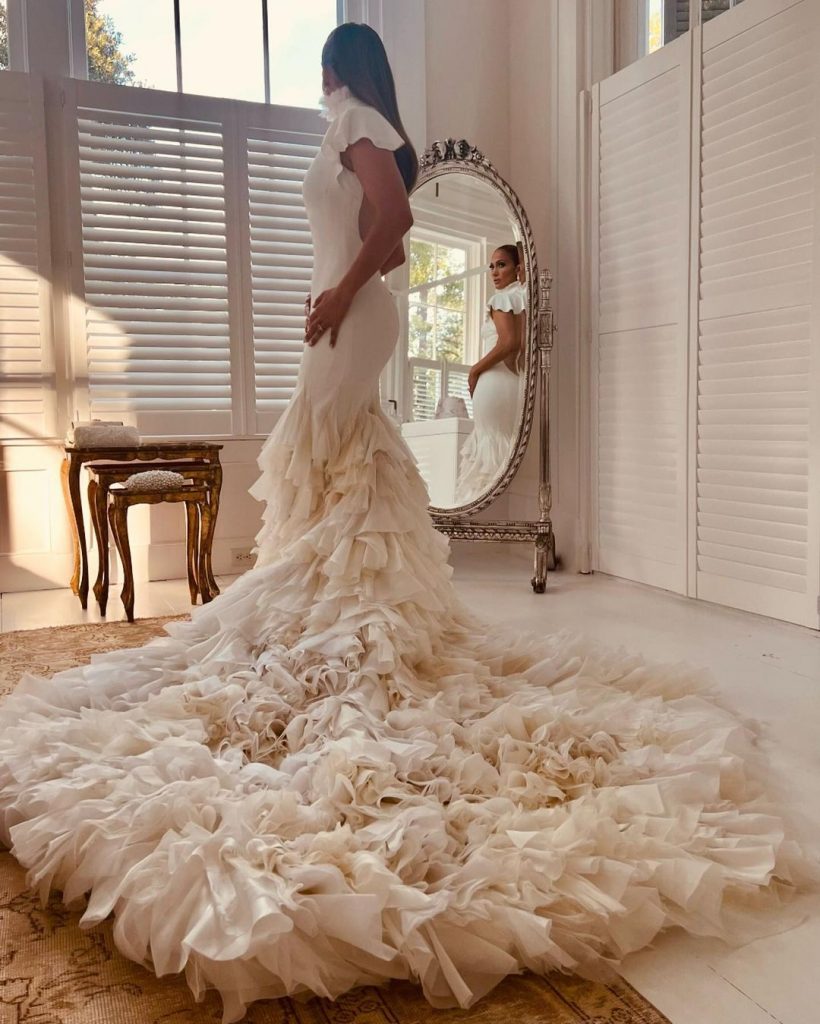 The first photo showed the full image of Lopez's original teaser pic which was also the dress she wore during the wedding ceremony. The feathered neck top had an open-back cutout, flutter sleeves, and a flowing train with ruffle detailing, which was created with 1,000 handkerchiefs attached by hand. She also wore a sheer cathedral-length veil and had her hair styled up.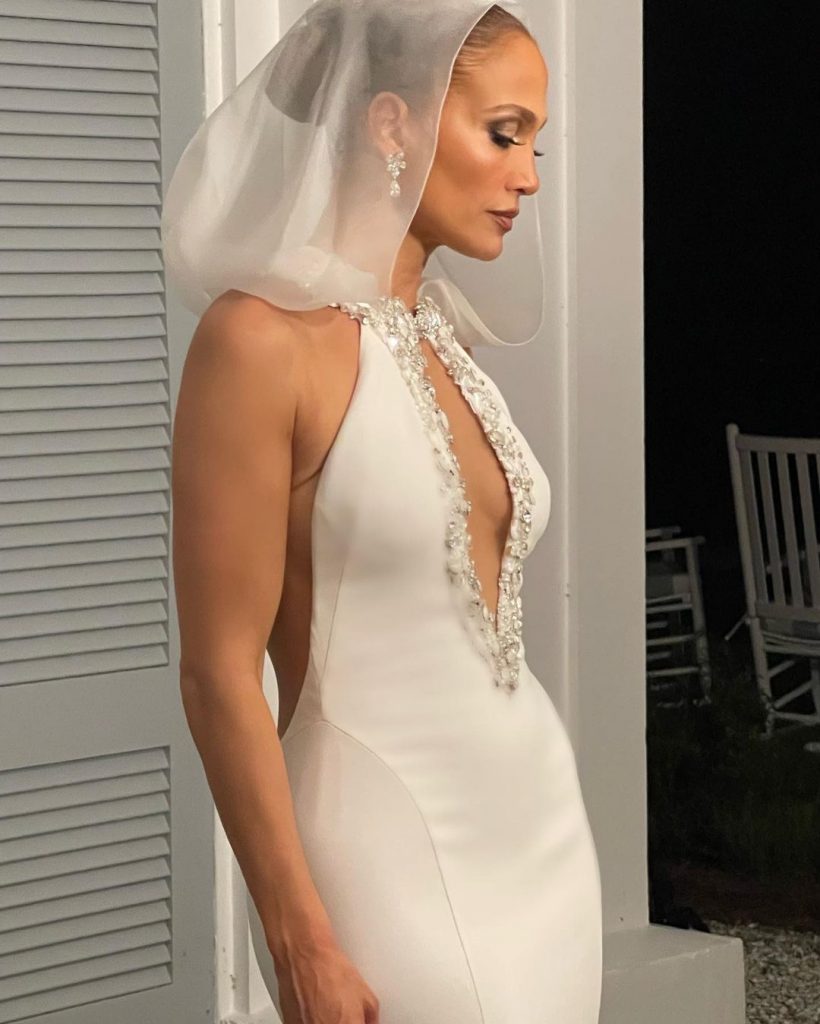 The next dress had a sexy plunging front with Swarovski crystal detailing the dress. The back was largely open with a criss-cross and it also had a stunning train, which she partnered with a short veil that went up to her shoulder.
The 'On the Floor singer promised that she will be sharing more photos from her iconic wedding. She stated "I will be sharing a few more pics and delicious details on our big day coming very soon On The JLo,"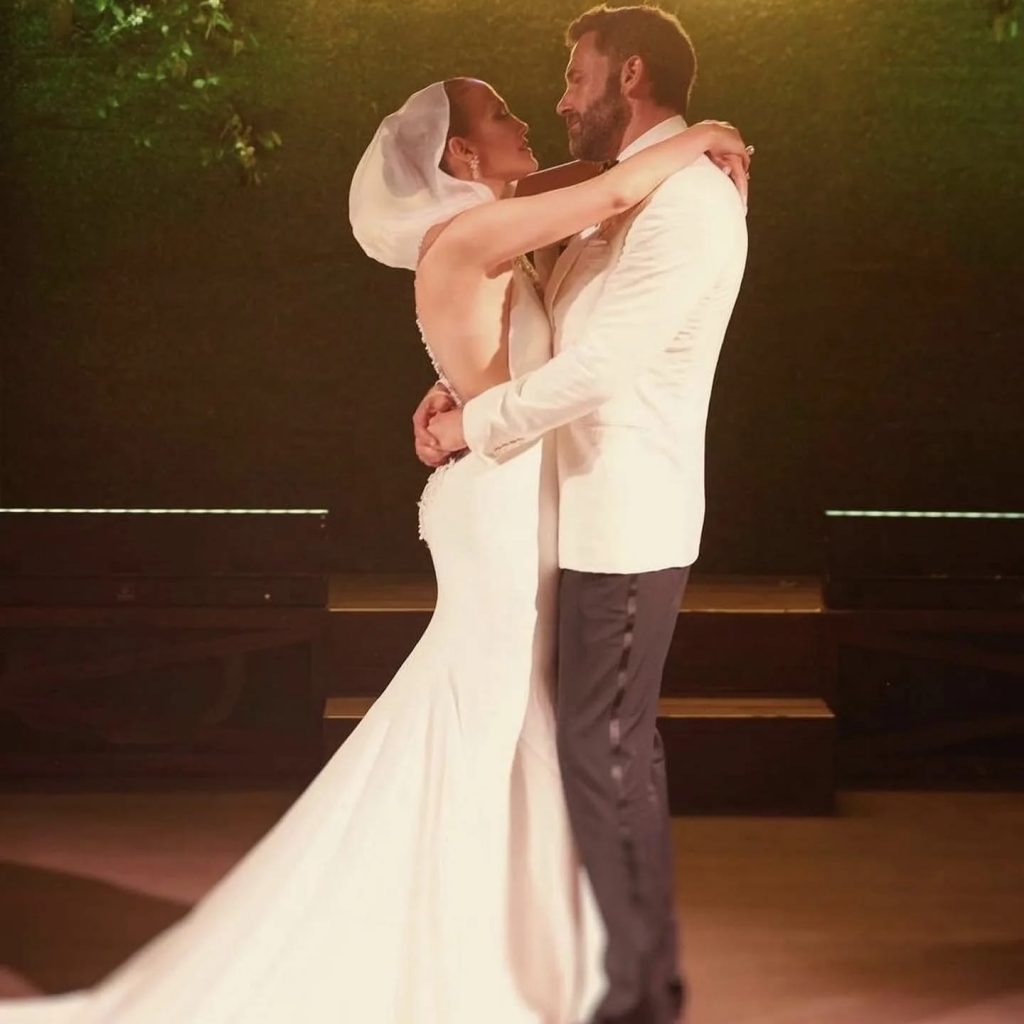 Lopez also shared wedding dress photos and details with Vogue. According to the article, the couple had Colin Cowie plan the wedding.
Their 45-minute ceremony took place under the white metal framework of a church, which was created specifically for the occasion and overlooked the North Newport River.
After the ceremony, there was a cocktail reception at the home followed by dinner at a barn on the property. Fireworks capped off a night of dancing and love!
We would like to wish the best and to congratulate the wonderful couple.