In the heart of the Umbrian countryside is nestled San Pietro Sopra le Acque. A beautiful hotel dripping with history, charm and elegance. Its story is a fascinating one, starting life as a medieval church before beginning its journey to evolve into the resort it is today. You'll see hints of its rich past in the frescoes, antique furniture and architecture, all lovingly preserved to create a warm, inviting atmosphere.
It was within this beautiful estate on a sunny autumnal day that our latest style shoot occurred. Inspired by the colours of autumn, the boho chic theme just oozed romance and enchantment.
Romina Sartoria Floreale took care of the floral displays down to the smallest detail – gorgeous rustic displays of pomegranates, roses and leaves, full of texture and interest. We love the addition of the berries within the displays – such a lovely pop of colour.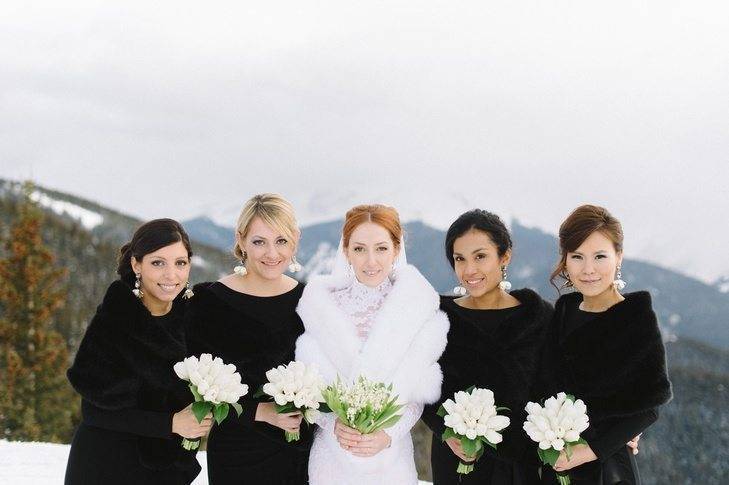 And so to the dress… A beautiful combination of delicate lace and soft tulle by Michele Capalbo, atelier at Le Jolie Fille. The long sleeves and draped back fitted perfectly with the relaxed vibe and the bridesmaids' dresses faultlessly coordinated; a muted pale pastel peach accented with an overlaid lace top.
And with her hair effortlessly tousled and immaculate make up, the bride's floral crown and stunning long veil seamlessly accessorised the look.
The ceremony played out with the guys looking flawless in mix-and-match  suits in navy tones.
The colours of the bridal party fit together perfectly – an ideal colour palette for the season. The scene was set outside against the authentic weathered architecture with wooden chairs, cute birdcage accessories and more gorgeous floral and foliage displays.
On to the reception, which was held in an intimate courtyard with simple strings of lights and candles adorning the beautifully dressed tables.
Gold highlights were dashed onto place settings with patterned plates and pretty glassware. And the semi-naked cake by Cinzia Maturi was a total showstopper, elegantly adorned to match the theme and looking simply delicious!
Musical accompaniment for the day was provided by Gang Band – a three piece who created such a lovely atmosphere – the ideal wedding band.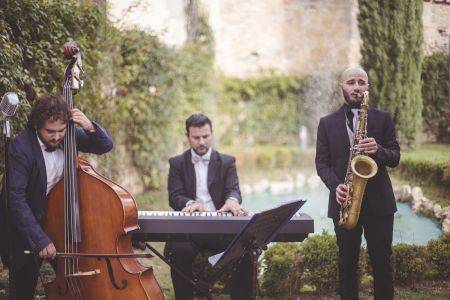 And to capture the beauty of the day, Alessandro Mari Photography shot these amazing images. They really highlight the dreamy atmosphere of the venue and demonstrate what can be created within these exquisite surroundings.
Suppliers: