The idea of an Antipodean adventure had always appealed to me for our honeymoon. Escaping England's harsh winter in exchange for Australia's laid back beach culture seemed like a no-brainer to me. Our wedding day had been phenomenal but let's face it, the planning (which I had done mostly myself) had left me utterly drained.
By the time it came to thinking about our honeymoon, I was simply ready for some R&R in the sunshine. Plans to trek Cairn's rainforest, scuba dive in the Great Barrier Reef and climb Sydney Harbour Bridge simultaneously filled me with excitement and exhaustion. Suddenly 'respite' was top of the list and so my search for the ultimate Australian spa retreat began.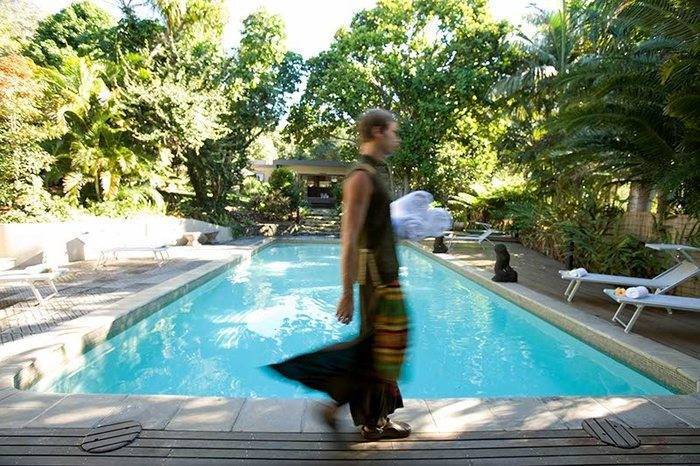 There are a multitude of spas in Australia – the outdoor lifestyle creates a body conscious culture, which in turn lends itself to massages and general wellbeing but like anywhere, it is hard to find a spa that can tick all the boxes. In this instance, I didn't just want treatments for myself and my new husband, I wanted tranquility, space, good energy and overall somewhere to reset and collect our thoughts.
I had read about a place just outside the holistic inspired town of Byron Bay – it was called Gaia Retreat & Spa. The word Gaia, means spirit of Mother Earth and the ethos is to surrender oneself to the land's beauty and healing cultures. To me this sounded perfect. My husband and I had a few days in Byron Bay and I wanted us to make the most of this much talked about town with its highly trained healers and unique practitioners – let's say I wanted us to enjoy the vibe and feel the benefits of being in a place with so much positive energy.
Gaia seemed to be the spot where one could guarantee an experience with Byron's best and so without further ado I booked us in to have an indigenous treatment for couples, the 'Dreamtime Travel package. I later found this package not only delivered total rejuvenation but was also a beautiful symbolic start to the journey that both myself and my husband were about to embark on in our married life.
The drive from Byron Bay to Gaia Retreat is a 15 minute picturesque ride into the hills of Byron Shire. The exact location is on the highest point of the Byron Bay hinterland and with Cape Byron itself being at the most easterly point of Australia, there is definitely a feeling of being very far away from anything else in the world.
As we enter the retreat, the long meandering driveway filled with sub tropical palms and simple wooden signposts create a habitual feeling of anticipation, expectation – all those things that I need to drop from our hectic lives because actually all I want is simplicity, which this is and as we arrive at the pretty wooden carved entrance to the retreat, I find myself already transferring mentally and physically into a little space of tranquil bliss.
For newlyweds, the calm and quiet of Gaia Retreat is quite possibly the most luxurious part of spending time here. Being indulged in the spa is a bonus to what is already an ideal setting. Lanterns hanging from trees, the gentle sound of trickling water and the carefully placed bowls of Rose Quartz provide a warm and loving welcome to every guest of the spa.
A strong Balinese wooden door provides the entrance to the spa reception where a softly styled waiting area reflects peace and serenity. We sit on a turquoise and cream cushion-laden sofa and drink a cup of lemongrass tea; if we prefer we can wait for our treatment in the outdoor hot tub. It is an enticing suggestion which I know would only occur in Australia and I find myself wishing that all waiting rooms in life could be in a hot bath of bubbles.
As it happens we decide to save the hot tub for later. It is time to kick off our Gaia slippers and kimono inspired robes, ready for some 'Dreamtime'. Our therapist informs us that the Dreamtime treatment has been created to promote feelings of positivity and allow one to dream about desires for your future life. It is a special and symbolic moment, especially for a new husband and wife.
The treatment begins with the traditional Aboriginal ritual of 'smudging' to purify or cleanse negative energy. Sacred medicines of White Sage and Australian Eucalyptus leaves are burned in an abalone shell to create smoke which is slowly moved around our bodies to encourage spiritual healing.
The smells are stimulating and the ceremony feels like a beautiful way to start our journey. The 'dreaming' continues as we are ushered into a steam room where a sky of twinkling lights sit mesmerizingly above us.
A ten minute steam feels like we have been transported into the clouds, our dry bodies are being scrubbed with Wattleseed, Lemon Myrtle, organic sugar and Macadamia oil – uplifting ingredients which provide a deeply nourishing, antibacterial exfoliant. Steam again with the scrub left on followed by a rinse off and a gentle walk back to our treatment room.
Whilst we lie, skin tingaling and smelling of citrus, a cool Australian Yellow Clay is applied from head to toe. This full body mask is packed with essential oils to ground, improve circulation, help memory and restore calm. As the oils and their aromas get to work we are wrapped snuggly in a cocoon of blankets and towels whilst a hot oil scalp massage begins. Gaia suggests surrendering the body and in this still and silent cocoon, I feel like I have. My mind has drifted off, my body feels weightless – I am completely and utterly, relaxed.

We are slowly awakened by our therapists who quietly coerce us to turnover for the final leg of our journey, a sweet orange full body massage. My therapist, Vicki, has long slender fingers yet strong manipulating hands which work slowly and deeply at releasing an accumulation of tight knots in my shoulders and lower back.
The last of my tensions melt away, the sore calves from our trek in Cairns, the aching back from all our travelling, the busy mind from all our planning – it's all gone, I've been reset and am ready to go again. I look over at my husband who is also smiling, we are happy.
The end of our treatment signals the start of a delicious lunch in Kukura House (sanskrit for people) and the main meeting place for guests. A wheat soba noodle broth with a variety of mushrooms and vegetables is served to us as we sit on the verandah overlooking the rolling hills of Byron. It is lovely to feel this relaxed.
With our bellies full of goodness, we head to the pool to while away the rest of the afternoon. The swaying palms and little white fluffy clouds take me back to Dreamtime and I find myself overwhelmed with happiness and excitement for the rest of our honeymoon adventure around Australia. Byron promised positive vibes which we have soaked up in every way and in short, it feels amazing.
Laplands Most Enchanting Wedding Destination
Romance In The Orient
Stay In Style At Vietnam' s Six Senses Ninh Van Bay
Copyright: Written and reviewed by Abbie Ting – 5 Star Weddings