From savouring the finest wines in the Alps in Zermatt with their very own sommelier, to personalised evening menus with your own private chef in Meribel, to champagne and oyster breakfasts in Val d'Isere, newly wed couples can choose from a range of new Platinum service packages which are tailor made for them.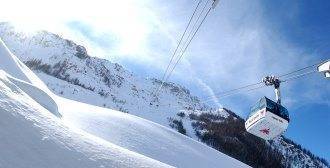 VIP SKI, which serves some of the most exclusive resorts in the Alps, has put together the new range of holidays for couples who want that special break without breaking the bank. On top of the excellent ski service offered by VIP SKI's Platinum service, each chalet will be stocked with complimentary cold beers, fine wines, snacks and mixers as well as fruit for home-made smoothies for breakfast.
The Alps are one of the most romantic places to spend any holiday, especially during the winter. With alpine views, tremendous peaks and deep dark valleys to explore, couples can spend quality time together before cozying up in their chalet or suite for an evening.
Managing Director of VIP SKI Andy Sturt said: 'We are keen to offer the very best service available to our more discerning guests who would like to spoil themselves in our finest chalets". 'We are also determined to provide this service at a price that is substantially better value than the 'luxury' operators who occupy the upper echelons of the honeymoon market'.
Couples looking to take in a romantic winter break in Zermatt can look no further than the Haus Glacier chalet, whose wrap-around balconies allow couples to take in the majesty of the Swiss Alps. Newly weds looking for penthouse perks can choose the Lugano Suite in La Plagne with its summit views and an open plan living and dining area, while for pure decadence the Taiga Lodge in Meribel – with its private sauna and hot tub – is considered among the most exquisite chalet in the Alps.
Alternatively, couples looking for peace and quiet can choose the master suite at Chalet Davos in Val d'Isere. Set on a sun-drenched knoll of Le Cret overlooking the resort. Whatever choice, VIP SKI's Platinum service has the right range of honeymoons for couples looking for that extra-special way to enjoy their time together. Chalet Davos is the answer to many skiers' dreams.
VIP SKI prices for seven nights start from £999 per person based on 2 sharing. Included are return flights from London Gatwick, coach transfers, accommodation, catered chalet board of breakfast, afternoon tea, three course evening meal on six nights followed by cheese board and coffee and mints, wine, wake up drinks and canapés on the first and last evening.
Complimentary ski and snowboard hosting service is available on three days as well as daily newspapers. For more information call VIP SKI on 0844 557 3119 or book online at vip-chalets.com