Ultra Violet Elegance at The Criterion
We had a simply gorgeous time at SAVINI at Criterion Cafe Restaurant with Charlotte Munro celebrating 'Weddings of our Time' – with the opulent colours, the exquisite cakes and the most beautiful flowers… here's a sneak peek into our magical evening.
Hosted by Charlotte Munro and her team at Charlotte Munro Luxury Weddings, we enjoyed rubbing shoulders with some of the wedding industry's most talented suppliers. Enjoying the opulence of The Criterion, with its opulent decor and breathtaking gold mosaic ceiling, I could see the perfect wedding staged here. Original features and elegant styling would make for a stunning celebration.
Charlotte Munro said – "We really wanted to showcase what's on trend for weddings at the moment and into the next year, and with The Criterion's ornate décor as the backdrop, it can take a lot of styling without ever feeling overshadowed.
"Focussing on Pantone colour of the year, ultraviolet, we teamed this with pinks and decadent gold to create a luxe colour palette that could work for almost any season. I love adding textures to a wedding design, as for guests weddings are such an immersive experience, for this evening we decided to combine sumptuous velvet table runners with ivory damask linen. Crystal elements and geodes are so on trend right now, and they add that extra depth of sparkle and luxury. And with purple being the colour of the year, amethyst was a natural choice for inspiration."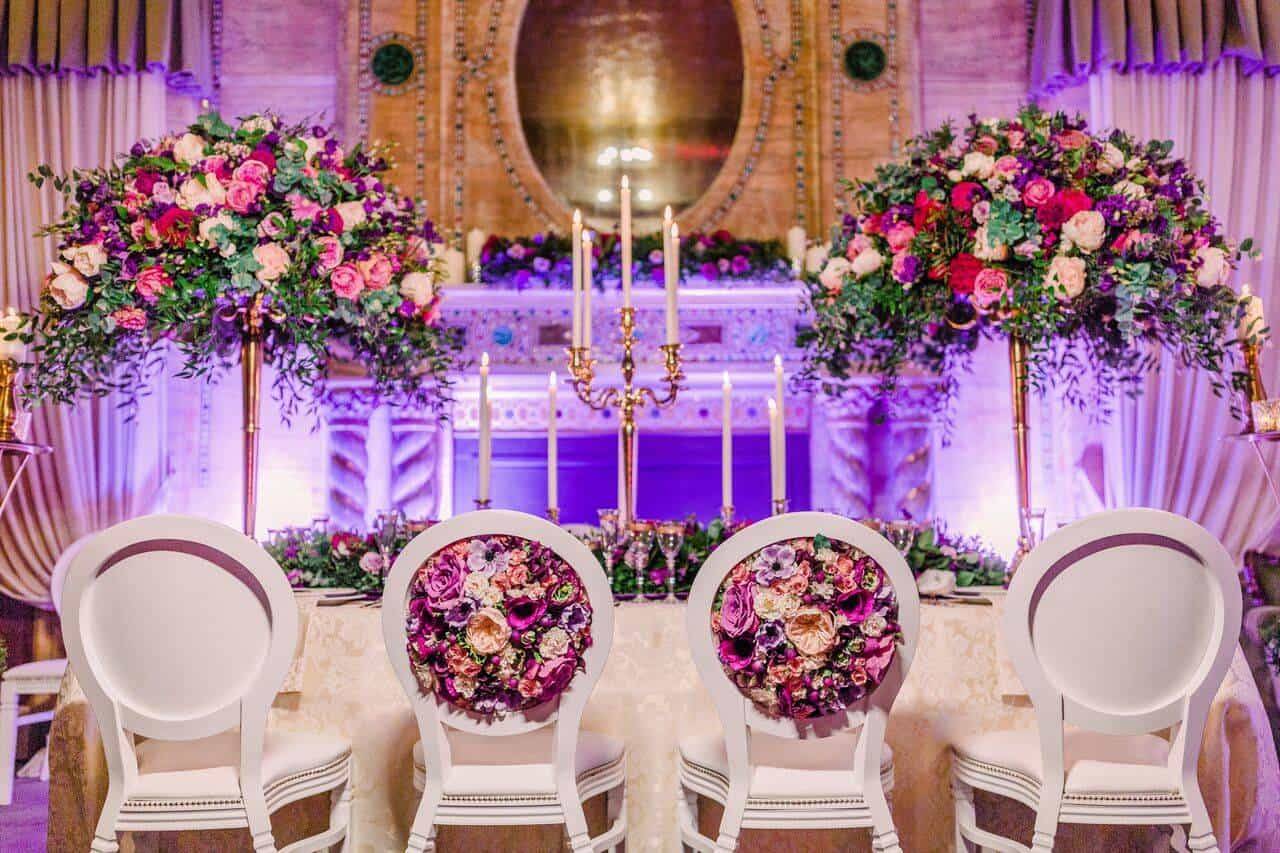 We certainly fell more in love with the beautiful violet hues that ran through the decor and enjoyed the beautiful displays by 5 Star Weddings friend Amie Bone Flowers. Amie created a truly stunning array of florals that matched perfectly with the vision and brought the table to life with extravagant blooms and a stunning floral runner.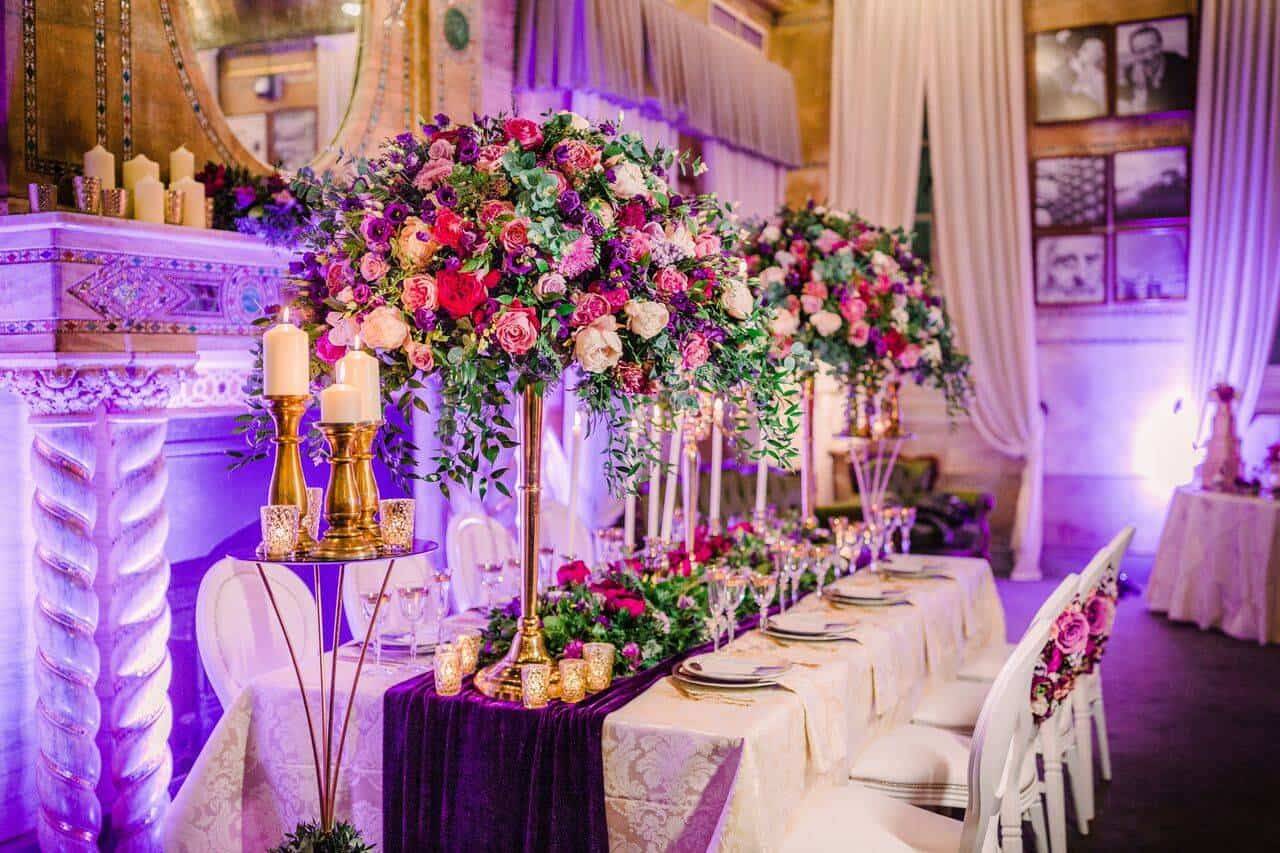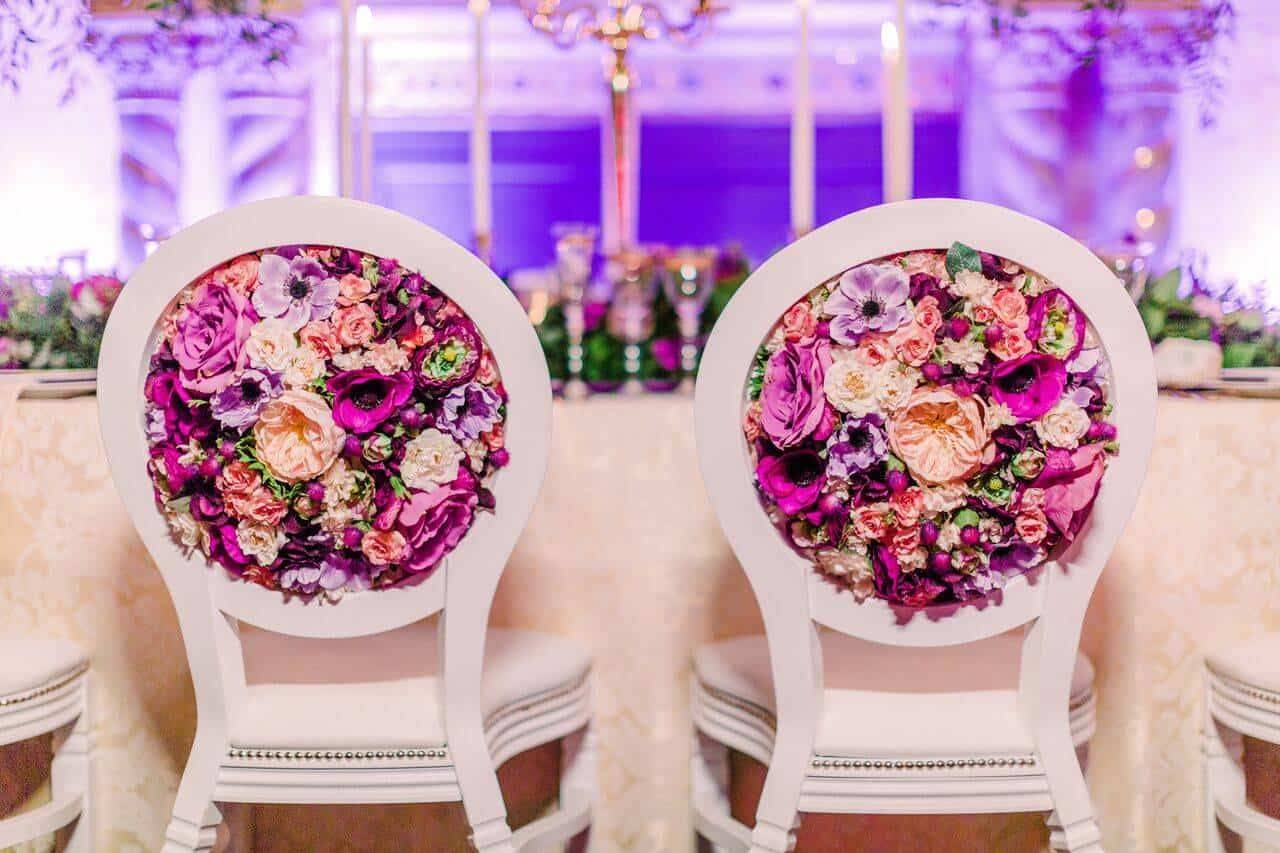 And looking almost too good to eat, as always, cakes by Elizabeth Solaru of Elizabeth's Cake Emporium were on display – from single tiers to an impressive seven-tiered floral creation with gold details.
A perfectly fragrant part of our evening was presented by Sniph. A new way to discover gorgeous scents, Sniph is a monthly subscription service. We sampled scents from Sniph's range of perfumes and would definitely agree that this is the perfect gift for bridesmaids!
Charlotte also worked with the wonderful team at The Marshmallowist to create something a little different – a marshmallow wall! She said, "Doughnut walls are beautiful and still very on trend, but we're always looking for new ideas for our clients' weddings, and what could be better than a wall of fluffy deliciousness?" I can confirm, it was amazing!
The Wedding Club dressed models in beautiful gowns from some of our favourite 5 Star Wedding Directory designers including Reem Acra and Carolina Herrera which hair and makeup artist Victoria Percival teamed with braided hairstyles and elegant makeup.
Videographers Urban Cinematography was on hand to capture the behind the scenes, showing exactly what goes on in the set-up of one of our events, with Sanshine Photography beautifully capturing the evening.
We had a lovely time, thanks for inviting us!
Suppliers
Photography – Sanshine Photography / Videography – Urban Cinematography / Coordinated and Styled By –Charlotte Munro Luxury Weddings  / Venue – Savini At The Criterion / Florist – Amie Bone Flowers / Cakes – Elizabeth's Cake Emporium / Chairs – Couture Chairs / Marshmallows – The Marshmallowist / Dresses – The Wedding Club / Hair & Makeup – Victoria Percival / Stationery – Ollie's Studio / Perfumes – Sniph Perfumes / Furniture – Anthology Vintage Hire / Glassware & Tableware – Couvert
With Special Thanks To 
Chase Distillery  / Candy Rocks  / Pianist Celia Pena Alvarez
---
Savini at Criterion – 224 Piccadilly, Piccadilly Circus, London, W1J 9HP
Phone +44 (0) 2079301459 – +44 (0) 2079301459