Dinner is served… at a breathtaking table
We absolutely adore a beautifully laid table. The precision and care it's taken to create such a gorgeous first impression of the wedding breakfast must not be underestimated. It's the perfect opportunity to indulge your chosen palette and let some of your personality and creativity shine through. But where do you start planning such a masterpiece?! We've fallen in love with all of these looks – go on, have a sneak peek and get some inspiration!
1. Sumptuous, abundant florals and sparkling tablecloths?! Yes, please! We love the way the colour runs through each element of the room and ties the look together.
2. Planning an outdoor wedding? Bring a little outside inside, with gorgeous sparkling crystal chandeliers. They'll catch and reflect the light as the sun sets on your magical day.
3. Go all out with gorgeous cut glass and extravagant table candelabras. Mirrored tables are great for reflecting light around the room, so using one or two lighter colours alongside flickering candles is a fab look. We adore the subtle green and turquoise jewels – so elegant.
4. Blush pink sits so nicely alongside burgundy to bring a real depth of colour. Perfect for an autumn wedding, make the greenery really dark and add a dark colour table linen to make the colours stand out – it makes a lovely alternative to white linens.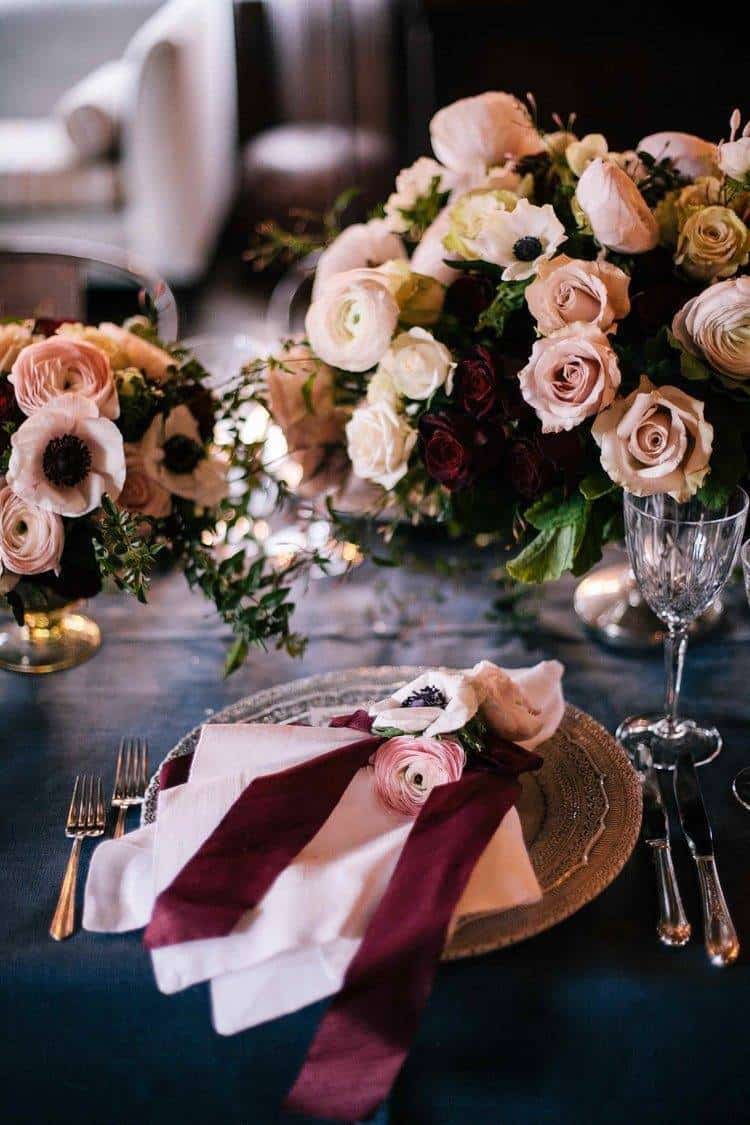 5. Go naked! stop tablecloths flapping in the wind at your outdoor wedding and go with a natural wood table. Simple, cute, small florals really draw focus to the amazing Edison lamps – this is such a spectacular look!
6. Another table 'au naturel', just a table runner in your chosen palette brings the table together. Why not go for coloured glassware and crockery instead, and keep the florals fairly neutral.
7. Don't let your tables fade into the background of a garden wedding! Add dramatic pops of colour and candles to illuminate. And we always love a dreamy gazebo and chandelier combo!
8. Keep it clean, chic and simple with a pure white palette, adding just a few pink highlights. Twinkling fairy lights add a magical touch, especially after the sun sets.
9. Go bold with a rainbow of strong colours. A mixed floral display means you can play with colours across your table – coloured glassware and crockery – or keep it simple. If you're going for a boho theme, mixed, unstructured florals work a treat. Real flickering candles are a lovely touch as well and create a fabulous atmosphere.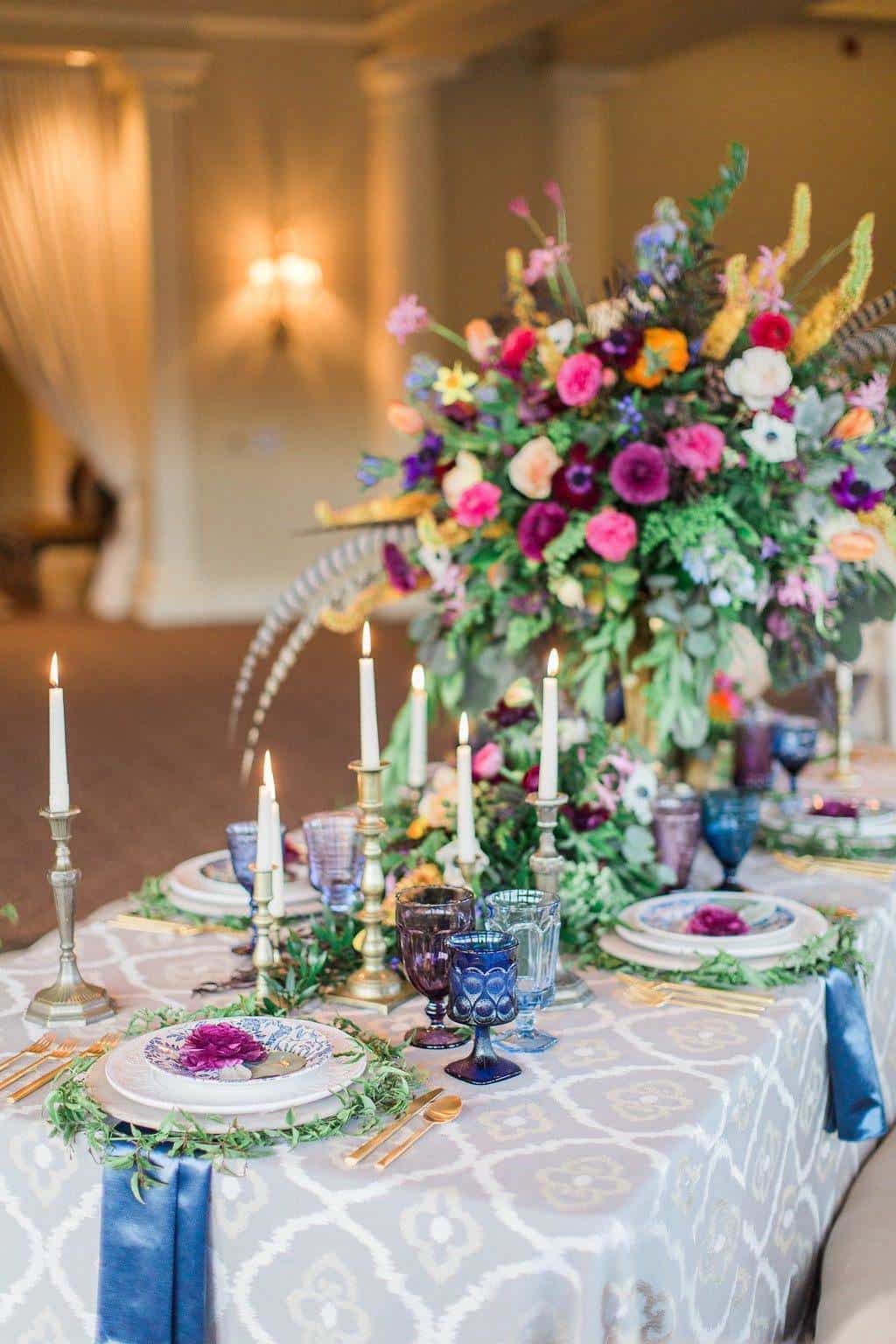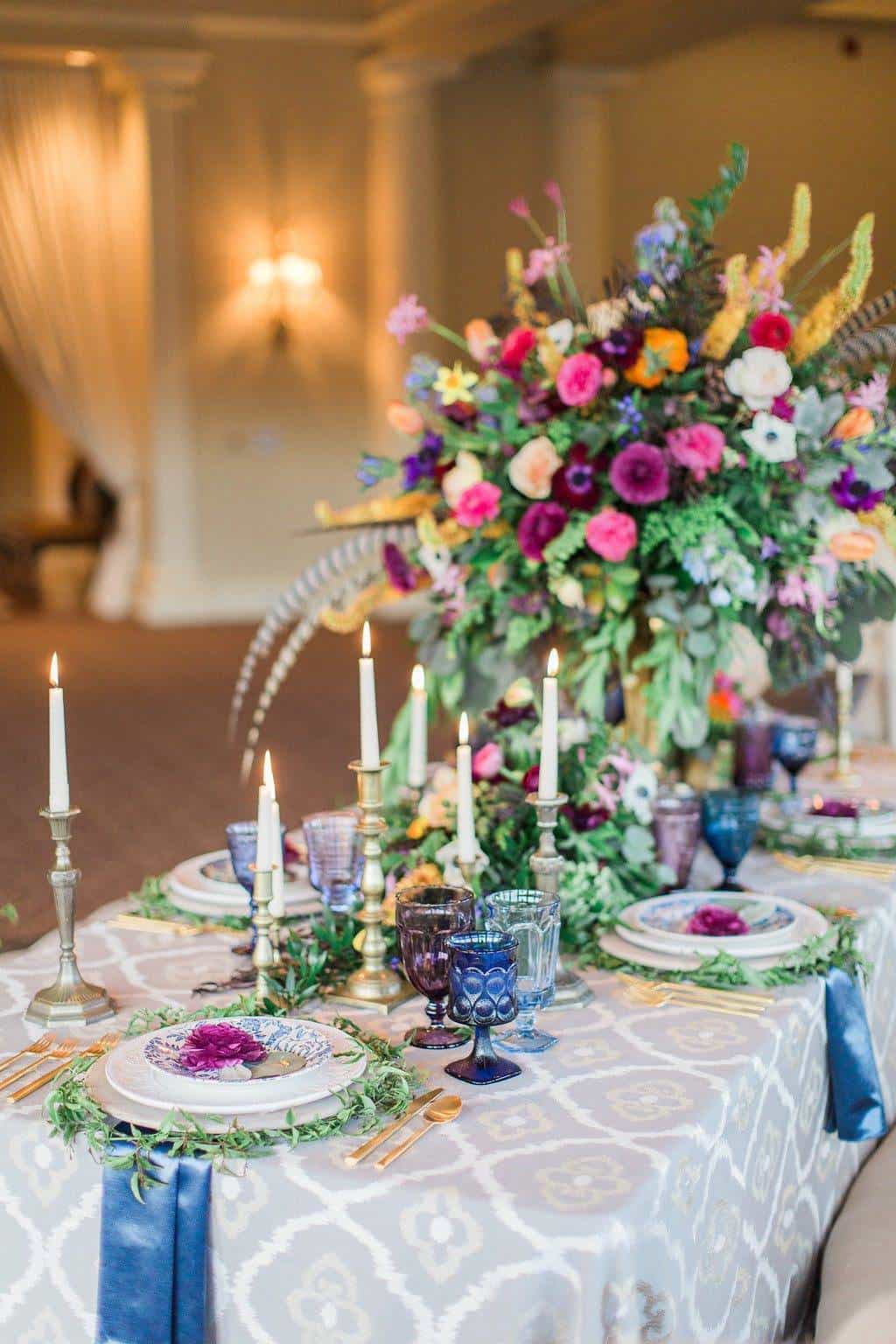 10. If you're going for a deep colour, like burgundy, mixing blooms with white makes the palette less intense. Adding a metallic really lifts the colour and makes it pop.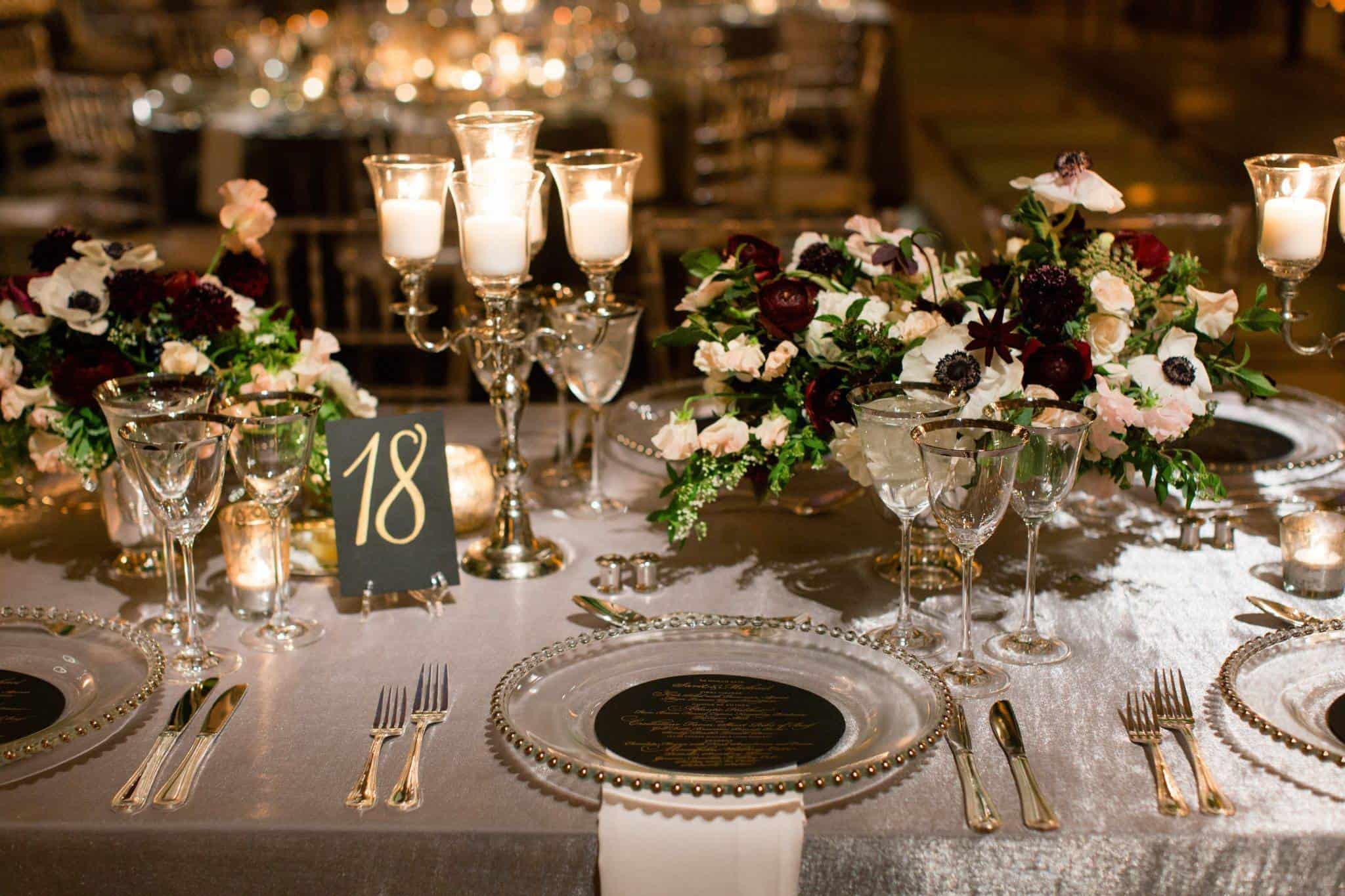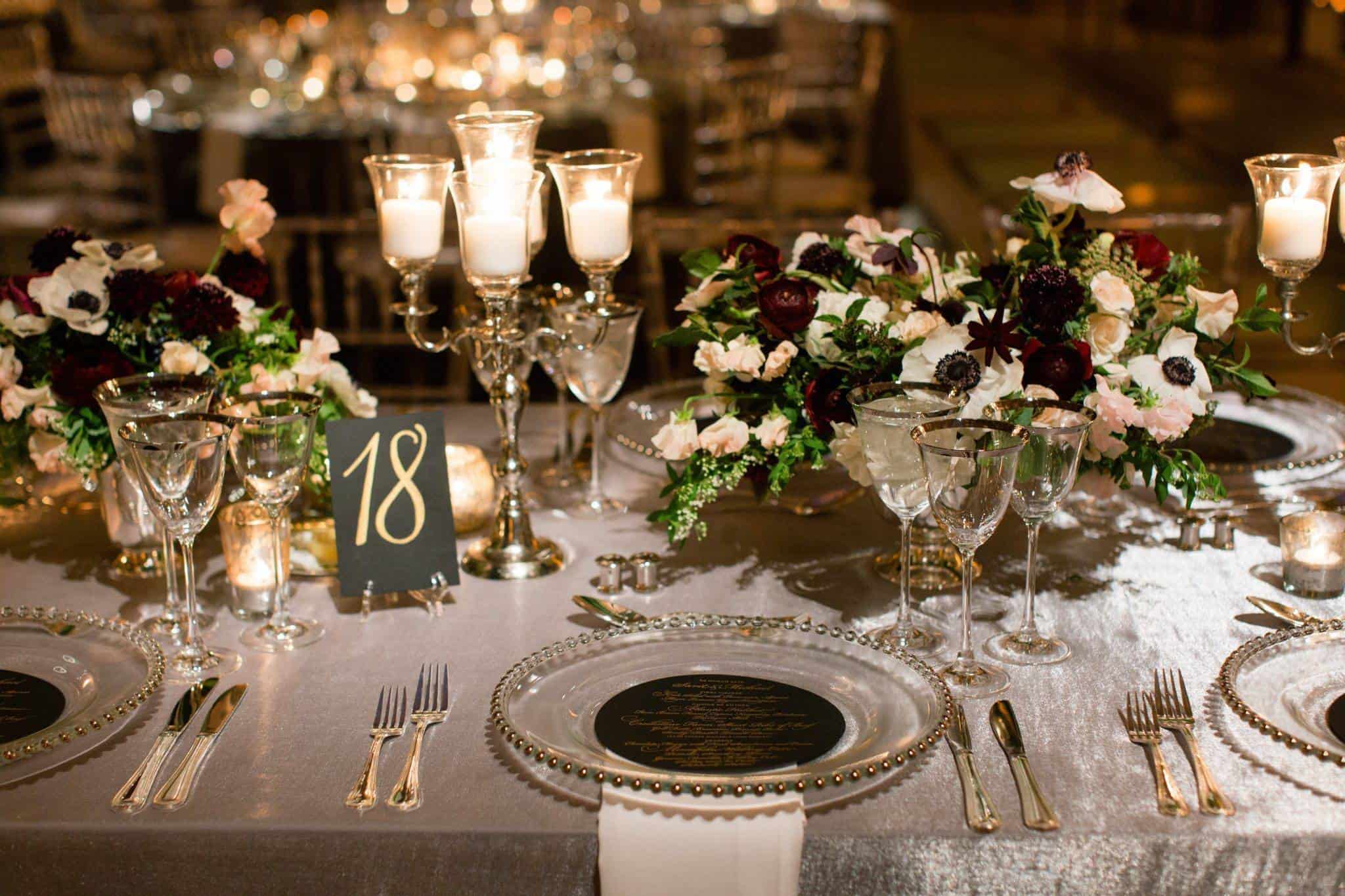 11. Long banquet style tables really lend themselves to a small line of florals running down the centre. If you've got beautiful vintage tablecloths, you won't want big showy displays detracting from them Go for something cute and simple.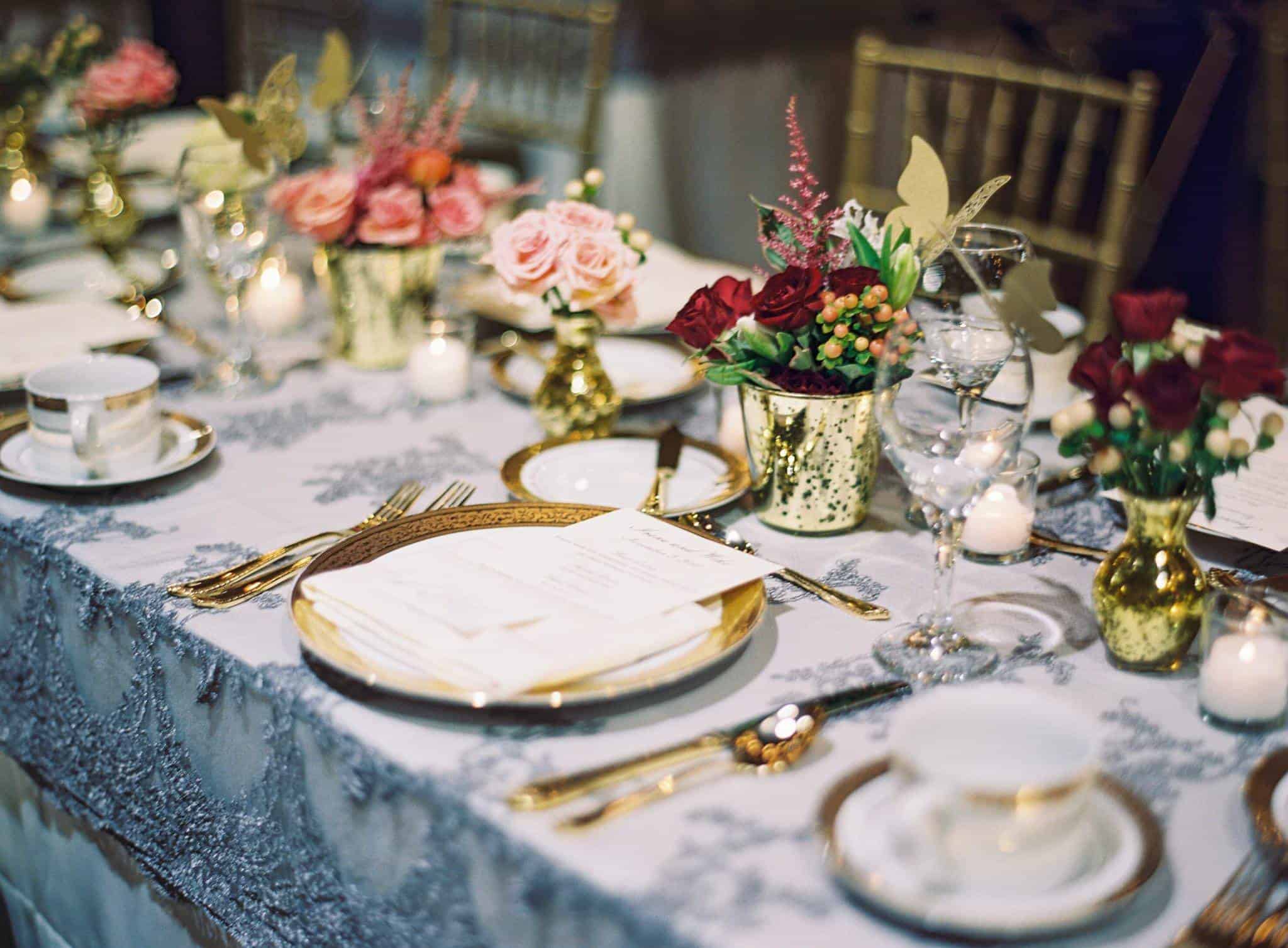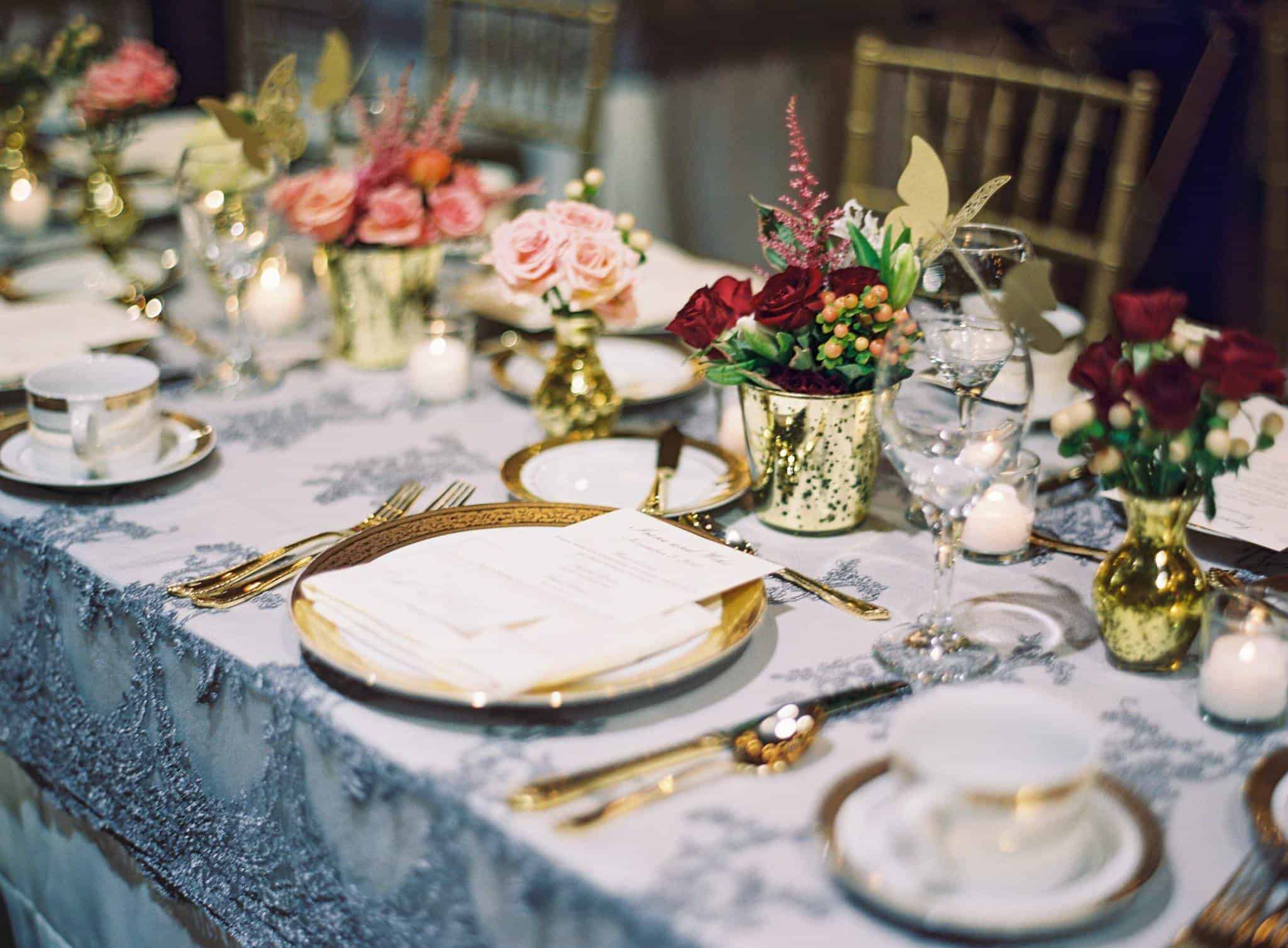 12. Going for a natural theme? Rustic wooden tables are a brilliant choice. And wildflowers are the perfect accompaniment.
Such a gorgeous selection of tablescapes. For more style inspiration, head over to our themes page for more stunning ideas.