Remember that stunning pre-wedding party? Planners Valtueña gave us the inside info on the couple's big day itself. Here are all the gorgeous details!
"I first met our gorgeous bride on a sunny Spring day in Chelsea, London. Originally from Egypt, it was clear that her heart was set on a destination wedding close to Barcelona.
"A few days later we arranged a visit to Catalonia so we could visit some venues and the area itself. A stunning Masia in the Catalonian countryside was selected along with a more modern white Masia by the coast for their pre-wedding party. The date was set for a Saturday at the end of August, and we were on our way to planning their very special day.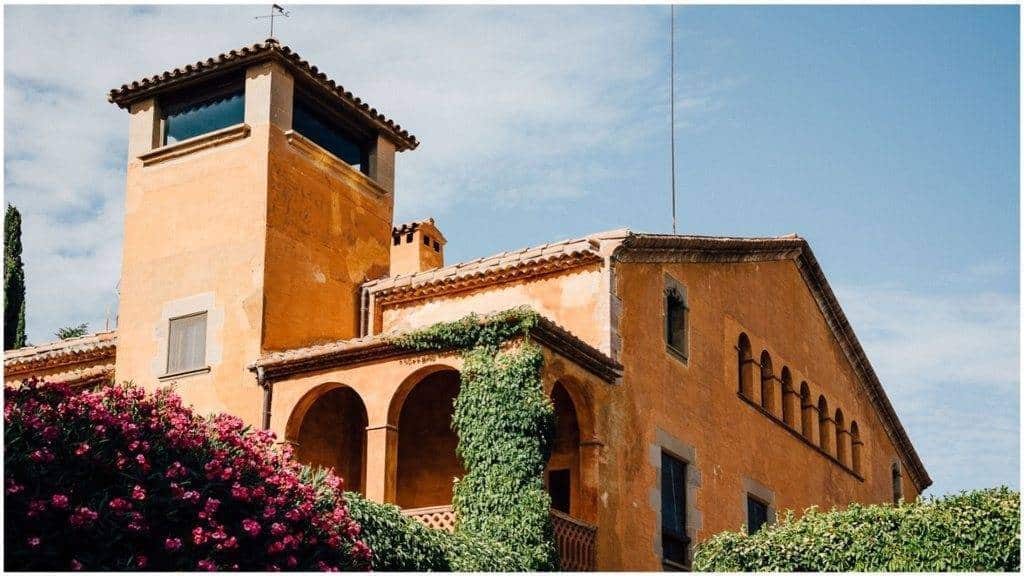 "The most memorable part of the day is the arrival of the bride, and it is something we planned very carefully. Escorted in a white horse drawn carriage, she arrived with her father and together they walked down a beautiful floral aisle by florists Bornay, lined with white hydrangeas and elegant branches that stretched two metres high!
"The venue was split into three distinct areas; the gardens – for canapés, the terrace – for the reception, and the indoor area – for the disco.
"The beautiful gardens were carefully transformed using sculpture, stone vases and beautiful flowers in pink and white. The result was a delicate, decadent French feel which added a gorgeous theme to the day.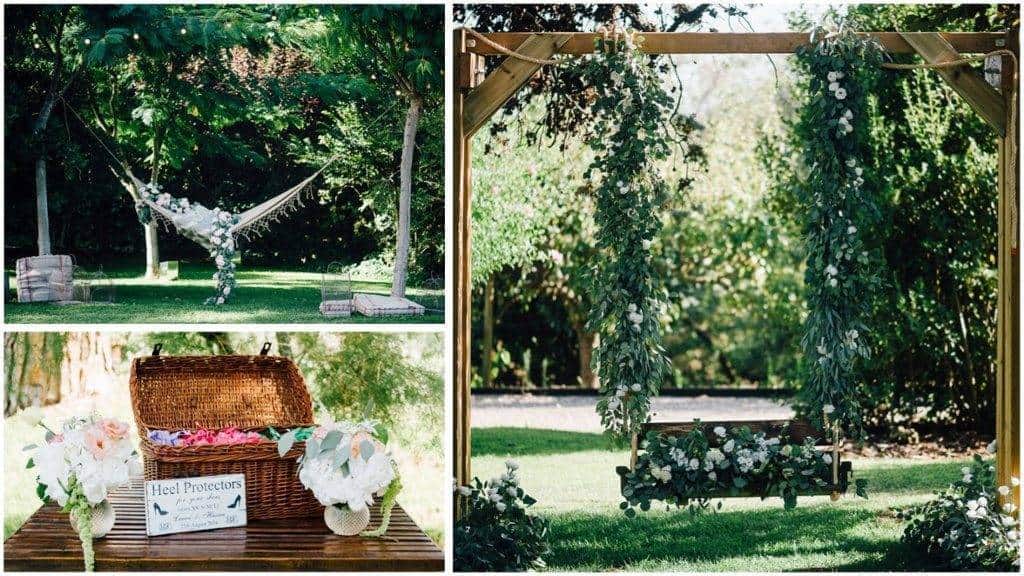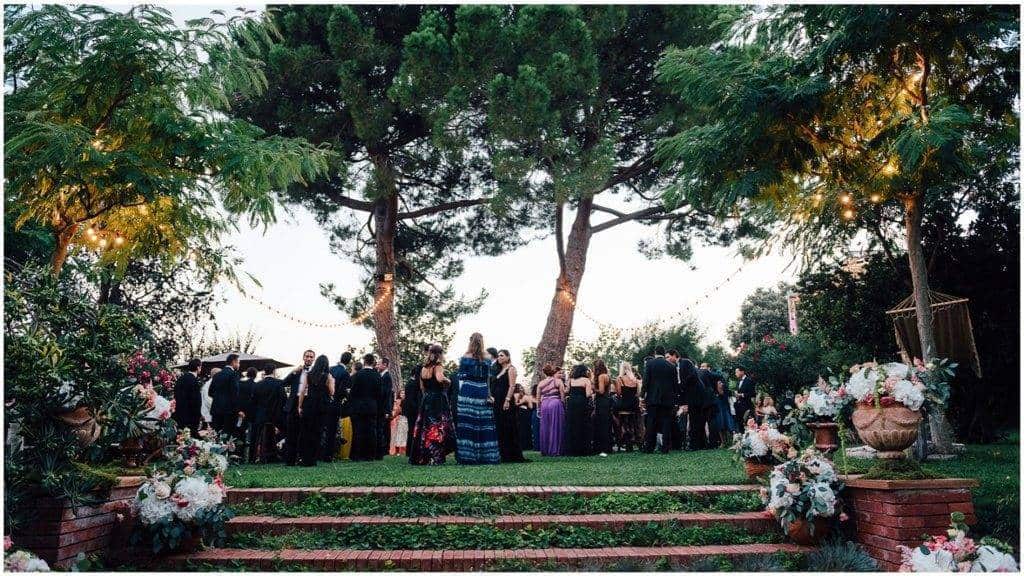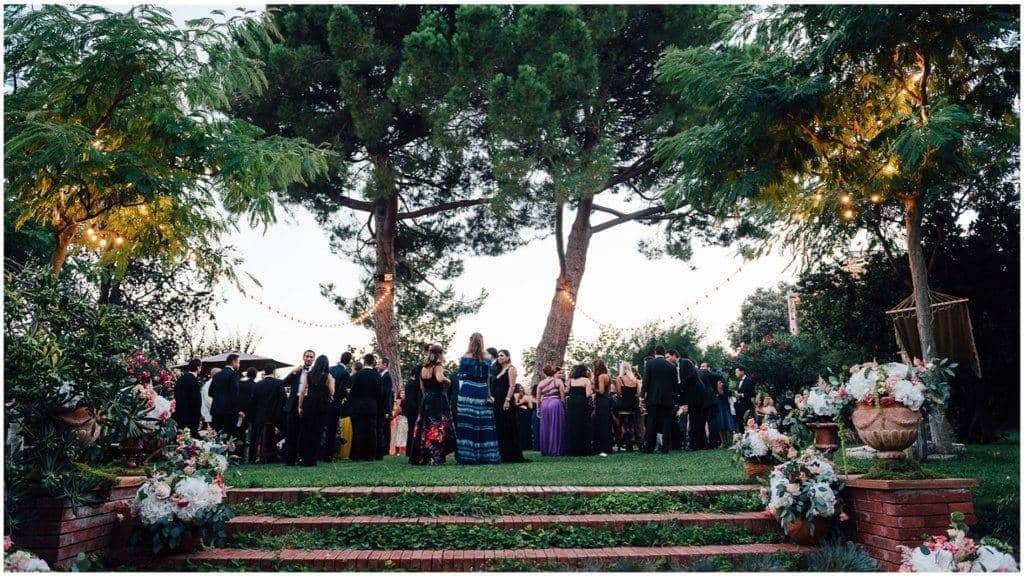 "Anticipating the arrival of the bride, guests enjoyed mouthwatering canapés, catered by Esther Conde. Entertainment was provided by the sublime The Ayoub Sisters, who travelled from the UK to accompany the bridal procession.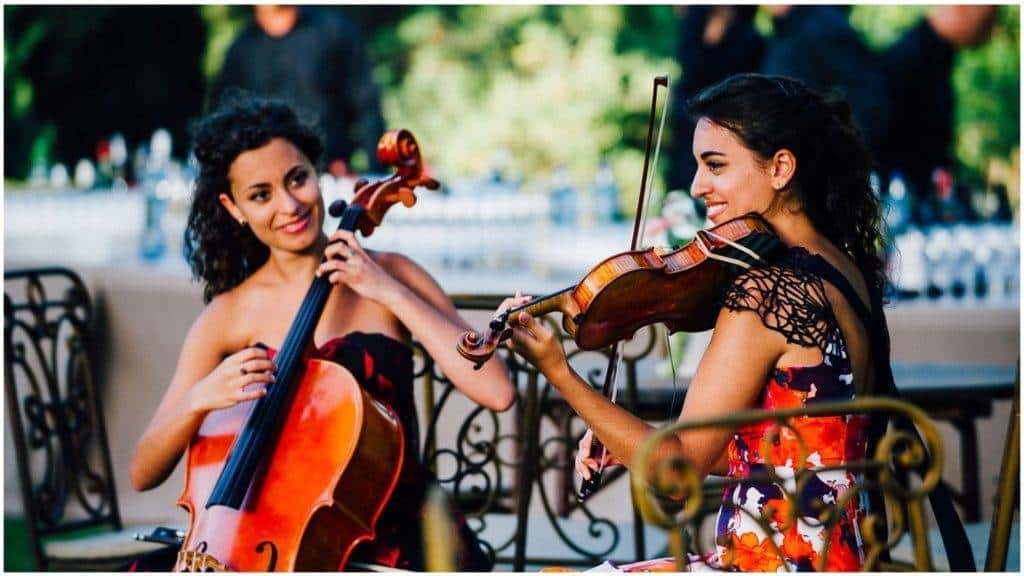 "Glowing in radiant beauty, the entrance of the bride was simply spectacular. gliding down the aisle, surrounded by beautiful white hydrangeas and with petals scattered underfoot, it was a sight to behold.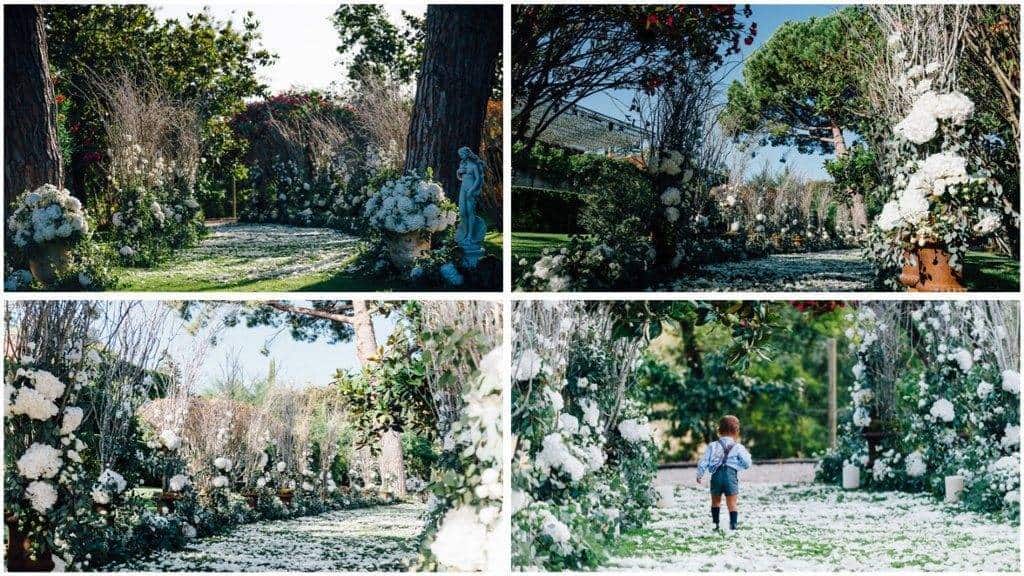 "After the arrival of the bride, the guests gathered on the terrace, but first they had to make their way through the gardens and amongst the beautiful florals. An arch led the friends and family through a beautiful tunnel that led to the terrace.
"The tunnel had two elements. The first, covered in gorgeous greenery with candles led on to the second part, made from pebbles and covered in cream and pink flowers, olive branches and more candles. This stunning walkway created such a magical atmosphere as guests were guided to the beauty of the terrace.
"Emerging from the tunnel and onto the terrace, guests were greeted by food stalls, an outdoor dance floor and above this, a spectacular hanging floral ceiling made of 10,000 carnations. As well as this structure, a second area designed for a moment of relaxation was created, with greenery, chandeliers and gorgeous baroque furniture.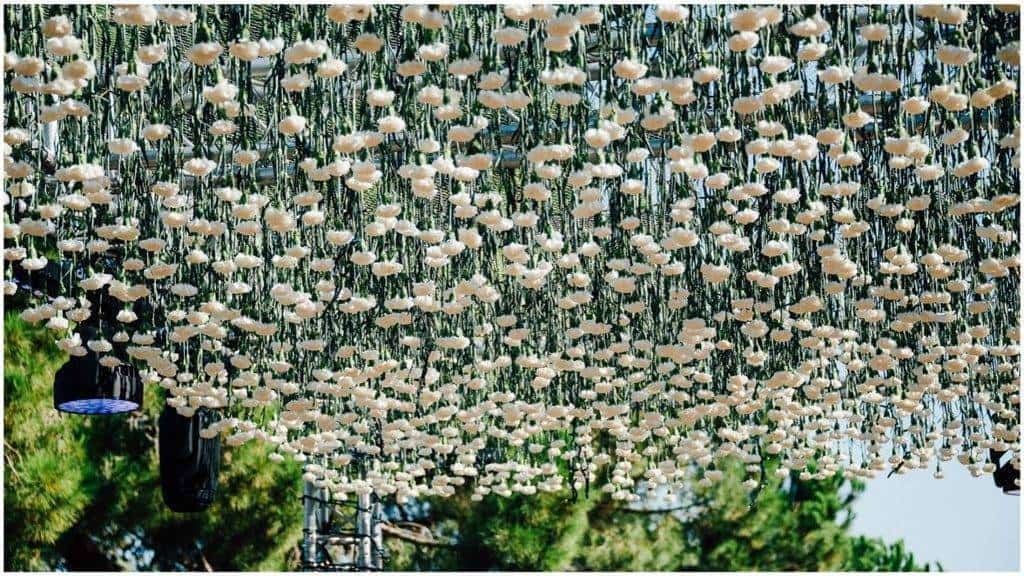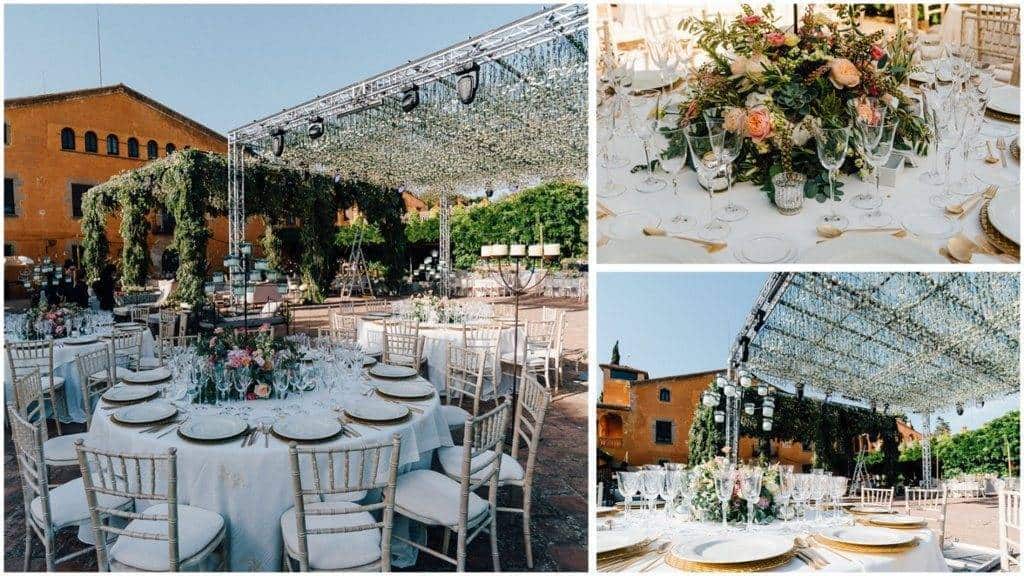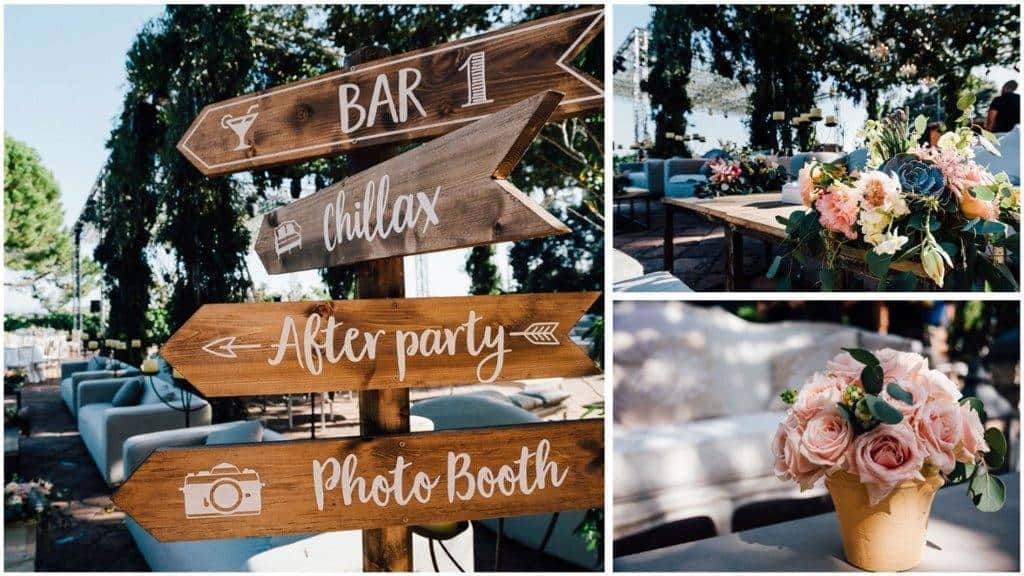 "The food stalls were a delicious mix, ranging from Japanese to healthy salads – six in total – featuring food that the bride had enjoyed whilst in London. Food was a very important element to the couple, and dining was a varied affair! From stand up dining to formal sit down tables and a mixture of comfy sofas and low tables, there was something to suit every guest's preference! Food was provided and prepared by Esther Conde, and was very much enjoyed!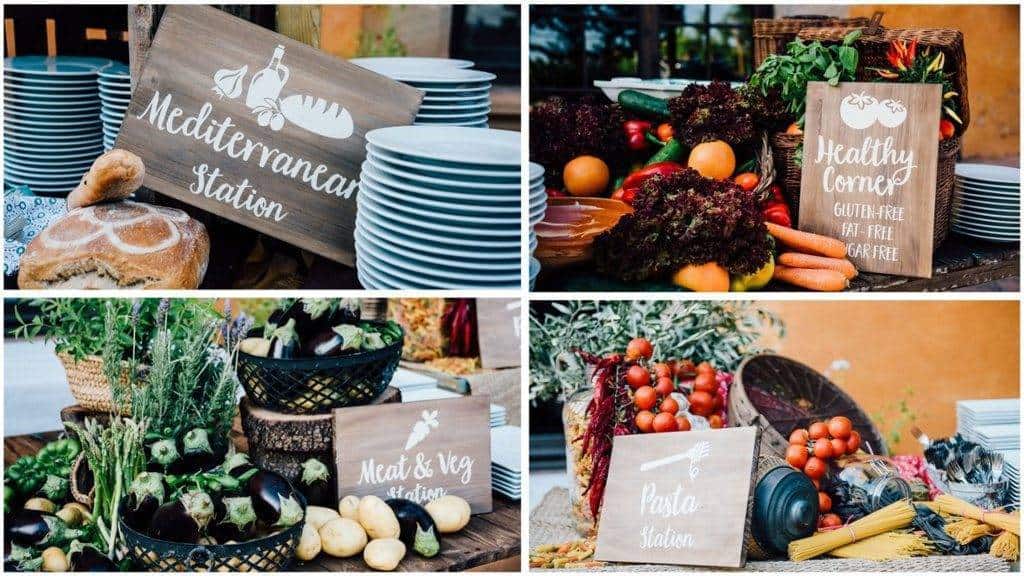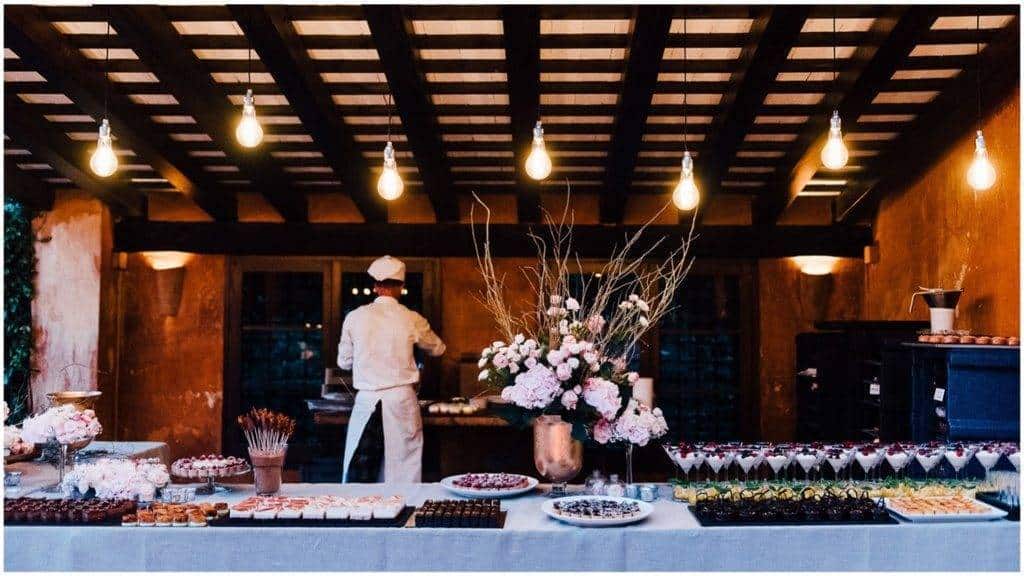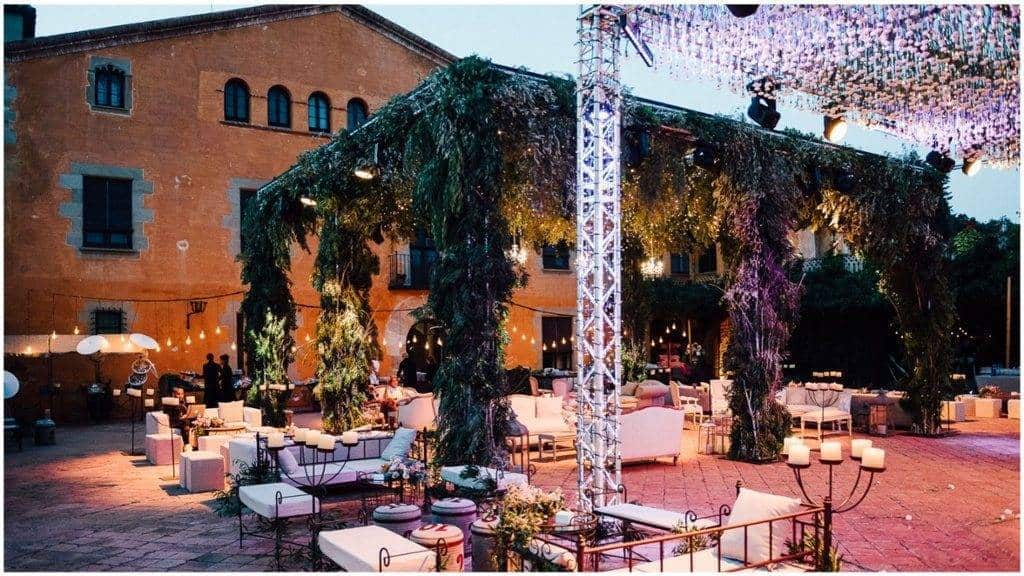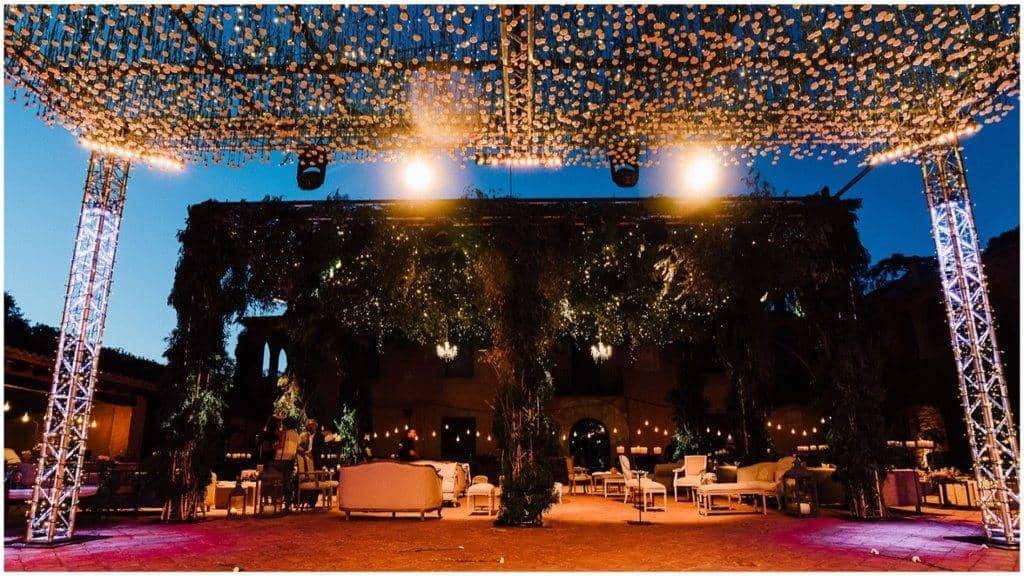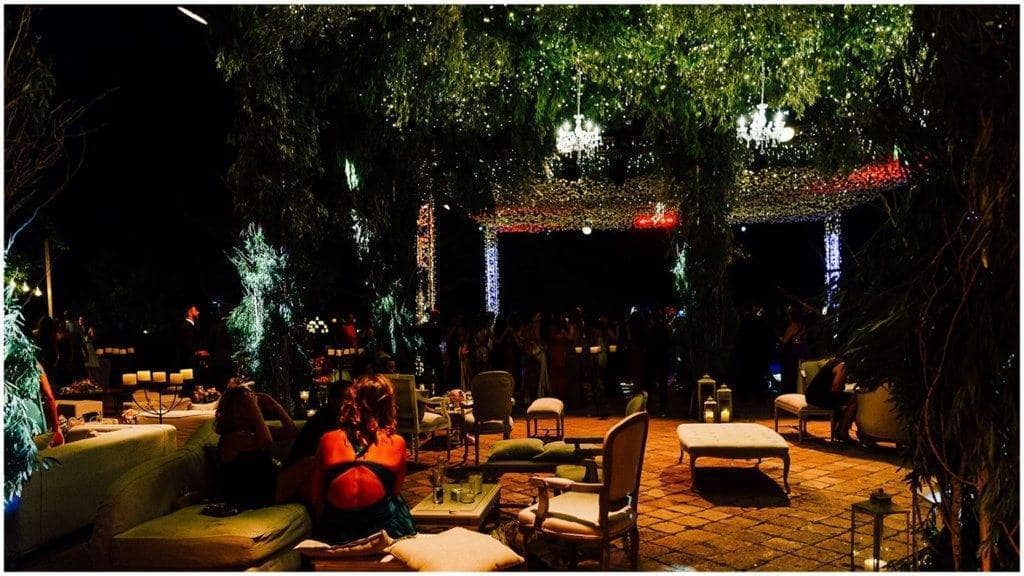 "A fitting tribute to Egypt, their country of origin, the wedding cake was three pyramids full of cupcakes and macarons. Differing heights, the central pyramid stood at over one metre tall, filled with 500 cupcakes and topped with two cute penguins, holding a very special meaning for the couple. Totalling 450 macarons, the smaller two pyramids displayed their delicious delicacies for guests to enjoy.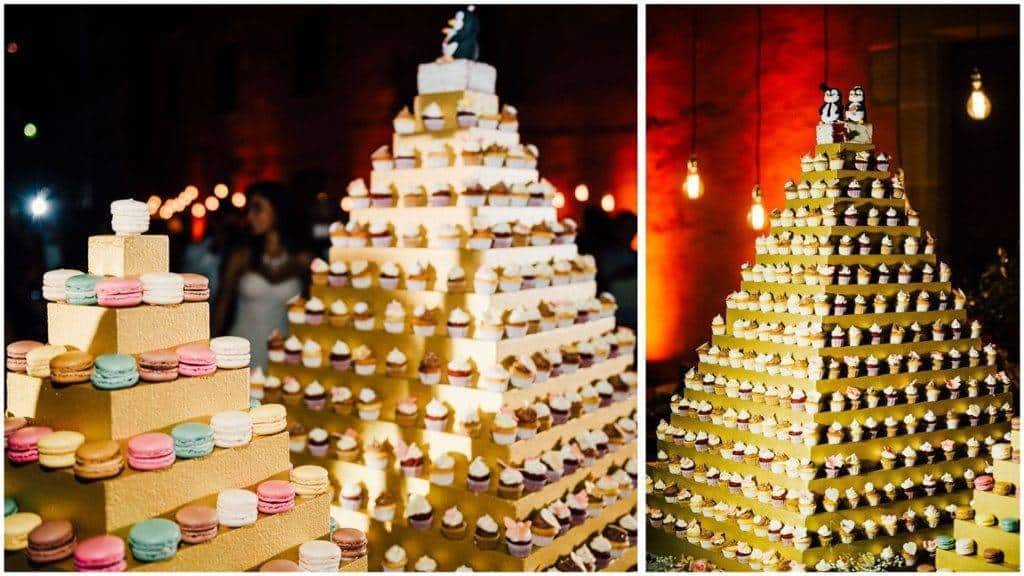 "The third and final area of the wedding came in the form of an indoor disco. We transformed the space into a jungle, decorating it with greenery cascading from the ceiling and natural colours, placing brown chesterfield sofas, poufs and wooden tables around the space. This definitely added a wow factor to the event!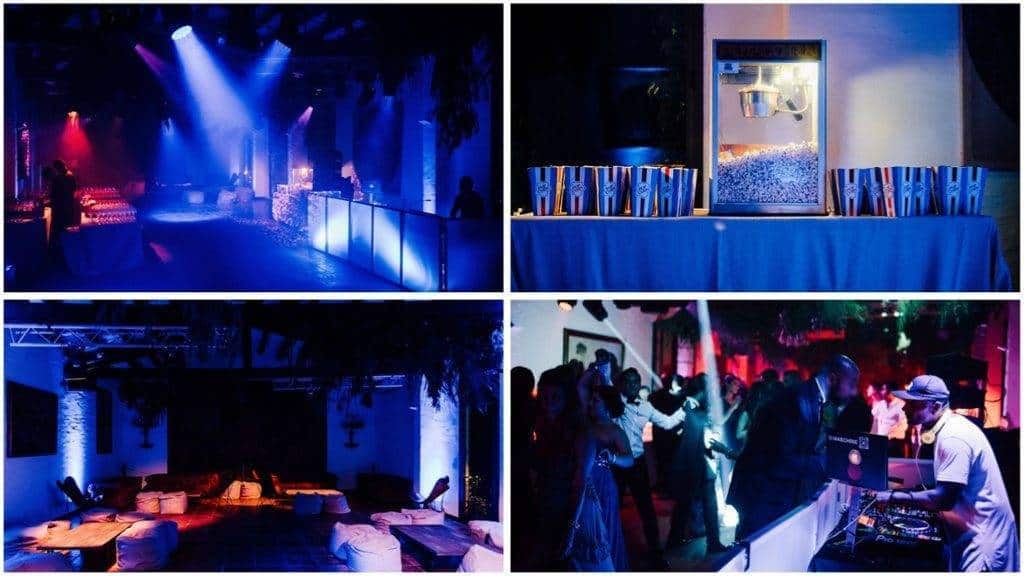 "The entire wedding shimmered under the glow of lights of every kind – coloured lights, vintage Edison bulbs, fairy lights and flickering candles created a magical atmosphere.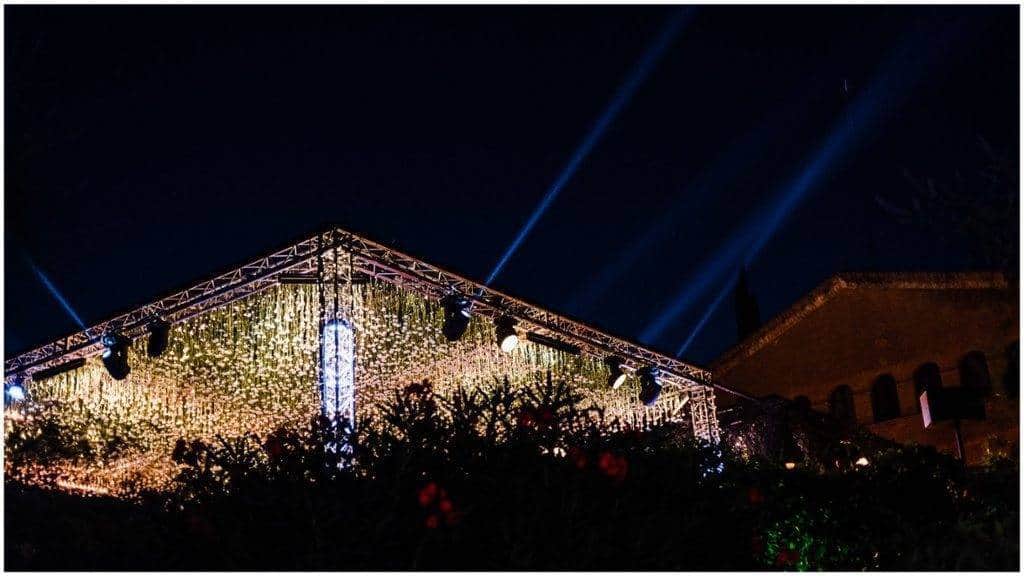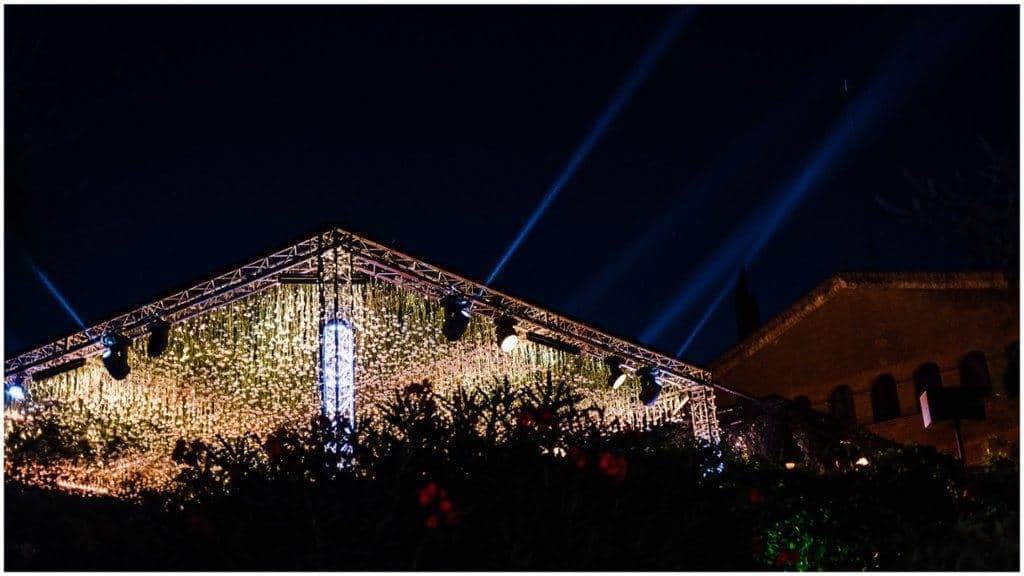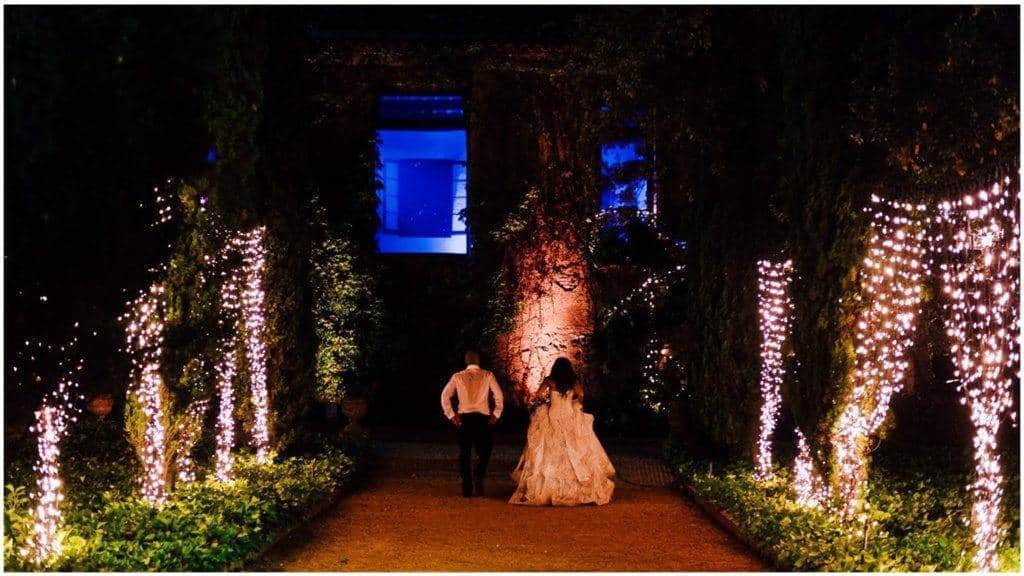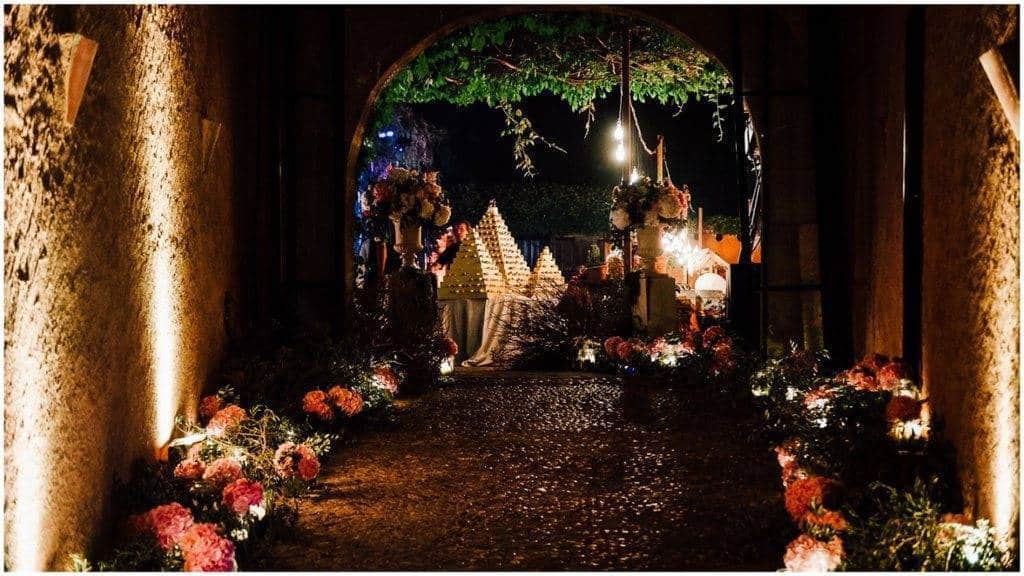 "So much attention to each element went into this wedding, as each detail was so personal the the couple.
"It really was an experience of a lifetime and a dream wedding. Such a magical day! Thank you L & H for your trust!"
A note from the happy couple…
"Where do I start… stressed and scared to start the prep for the big day, it would be nice to meet a kind, humble, hard working, honest person to help run it perfectly for you… and that's exactly who I met. And little did I know that Angela's team in Spain were just an extension of her exquisite charm.
Unfortunately I'm slightly OCD and so nothing would ever go missed with my sort of character! Probably a wedding planner's worst nightmare!! But Angela and her team surprisingly embraced it and actually ensured everyone planning (caterers and florists etc) were delivering to that standard… and more. We worked as a team and they helped deliver every single request… even if it was completely ludicrous and potentially impossible!! Hehe… but she made it possible. From the beginning to end. The final outcome was magical… "the most beautiful wedding ever" were comments from our guests!! They were honestly amazed, as were we (!), and spoke of it for months after… even people that didn't come said they heard it was like a fairytale wedding 🙂
Ladies, for this big day you need someone you can trust, someone who is patient with you and never judgemental, supports you when you are breaking down and keeps you smiling strong no matter what disasters happen along the way! This is the Valtueña team. They believe in everything you see, and make it your reality.
Perfection is never achieved to a perfectionist… But with Angela and her team… it was somehow achieved."
L&H
Supplier list:
Food and Drinks – Esther Conde / Lighting – Moonlight / Flowers – Bornay / Food stall décor – La floreria / Photography – Manel tamayo / Furniture – Nuovi Piatti / Venue – Masia Egara / Pyramids cake – Buvette / Live music – The Ayoub Sisters / Sound – DiscoModa
Valtueña Are A TRUSTED MEMBER OF 5 STAR WEDDING DIRECTORY. Visit Valtueña's PROFILE