The luxurious Grand Hotel in Eastbourne, East Sussex is nicknamed 'a palace by the sea' and after my visit to the beautiful five star hotel, I can only completely agree.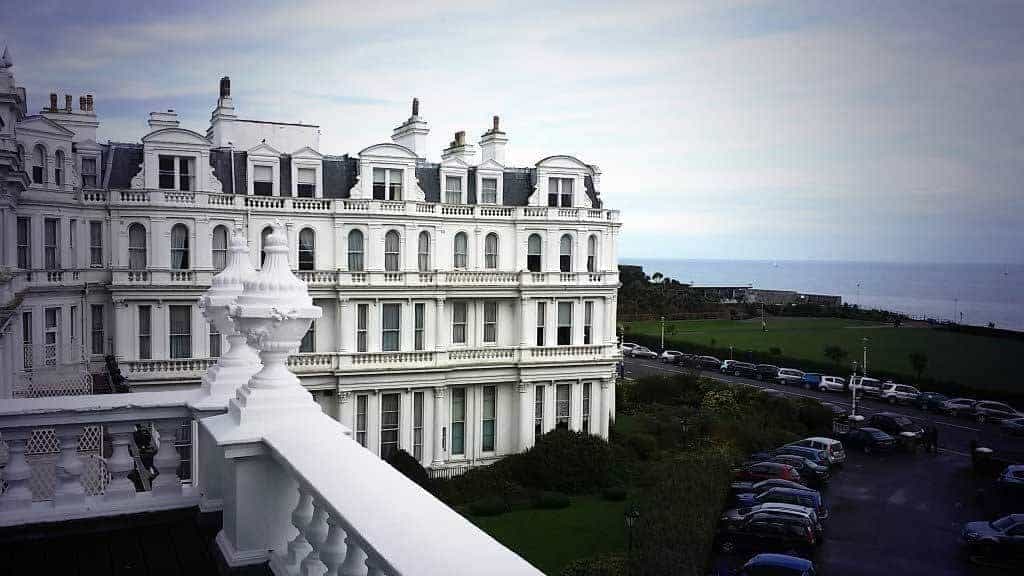 This spectacular five star hotel is the only hotel with this rating on the South Coast. It was initially built in the Victorian era and boasts a number of Victorian features. It could easily be compared to a scene of Downton Abbey and is packed full of English history. Since its construction it has hosted a number of extremely famous guests to include Winston Churchill, Charlie Chaplin, Arthur Conan Doyle and King Constantine of Greece..
Accomodation
The Grand Hotel has a clear cut reputation for grandeur and elegance but it also has an extremely homely feel. From the moment I entered into the grounds of this wonderfully charming hotel I had the perfect welcoming experience even with smaller aspects of my stay such as assistance with parking.
Advertisement
I had pleasure in staying in the splendid Debussy Suite, on entering the room I was impressed by its perfection and it is truly the perfect wedding location. It is a picturesque setting for any wedding with sea views and it is certainly a phenomenal place for a bride to get ready for her big day. Similarly, it is the perfect setting for newlyweds to spend their first night as a married couple together.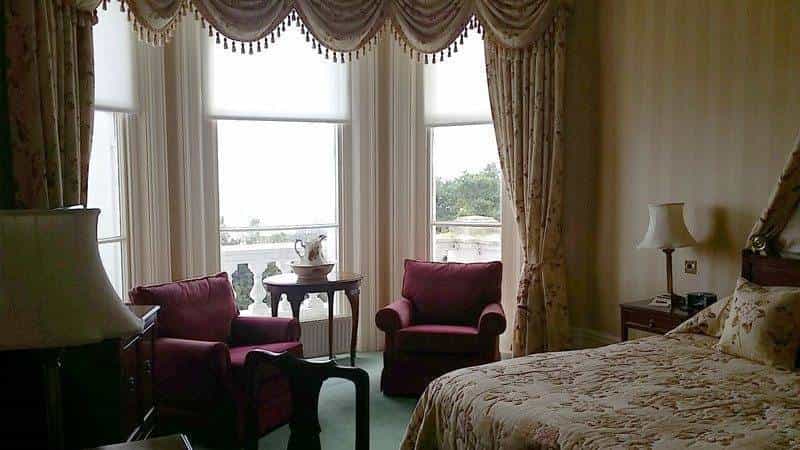 Hotel bathrooms carry a considerable amount of importance, particularly for a wedding based stay, as this is where a large amount of preparation will take place. The bathroom has the complete wow-factor. The bathroom is spacious, bright, has a beautiful Jacuzzi bath and one of the best showers I have ever experienced with jet power sprays from the top and the sides. To top it all of there is a fine selection of toiletries from Molton Brown on offer in the bathroom.
Weddings At The Grand Hotel
I was given a tour around the hotel during the Wedding Showcase that the hotel was hosting. The Wedding Showcase is where future bride and grooms can meet with the hotel's wedding planners and recommended suppliers. The showcase is an ideal opportunity for future brides and grooms to experience the service that the Grant Hotel can offer them throughout a wedding package.
The hotel offers three main wedding packages: the Imperial, Vintage and Prestige Cuvée. The different package options ensure that there is something to suit every style and budget.
Function Rooms
There are a number of function rooms on offer by the hotel. You have a choice of where your wedding reception is held with each offering something equally magical.
The first room I visited was the Devonshire Suite (Compton Room and Silverdale Room). This event room is a wonderful setting, dating back to the Victorian era when it was used as the hotel ballroom. It has 8 beautiful stained glass windows which, along with their beauty, let in the perfect amount of natural light – ideal for photography.
A second event room known as the Princes Room can only be described as a 'fairy tale' room with high ceilings and stunning crystal chandeliers. The colour scheme is based around tones of pink, green and creams which would compliment a large variety of colour schemes.
Lastly, there is the magnificent Dukes Suite was originally the hotel library with dark wooden panels and dramatic bay windows.
Dining at the Grand Hotel
The Grand Hotel features two award winning restaurants: the Mirabella Restaurant and The Garden Restaurant. I dined in the Garden Restaurant which is set in a stunning Edwardian Room.
The menu is extensive and I enjoyed an evening meal of Smoked Scottish Salmon Roulade, New Potato and Cocktailed Prawn Salad and a main course of Supreme of Chicken with chorizo butter beans, green beans, roasted vine tomatoes and tarragon jus.
You can be sure that your guests will be well catered for at the Grand and the hotel offers a variety of wedding dining options to suit different taste buds and budgets.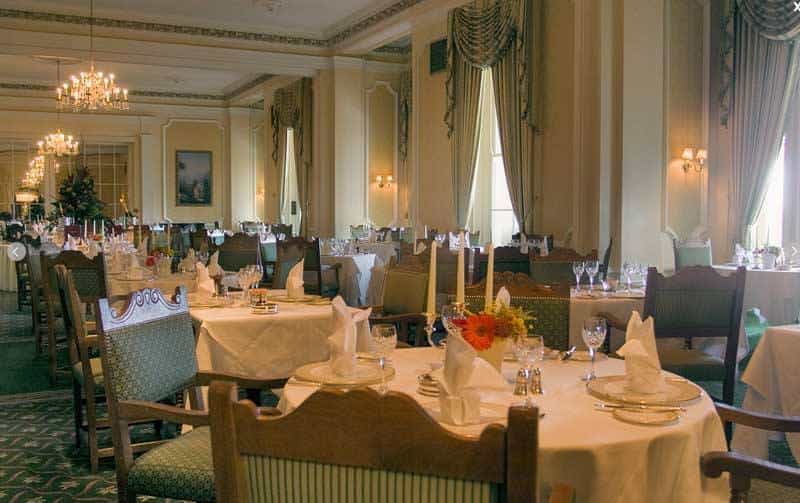 The Health Club
The Health Club and Spa has a luxurious sauna and steam room. In addition, the health club offers a wide range of treatments including massages, manicures, pedicures, facials and other body treatments. There is also a hairdressers offering a full range of styling treatments.
If you are visiting with children but wish to enjoy some alone time in the health club, the hotel offers a fully supervised playroom for children aged 3 and over which is available during the weekends and school holidays. The health club is an ideal venue for the bride's hen party.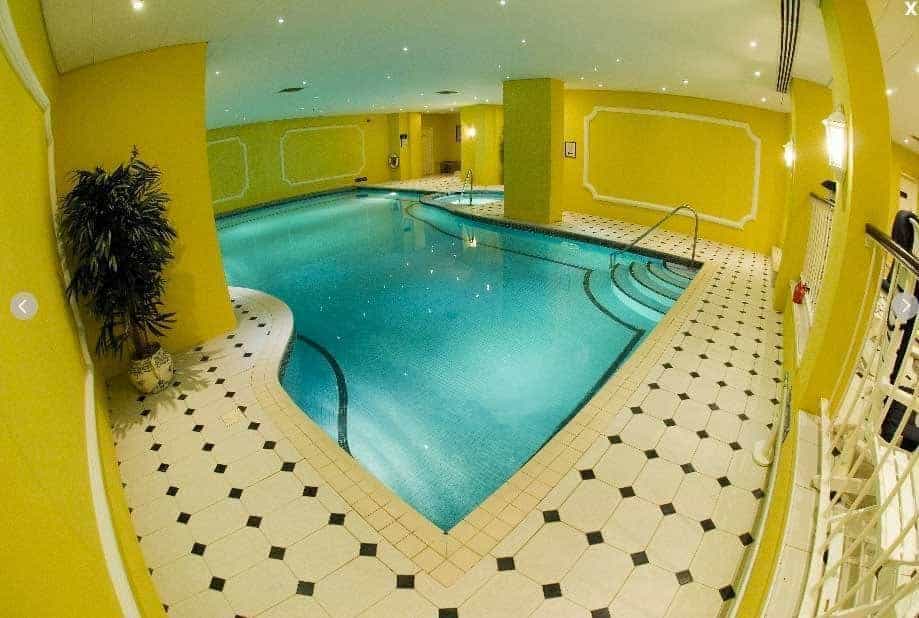 Overall, The Grand Hotel is a venue that has everything you would ever wish for. It is a venue where you and your guests can enjoy your big day and also the days leading up to and after it. It is the perfect location for your wedding celebrations, no matter how big or small, and really is a stunning venue on the promenade with wonderful beach views.
Contact: If you would like more information or to book a tour  call 01323 412345 or email at weddings@grandeastbourne.com
Facilities:
Accommodation: 152 rooms including suites and 14 Junior Suites
Category: 5 Star
Restaurants and Bar: Mirabelle Restaurant & The Garden Restaurant
Other Facilities: Indoor and outdoor swimming pool, gymnasium, sauna, steam room, health club, dedicated children's playroom, conference facilities, baby sitting.
Other venues: The Grand Hotel is owned and managed by Elite Hotels, a portfolio containing three country house hotels in the South East of England. The two other hotels in the collection are Tylney Hall, Hampshire, Ashdown Park Hotel in East Sussex, and Luton Hoo, Bedfordshire