Accent Events have created magical weddings up and down Italy's iconic boot shape – luxurious Lake Como to the sparkling isle of Capri, Portofino to Positano and anywhere in between.
Today we share the wedding of the lovely Ben and Melanie an elope couple and parents who were recently married in June 201 in the enchanting Ravello and the mesmerising Monastero Santa Rosa Hotel.
Ben and Melanie had booked their first ever visit to Italy and then decided they would get married. A lovely young couple who live in a village just outside of Cambridge. Ben & Melanie's wedding was a meant to be wedding.
I found out that the inquiry email was sent on a lazy morning while Ben was having a bit of the lie even Ben said it was not a serious request at the time until he got my reply, then it became a case it just got serious as they were going to take the wedding planning fast track route to getting married in Italy.
Their original wedding plans were to elope but on reflection Melanie knew her father would miss walking his daughter down the aisle – so the initmate elope now involved both sets of parents.
Ben & Melanie are very relaxed people they knew that opting to get married without fuss would remove the frills so they wanted to make sure the location was beyond beautiful and a once in a life time experience.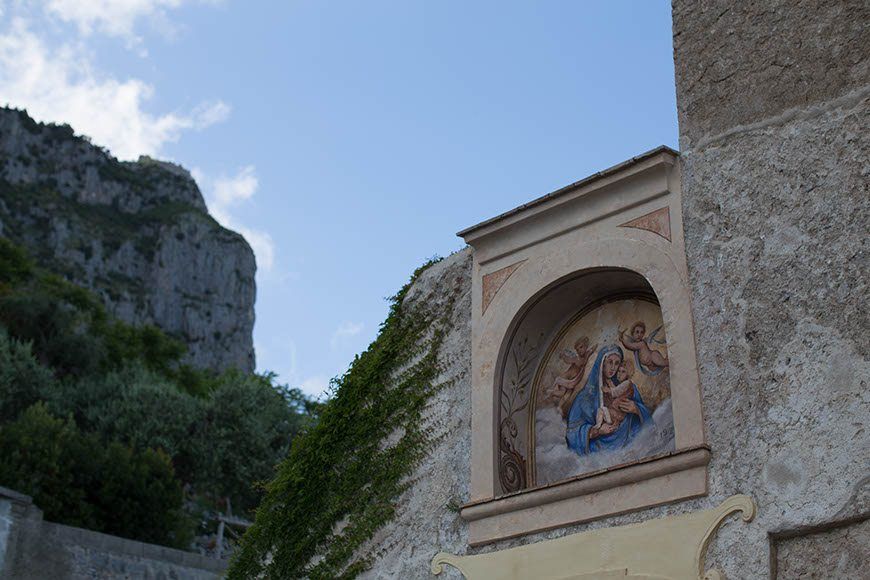 We were able to secure an early June wedding date in the regally named Principessa di Piemonte gardens in enchanting Ravello. Melanie described her dream location as being high up with breathtaking views – Ravello really was the only choice. With news that their parents would be attending their wedding we were asked to find somewhere super special for their celebratory meal.
Like every bride Melanie wished to feel she was the only bride this was very important to her but thought it would be difficult to find somewhere that would allow them exclusivity.
We instinctively knew the Amalfi Coast's hottest luxury hotel – the Monastero Santa Rosa would give them the one off experience they sought.
It was fabulous for us to receive a text message on their big day to tell us "it was out of this world" wedding day. The Monastero Santa Rosa has created a tranquil haven for its guests, for this reason the hotel prefers not to host large wedding parties.
Those who visit Monastero Santa Rosa are often bewitched and begin their own relationship with this former monastery. The location and style of the hotel became the canvas for Ben & Melanie's photography.
The traditional wedding touches were the beautiful rustic style hand tied bouquet in pastel colours, delivered to Melanie's apartment, the charming hairstylist Piero Mansi and our fabulous celebrant who helped Ben & Melanie with their ceremony.
Suppliers
---
Accent Events
102 High St, Warboys, Huntingdon, Cambridgeshire, PE28 2TB.
CALL +44 (0) 7887 555 082
Luxury wedding planning services all over Italy